Buy 3 Get 1 Free
Our Best Sale Yet! Add 4 Books Priced Under $5 To Your Cart     Learn more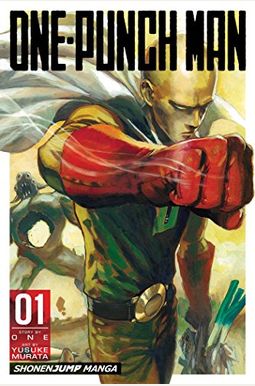 
 
Frequently Asked Questions About One-Punch Man, Vol. 1
Books like One-Punch Man, Vol. 1

Book Reviews
(13)
Did you read One-Punch Man, Vol. 1? Please provide your feedback and rating to help other readers.
One Punch Man is the best! It's definitely my favorite anime

Derived From Web

, Apr 20, 2022

One punch man is the best! It is definitely my favorite anime and the manga is just as funny and immersive. When I read One Punch Man, it makes me want to read more manga. This is one of the new series I picked up, and every time a new volume comes out, I get more addicted. Saitama is a very relatable protagonist. He cares so much, but he also doesn 't care at all. He is meant to be overpowered and that's the whole joke. There is a comical lack of suspense when it comes to Saitama, but that is made up for by an extensive and dynamic cast of heroes who fight where Saitama can 't seem. Saitama is a guy who works hard to get where he is, but he still manages to look like someone who fell first in the Hero gig. The art is great too, I want to tear the pages and frame them! I have all 7 volumes on my shelf and I can 't wait for the rest to come out.
Shounen awesomeness!

Derived From Web

, Apr 20, 2022

Even though it is a parody, this series is an amazing shounen story! It's funny, it's action packed, there is really not much of romance here, and it pokes fun at certain aspects of manga - genre tropes. ARTWORK IS AMAZING PLUS THE ARTWORK IS PLUS THE ARTWORK IS PERSONAL PLUS If you decide to pick up a series, this is definitely a good one. One thing about my volume was that the first two pages were ripped. It doesn't impede much, but just wanted to point that out. It is fine otherwise!
Amazing book for old school and new school fans of ...

Derived From Web

, Apr 20, 2022

Amazing book for the new school and old school fans of manga. Funny and mixed over the top action with some of the best art in a manga that decade.
Loved it!!!!!!

Derived From Web

, Apr 20, 2022

Just finished watching the anime on hulu, it was short but very cool only twelve episodes. It left me wanting more, so I downloaded all the manga to my kindle and so happy I did. Volume nine comes out in a week or so and downloads that as well when it is available.
"What kind of ridiculous backstory is that?!"

Derived From Web

, Apr 20, 2022

Yeah, the title here is all the summary you need. This is an amusing send-up of the ActionShounen manga, which takes standard elements to their extremes and has a main character that is no equal and so strong that he's bored. Outside of the over the top build up to fights completely described by the manga title, bizarre amounts of emphasis are placed on odd things for comic effect, both during the fights and when pointing One Punch Man's past. His real worries are things like forgetting to do chores, side characters wear shirts labeling them generically, etc. The entire manga is built around how far absurdity can be pushed. One Punch Man is a stale parody, although I don 't know how much I could read before the humor becomes good. First volume though was fun, first volume though.
A Manga Hero...for fun

Derived From Web

, Apr 20, 2022

Beautifully illustrated, it has a fantastic sense of humor and is a true pleasure to read. Can 't recommend this enough... even if you already watched the anime.
Awesome!

Derived From Web

, Aug 17, 2021

The shipping was super fast, and I am a Bugger fan of a punch. This will definitely continue with the series.
Great

Derived From Web

, Sep 9, 2019

I see a great story from a well animated and popular point. Highly recommended reading these books, you won t be disappointed.
Fantastic story, comedy, and art.

Derived From Web

, Apr 8, 2019

I love the television series, it has perfect timing and everything that makes these mangas fantastic. What this manga offers is that the anime does not offer small side stories, even more impressive artwork, and obviously the opportunity to delve deeper into the story further than where the anime ends. If you haven 't seen the anime, know that impressive artwork, incredible action and a hero world filled with monsters exist primarily for the sake of comedy. The main PUNCHline is that Saitama is an all-powerful being that is dissapointed in the life of a hero, because no creature in existence can offer him a challenge. But the story does not dwell on this issue and offers Saitama situations and opportunity to overcome hurdles to which raw power would not be the answer. It is also fun to watch Saitama interact with the characters around him and Tbeir responses. Lastly, the artwork is once again incredible.
Love the manga style set up. Pages look good

Derived From Web

, Dec 30, 2018

This book is in the Japanese style of reading from the right side to the left. When it comes to manga, I like this style. The pages look nice and the English translations are so far pretty decent.