Buy 3 Get 1 Free
Our Best Sale Yet! Add 4 Books Priced Under $5 To Your Cart Learn more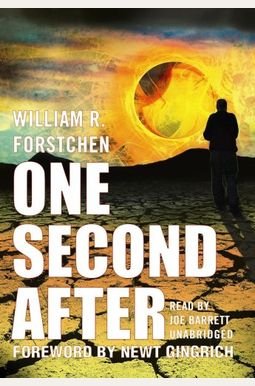  
Book Overview
This Description may be from another edition of this product.
A post-apocalyptic thriller of the after effects in the United States after a terrifying terrorist attack using electromagnetic pulse weapons.
New York Times best selling author William R. Forstchen now brings us a story which can be all too terrifyingly real.a story in which one man struggles to save his family and his small North Carolina town after America loses a war, in one second, a war that will send America back to the Dark Ages.A war based upon a weapon, an Electro Magnetic Pulse (EMP). A weapon that may already be in the hands of our enemies. Months before publication,
One Second After
has already been cited on the floor of Congress as a book all Americans should read, a book already being discussed in the corridors of the Pentagon as a truly realistic look at a weapon and its awesome power to destroy the entire United States, literally within one second. It is a weapon that the Wall Street Journal warns could shatter America. In the tradition of
On the Beach
,
Fail Safe
and
Testament
, this book, set in a typical American town, is a dire warning of what might be our future.and our end.
The John Matherson Series
#1
One Second After
#2
One Year After
#3
The Final Day
Other Books
Pillar to the Sky
48 Hours

Frequently bought together
Frequently Asked Questions About One Second After

Book Reviews
(12)
Did you read One Second After? Please provide your feedback and rating to help other readers.
Everything I hoped it would be.

Derived From Web

, Apr 20, 2022

I've heard the book referred to as the bench Mark many times. They were correct. The author uses his knowledge of EMPs and puts it into a believable story which covers many problems that are foreseeable and preventable but both the government and private citizens choose to ignore and do nothing to help themselves. The main body of the story covers the horror of just a couple of months with out the convenience we are used to but can so easily and inexpensively prepare ourselves to do without. People can't seem to do even minimal preparation for disasters even though they live in areas that are prone to them. If we continue to keep our attitude, what can happen?
A fearful revaluation of what could be.

Derived From Web

, Jan 18, 2022

Can something like this happen? Scary! The book gave a description of what could happen. You can't help but feel helpless if you see yourself in such situations after you finish this book, because the immediate clinical, commodity, and social impact was well thought out and described. You can analyze your strengths and weaknesses, but at the end, it's the brotherhood of man that will be the key to survive such horror.
Terrible prose, terrible dialogue, weak characters. Skip it.

Derived From Web

, Aug 2, 2021

I have to say that this book is one of the worst books I have read in a long time. Cliché, completely unmemorable characters, terrible dialogue, and a weak narrative. If you want to read a book about a post apocalyptic event, you should check out Peter Heller's book. This is a piece of junk.
Apocalyptic, war story. Survival

Dianne Reynolds

, Jun 12, 2021

You will not be able to put it down. I read the series. Great summer read
The possibility of what could happen and how it gets resolved
Love or hate

Derived From Web

, Apr 10, 2021

Either you love or hate this book. I like this book. I find it to be a teaching guide, even though it's a novel. I haven't read a novel in over 50 years. When I got this book, I started reading the first chapter and thought I'd put it down. I could not. I called in sick and read it. I made it through despite my poor eyes. There are things left out that are not in a perfect time line, but it is a novel. So what? I have ordered a number of them from Amazon to lend to friends. They don't always give them back. J.W. wrote an excellent novel called "Patriots". There were rawles. If you like this, you will like the rest of the team. I found it to be more of a teaching guide because it talks about many actual trade names and model numbers. I get the storyline mixed up with One Second After. Oh well...
I wanted to like this book but...it's fear mongering political propaganda

Derived From Web

, Mar 8, 2020

I wanted to like this book, but it became clear to me that it was a far-right gun- loving propaganda with strong political leanings. The premise of the book is interesting, but instead of focusing on character development, it keeps trying to shove the authors beliefs down your throat because every character has the same beliefs. Everyone is either military or ex-military. Everyone has guns, bibles, and likes to mention 'we're Americans' or 'this is still America', even with racist undertones, it was weird. It was very strange. It made me laugh because it was ridiculous. I wish I could get back the money I spent.
SOOO much like Alas, Babylon

Derived From Web

, Sep 13, 2018

This is a good book, first of all. I have not read ALAS, BABYLON, but I would give this a 4 or 5 star rating. The main character grows harder than he thought he could, a mini-war ensues, and eventually redemption by the U.S. government. Pat Frank's heirs could probably take the author to court for the national disaster. They eat the house dogs. I can't get on board with an excellent book. If you want to read about a potential national disaster and you haven't read ALAS, BABYLON, this is probably not for you. I would rather re-read ALAS BABYLON and leave this obvious poser in the dust.
Poorly written, biased, fearmongering book

Derived From Web

, Aug 25, 2018

I made it all the way through the book. It wasn't easy as the writing is not easy to read. Sometimes the author repeats the same information. The premise is not right. There is no military presence in the area that the book is set in, but in real life the military or national guard would be present, and much earlier than the book mentions. Most people with half a brain have enough food on hand to last at least a month, so the complete breakdown of society as shown in the book would happen much slower, if at all. The military is praised in the book, likely due to the authors bias towards military service. Liberal characters are poorly written foils for good guys. If this book had been a college freshman term paper, it's a decent try, but not really worth the time. A man has a PhD?
Very dissappointed

Derived From Web

, Jul 4, 2018

I was surprised by the many positive reviews. The author spent half the book talking to the town leaders who were discussing all the problems that could or will happen. It seemed like the author was using this time to do something with his knowledge. I could not continue through this part of the book. If he stuck with the suspense and mystery that started in the beginning, it could have been so much more.
Scary ... and possible

Derived From Web

, Apr 4, 2018

It would be great to think that the U.S. is prepared for a pulse attack. We have known for a long time that it is possible to make such a thing. It's more of an educated guess, so it isn't science fiction. If it does happen, we'll be back in the 18th century. We might survive if we have fresh water, have enough food, dig a hole, and own a car. I was interested enough to finish it and have given it a lot of thought since then.