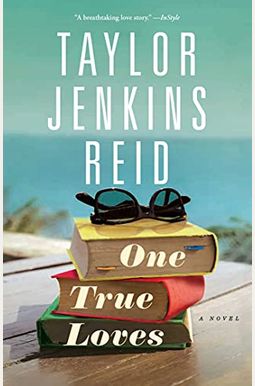 
 
Book Overview
From the New York Times bestselling author of The Seven Husbands of Evelyn Hugo
Named a Best Book of Summer by Cosmopolitan * InStyle * Redbook * Us Weekly * PopSugar * Buzzfeed * Bustle * Brit+Co * Parade
No one does life and love better. -InStyle
Earth-shaking.you will flip for this epic love story. -Cosmopolitan
Reid's heartwrenching tale asks if it's possible to have multiple soul mates. --Us Weekly
From the author of
Maybe in Another Life
--named a
People
Magazine pick--comes a breathtaking new love story about a woman unexpectedly forced to choose between the husband she has long thought dead and the fianc who has finally brought her back to life. In her twenties, Emma Blair marries her high school sweetheart, Jesse. They build a life for themselves, far away from the expectations of their parents and the people of their hometown in Massachusetts. They travel the world together, living life to the fullest and seizing every opportunity for adventure. On their first wedding anniversary, Jesse is on a helicopter over the Pacific when it goes missing. Just like that, Jesse is gone forever. Emma quits her job and moves home in an effort to put her life back together. Years later, now in her thirties, Emma runs into an old
Read More chevron_right
Frequently Asked Questions About One True Loves
Book Reviews
(12)
Did you read One True Loves? Please provide your feedback and rating to help other readers.
Best book I've read in a while!

Derived From Web

, Apr 20, 2022

The best book I read in a while. I laughed, cried and smiled like an idiot throughout the book! Definitely want to check some of her other stuff out! Highly recommended.
Good Read!

Derived From Web

, Feb 2, 2022

I really enjoyed reading this book, it became one of my favorites! I seriously couldn t put this book down. I hope the film adaptation is as amazing as this book.
Lacking emotional depth

Derived From Web

, May 9, 2021

I don 't think that true love means only love. I think that true love means truly loving. Loving purely Loving. Loving wholly Loving wholly. I honestly expected to go into One True Loves and be completely immersed in deeply emotional, angst ridden feelings that I'd read through it, needing to glutton myself on all the words. While I really enjoyed this book, I found it to be shallow with its emotional punch. The author could have taken this journey to such a deeper level. The emotions felt on the surface all over the surface. It just didn't delve into the deep, dark feelings that these characters should have been going through. The ending was so very rushed and the ending was very much rushed. In fact, when I flipped the last page, I was shocked that it was the end. This book could be completely written and give us a whole new journey. Add to what happened to Jesse once he disappeared. That is a big aspect that I missed. I needed to know his story ''. Yes, this was a good book. No. It was a great book, was it a great book?
True love isn't always meant to last a lifetime

Derived From Web

, Jan 10, 2021

I enjoyed the book and the perspective really ''. Here I do not want to create spoilers to reveal what happens in the plot, but the main character Emma as a young girl and woman was fiercely determined to be a free spirit and nothing like her family wanted her to be. After college, she and her love, Jesse, started trotting around the globe and Emma began writing travelogue articles and living the life of which they both dreamed. When something unexpected happens, Emma begins to reevaluate her life, her choices and her future path after some time. It makes for a wonderful reading. The characters make you care about them and their choices and you can not help, but root for their favorites and find joy in their triumphs as well as the closeness of their family. I love that Marie shares a few houses with her parents and they live so much of their lives together. I have shed a few tears while reading this, which is always a good sign that the author really pricks my emotions. Bravo! Well done!
True love in life

Derived From Web

, Jun 30, 2020

4.5 stars : I thought I knew how I wanted this to go before starting. And I stayed with that for a little while and then surprised myself by changing my mind. Emma thought I was overly generous in doling out her love in the midst of her dilemma, but at the same time she did it with her whole heart and conflict warring. It was an unusual and confusing situation, and it was an unusual situation. The story captured the feelings and circumstances well of each of the characters, particularly Emma's perspective and her growth process. I could appreciate the underlying message with respect to the past and the present and the thought provoking elements.
Cheesy and sophomoric story

Derived From Web

, Nov 27, 2019

I am amazed at the 4-5 star reviews on this novel. Are they all made by lovers of schmaltzy romance novels? This story was mostly cheesy and sophomoric. High School Sweethearts, Marriage, Loss, Reconnection with another high school young man, Re-appearance, what to do? This is no longer young adult stuff. Here I am happy for Emma, the protagonist, but the story did not meet my expectations. Given the authors'penchant for writing about initmacy, relationships and love, I was hoping for a more eccentric story line. I skimmed a lot of the pages as there was such a meaningless narrative and no need to read every word of the schmaltz. I was interested in reading some of Taylor-Reid's other novels, but I am now uncertain whether I will.
Very moving and heart warming

Derived From Web

, Apr 6, 2019

When I read the part where Jesse was gone and Emma spent her time adjusting and writing letter to Jesse, I was all tears. I hoped they would reunite, but I like the ending. It tells more about complication and the simplicity of love that won't be told otherwise.
One True Loves

Derived From Web

, Mar 10, 2018

Sam or Jesse? In this novel, clearly resembling the movie Castaway, Emma must choose between her first true love and the love that brought her over the heartache of her husband's tragedy.
Pretty cheesy

Derived From Web

, Mar 5, 2018

Due to the sappy cheesiness of this book, I had to skip large chunks of this book. But I made it through, eventually. I wouldn 't recommend it.
Very romantic

Derived From Web

, Apr 6, 2017

It was heartfelt and true, and reflected in what happens today in lives. People grow apart and live on, divorce, death or just outgrew the person. Getting over it is natural but hard, this book nails all the feelings. I enjoyed reading this book ''.