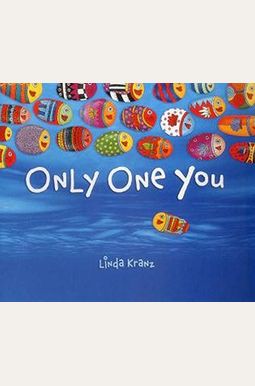 
 
Book Overview
There's only one you in this great big world. Make it a better place. Adri's mama and papa share some of the wisdom they have gained through the years with their eager son. Their words, simple and powerful, are meant to comfort and guide him as he goes about exploring the world. This exquisitely illustrated book explodes with color and honest insights. Kranz's uniquely painted rockfish, set against vibrant blue seas, make an unforgettable and truly special impression. Only One You will inspire parents and children of all ages as they swim through the sea of life.
Frequently bought together
Frequently Asked Questions About Only One You
Book Reviews
(12)
Did you read Only One You? Please provide your feedback and rating to help other readers.
Beautiful book for children with a great message!

Derived From Web

, May 2, 2022

I have read the entire book and I must say, I love it. It has a great message about being an individual while not telling kids how special they are, he said. I don't like books that tell kids that they are more special than others, Raymond said. One says that sometimes you need to stand out and sometimes you need to fit in. It's great to be different, and it's okay to be the same, so long as you stay true to who you are, Sosa said. I've also read Linda Kranz's You Be You, which I bought from Amazon. com. I'm a huge fan of that one.
Beautiful, artistic story & illustrations for children and adults too

Derived From Web

, May 2, 2022

I enjoy reading this book so much that I find myself trying to get my son to want to read it with me. I've had many, many conversations with people who really enjoy the story and the illustrations. This is by far the most imaginative and witty children's book I've ever seen. What a great book to get as a present for an adult who has a new baby or any parent with a new baby.
Positive Affirmations

Derived From Web

, Jan 12, 2022

I've never read a book by that name. The message is so good, said Blair. Simply put, these are the first few weeks of your child's life. Two more were for my grandsons pre-K teacher and his special ed teacher as well as including portable stones for each child so they could paint the stones as they learn they are individual and unique. It's a really simple book, but the depth of advice is so needed in the generation coming up, he said. Young and old can use it. It's great to have such a good product, recommend it. I also bought a board book and a hard cover book. McCartney has no complaints about either style of music.
Great story!

Derived From Web

, Sep 17, 2021

In "The Whole Nine Yards," Elizabeth Warren writes, "a little boy is taught how to find his way." I read it every year to my class and remind them that they are special! Then they paint their own special rock and look at how they are all different, but beautiful. It was also a surprise for me because I bought it for other friends. Great advice, said Dr. Scott. Rowell, director of the federal Centers for Disease Control and Prevention.
Great book, buy it!!

Derived From Web

, Jul 8, 2019

We're huge fans of Nancy Reagan's book, and we love the cover. It teaches the importance of being special and unique. Do My Daughter's 1st Grade Birthday We donated it to her classroom and she painted rocks to give all her classmates, each one unique and unique! The kids loved it and the teacher called me to let me know just how special it was and opened up a great class discussion, Mr. Booher said.
Great family day activity at school

Derived From Web

, Jun 13, 2019

We read this in the classrooms and then families painted rocks which were then placed on the landscaping around our flag at the front of the school. As I read the book with my daughter, I couldn't help but shed a tear. The message in the book is very powerful for older students and adults and the younger students found it to be positive and encouraging as well, Myers said. This activity was so well received by teachers and families that I'm considering using it in the classroom.
... cutest project with school kids - based on the awesome, amazing

Derived From Web

, Jun 21, 2018

The book is based on the inspirational life advice of Dr. Goin and is available for sale through Amazon. com.
great art

Derived From Web

, Apr 26, 2018

Even toddlers like the pictures, the content seems more like it was written for adults. But, I'm not sure that my 3 year old really does. We don't talk about the fish, we discuss differences between them and pick our favorites on each page. He's not a big fan of Saul's book, but he likes the movie.
Great message in this book and teaches children and adults ...

Derived From Web

, Apr 4, 2018

This book has a great message about making a difference in the world for good, said Dr. Mark. O'Neill, the National Institutes of Health's deputy director for research.
Great book for any classroom

Derived From Web

, Dec 28, 2017

A passionate and witty book, it tells the reader how to accept themselves and others for who they are. The book was a hit with the children, said Mrs. I bought it for my preschool classroom. Thanks to the generosity of our sponsors, we were able to make unique and fun crafts based on the illustrations as well. Because the book is well made and sturdy, I was able to let my toddlers look at it without worry of ripping it.