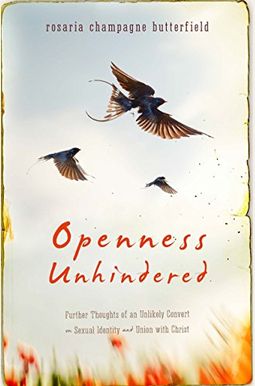  
Openness Unhindered: Further Thoughts Of An Unlikely Convert On Sexual Identity And Union With Christ
Frequently Asked Questions About Openness Unhindered: Further Thoughts Of An Unlikely Convert On Sexual Identity And Union With Christ
Books like Openness Unhindered: Further Thoughts Of An Unlikely Convert On Sexual Identity And Union With Christ
Book Reviews
(12)
Did you read Openness Unhindered: Further Thoughts Of An Unlikely Convert On Sexual Identity And Union With Christ? Please provide your feedback and rating to help other readers.
Worth Reading

Derived From Web

, Jun 2, 2022

Okay, Rosaria is a pretty intense lady, and I don 't agree with some of what she says, but her book is definitely thought provoking, passionate, theologically rich and challenging. It is worth reading just to make you think and open your mind. Also, although this book appears to be a sequel to her first book, Secret Thoughts of an Unlikely Convert, you don 't have to read this book first to get a lot out of it. In fact, I liked this book much better than Secret Thoughts. If you read only one, I would recommend reading this one. And be warned just how easy it is to read. Rosaria is an intellectual, a PHD, a scholar... and shows. This isn 't bad ; just be prepared for some pretty intense reading at times.
Essential reading for Christians on this topic

Derived From Web

, Jun 2, 2022

Throughout this book, Ms. Butterfield shows exceptional theological understanding and a heart of compassion and mercy. She does not seek solutions through politics or a culture war, but focuses on what the Bible says is true and the heart of the gospel. The last chapter on community has blown my mind as it makes a powerful case for Church membership and hospitality and its crucial role in spiritual growth. I hope she writes another book on this topic of hospitality, expanding further. Her writing is poetic, discerning, and honest. I was very refreshed, inspired, and even more ashamed of Christians who spend more energy on themselves than condemning others. If we don 't get this, we have no business saying what the Bible says about sexuality to secular culture.
Exceptional!

Derived From Web

, Jun 2, 2022

By far the best book on sexuality and theology written by a woman who has seen the good and bad in two drastically different worlds.
Speak the truth in love

Derived From Web

, Jun 2, 2022

But more than that, it is a book that encourages us to surrender without compromise to compassion. Dr. Butterfield continues her story, beginning in her first book. Some sections, while requiring slow and thoughtful reading and reflection, are well worth the effort. If you are serious about participating in missions in the cultural landscape of today, this book is a must read. But, as Rosario will say, knowledge leads without love to pride. Take the truths and present them in love, and then when it comes to building bridges, you will find that you have a platform to embed these life-changing truths.
compelling redemption story

Derived From Web

, Jun 2, 2022

I thoroughly enjoyed Rosaria's first book and was excited to see how God has recently worked in her life. There were a few chapters that were very scientific, with words used in the gay community, which were informative. I loved the ideas she had for hospitality and I hope to incorporate some of these ideas into our home.
Excellent book! Loving Rosaria's thoughtful understanding of sin & ...

Derived From Web

, Jun 2, 2022
Five Stars

Derived From Web

, Jun 2, 2022

In the world of today's superficial Christianity, much is needed. This is a book that I share with friends and family.
Rosaria Champagne Butterfield has produced another thoughtful "must read" for ...

Derived From Web

, Jun 2, 2022

Rosaria Champagne Butterfield has produced another thoughtful must-read for our current culture of confusion about sexual identity. Butterfield writes from a clear biblical perspective and as an articulate English professor, handling the topic with sensitivity and Christian allegiance. The final chapters about welcoming others into our home and daily life brings a valuable challenge to the believers.
Making complexity simple in today's heated debates.

Derived From Web

, Jan 25, 2020

If I could only give it 6 stars. A lesbian recommended that I read this book. The author writes in a reading style, helping the reader visualize the surface, the rhetoric, in an intuitive and clear way. Regardless of what you think, have you considered that you might be wrong?
Rosaria is an excellent writer both in content and style

Derived From Web

, Jan 25, 2018

Rosaria is an excellent writer in both content and style. She tells the reason for her conversion experience and what it means to be a devoted follower of Jesus Christ. It might surprise people who have not experienced being loved by Jesus or a follower of Jesus before knowing what this can look like. Many of us have been hypocritical, but long to love the way Jesus loved. Rosario walks us through it all. I am grateful for this book and will refer others to her writing. We are all sinners... but we can be saved from ourselves.