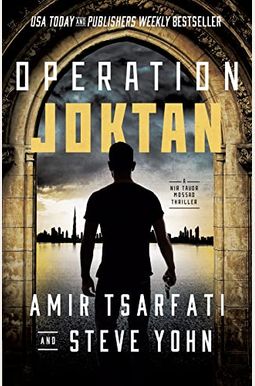 
 
Book Overview
It was the perfect day--until the gunfire.
Nir Tavor is an Israeli secret service operative turned talented Mossad agent. Nicole le Roux is a model with a hidden skill. A terrorist attack brings them together, and then work forces them apart--until they're unexpectedly called back into each other's lives. But there's no time for romance. As violent radicals threaten chaos across the Middle East, the two must work together to stop these extremists, pooling Nicole's knack for technology and Nir's adeptness with on-the-ground missions. Each heart-racing step of their operation gets them closer to the truth--and closer to danger. In this thrilling first book in a new series, authors Amir Tsarfati and Steve Yohn draw on true events as well as tactical insights Amir learned from his time in the Israeli Defense Forces. For believers in God's life-changing promises,
Operation Joktan
is a suspense-filled page-turner that illuminates the blessing Israel is to the world.
Frequently Asked Questions About Operation Joktan
Book Reviews
(17)
Did you read Operation Joktan? Please provide your feedback and rating to help other readers.
Great fast moving story

Derived From Web

, Feb 5, 2022

Couldn't let this go down. I enjoy the fast paced story telling. This was perfect because I like stories from the mid-east. I look forward to the real time news that he gives. I finished the book two days after it was written. Get ready for his return soon!
a really good read with no smut.

Derived From Web

, Jan 30, 2022

It was enjoyable to read a fast paced adventure with romance but no sexually explicit rhetoric and a bonus of showing Jesus to non believers. This book is good for anyone who enjoys espionage genres. The next book will be my.
GREAT story! very riveting

Derived From Web

, Jan 6, 2022

I had a hard time putting the book down. I loved the story line, it wasn't too churchy, it had real action and suspense, but I wasn't scared to read it. I loved the book.
Great book

Derived From Web

, Dec 18, 2021

There is a chance that it could happen because of the work of Amir. The characters are trying to live up to their obligations. I openly confessed that nichole to her friend. The writing was moving along with the action.
Action packed (and a little wordy)

Derived From Web

, Dec 17, 2021

I really liked the book, but I wish Adonai's people could have written a more realistic Christian part of the book. The conversations and the back and forth are the same as many others. I wish authors would do it more creatively. The story and action were great.
A Mossad Thriller

Derived From Web

, Dec 14, 2021

The book is good to read again. Things in the book are happening now. They did a great job with the first novel. If you enjoy spy stories, action and Israel, you will like this book.
Poor attempt

Derived From Web

, Dec 11, 2021

Not a very skilled writer for this genre. The book is expected to be about the Mossad's inner workings. We got a religious romance novel with very poor writing on relationships within team and between Nir and Nicole, who is a model with world class hacking skills and a shooter who just happen to find faith. The combination of any one, or even two, is absurd. Very poor effort. I've been through a lot of unlimited books on the Kindle. I regret paying for this and recommend avoiding it in favor of established authors.
A Glimpse.

Derived From Web

, Dec 5, 2021

The men of the Mossad must stop the hate-saturated men who risk all to cause pain and destruction. You will be enlightened and terrified when you put this book together with what Brandon is doing in the real world. It's time to read it!
Operation Joktan!!!

Derived From Web

, Dec 3, 2021

This book is great to keep in your library. It is a book that will make you feel good. This is a great work. The authors did a great job. I like this book.
Great read, can't wait for more!!

Derived From Web

, Nov 29, 2021

It didn't last long. I guess it had something to do with not being able to put it down! You can tell when the author has military experience because of the fast paced and great story.