Buy 3 Get 1 Free
Our Best Sale Yet! Add 4 Books Priced Under $5 To Your Cart Learn more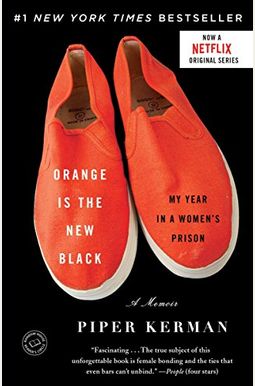  
Orange Is The New Black: My Year In A Women's Prison
Book Overview
#1 NEW YORK TIMES BESTSELER - NOW A NETFLIX ORIGINAL SERIES
With a career, a boyfriend, and a loving family, Piper Kerman barely resembles the reckless young woman who delivered a suitcase of drug money ten years before. But that past has caught up with her. Convicted and sentenced to fifteen months at the infamous federal correctional facility in Danbury, Connecticut, the well-heeled Smith College alumna is now inmate #11187-424--one of the millions of people who disappear down the rabbit hole of the American penal system. From her first strip search to her final release, Kerman learns to navigate this strange world with its strictly enforced codes of behavior and arbitrary rules. She meets women from all walks of life, who surprise her with small tokens of generosity, hard words of wisdom, and simple acts of acceptance. Heartbreaking, hilarious, and at times enraging, Kerman's story offers a rare look into the lives of women in prison--why it is we lock so many away and what happens to them when they're there.
Praise for Orange Is the New Black
Fascinating . . . The true subject of this unforgettable book is female bonding and the ties that even bars can't unbind.
--People (four stars)
I loved this book. It's a story rich with humor, pathos, and redemption. What I did not expect from this
Read More chevron_right
Frequently bought together
Frequently Asked Questions About Orange Is The New Black: My Year In A Women's Prison
Books like Orange Is The New Black: My Year In A Women's Prison
Book Reviews
(13)
Did you read Orange Is The New Black: My Year In A Women's Prison? Please provide your feedback and rating to help other readers.
Engrossing Read! NOT-AT-ALL Like the TV Program

Derived From Web

, Jun 2, 2022

I thought it was an engrossing read ''. A behind the scenes look at a federal prison from a woman's point of view. It does highlight the sad state of the BOP and that very little money-time energy is invested in rehabilitation, which was part of the goal in incarceration? What happens to those who don 't have the support and prospects that someone like Piper Kerman comes out of the system. The book left me wanting more, but for me it is the hallmark of a good book. At 300 pages, it was just right. I don 't always enjoy 500-700 pages that are weighed with more detail than I want. It is filled with gratuitous sex that does not appear in the book and detracts from the story being told... is that the first step to a Reality TV prison show, please No!
A Good Read

Derived From Web

, Jun 2, 2022

I enjoyed this book very much ''. More than I excepted. Though Piper Kaman was not in a major prison, but in a camp, as she called it. The book did convey the life of imprisonment, regardless of whether it is in a major prison or a camp, it is still a life of no choice of where you are and who is around you. And how hard it is to leave your life, friends, love one, etc. You are just left behind. Kerman had a great advantage here. Her future husband, all friends sending books, letters, etc. Keman also had a shot conviction. This book also discusses the injustice of current drug laws. Today, the United States has an extreme amount of prisoners. Damn! Why is 23% of our population in jail? Rehabilitation! '' What a joke! In this country we do not have any rehabilitation. I could say more, but read the book just the book.
We Sure Pick the Wrong Folks to Punish: And at What Public Expense?

Derived From Web

, Jun 2, 2022

Piper finds herself in the wrong place in her life and waits nearly ten years to pay for it. The rote approach to punishing violators demonstrates how blind and lacking our penal system is at the sorting out the ones who need to be controlled. Those who could be rebuilt were rehabilitated. And those who need to be identified for their mistakes formally, but not contained for no reason in the penal housing system, but to demonstrate a punitive reaction to past actions. There is a better way but until the not so clever legislative rule makers at all levels demonstrate a higher level of understanding and policy making it would seem that we are stuck with blind and rote rulemaking that does not relate to conserving resources or making the world any better. Read this and then take action to help the elected blind and uninformed public out-of-all things little smarten up.
A Raw, First Hand Account of the Injustice System in the U.S.

Derived From Web

, Jun 2, 2022

The bullet points in this read are the facts that the U.S. locks approximately 1 in every 100 adults, the highest incarceration rate in the world, and most for nonviolent crimes. Our penal system does essentially nothing effective to train, train and reestablish offenders to be successful, productive, middle class people, since most of them come from poverty and lack of opportunities exposure to better lifestyles. - that we all must take action in some way to start changing our injustice system. This is a quick and concise read about a woman's experience in a federal prison of medium security. As other reviewers have pointed out, she focuses on the relationships and personalities of the other women and the continuing injustices to which they are subjected.
Sucker is the new name for reading this book.

Derived From Web

, Jun 2, 2022

This is a quick read and while it gives a glimpse of daily life in a minimum security facility, I did not like this book. Lightweight, nothing new about the prison system and in the end don 't care about the main character. She is a self-discontented brat who carries her family and love her through the life she created by bad choices and selfish acts - and does not even tell an engaging story. She does not appear to have the wits of the Mayflower Madame, and her prison experience is not a compelling story. Plus, she was never even considered a full year in prison!
respectfully narrated... don't expect the book to be as lively as the show

Derived From Web

, Jun 2, 2022

The show is so much Joyceier, but this book is non-fiction and narrated by a narrator who is respectful to her fellow inmates and easy to like. It has its own special virtues. PK focuses her attention on the good-heartedness she is able to find the camaraderie and the support among them in so many of her inmates. There is surely plenty of the opposite in that prison, but she spares us this, for better or for worse. But when it comes to exposing the schabbiness of the entire prison system, abusive guards, etc. She illustrates how long imprisonments for non-violent and non-fraudulent offenders waste lives and there would be much better ways to catch such people on fruitful life paths than in these horribly managed prisons.
Boring

Derived From Web

, Dec 22, 2019

I kept wondering how this book got an overall rating of 4 stars when I purchased it. I found it very boring ''. I was introduced to it via the tv show, however, I began to read with the knowledge that the book would be different... usually the book is better. In this case, not... I forced myself to finish reading the first 23 of the book, hoping for something interesting, but eventually i had to stop, I couldn t finish the book. If you are reading the book hoping to find a small glimmer of similarity to the series, don 't waste your money on the book. This is literally a day to day account of prison life and nothing more... there is NONE interesting in her year in prison.
Good read still

Derived From Web

, Nov 25, 2019

This book holds up, Alas, because prisons are still a mess. Piper tells her story well and never loses site that she has it better than most, a fact that can not be lost when reading such a book. There are now ways to donate yarn to prisons if you feel you want to help, but don 't know how.
Surprisingly good book

Derived From Web

, Aug 22, 2019

I had reading this book and had not seen the series, although I like and respect many of the actors. It was so surprising to begin to feel a little bit more comfortable and empathizing with the story and Piper. The fear she expresses about her situation is personal and the deep personal awakening is similar to the deep personal awakenings I have experienced, albeit not in prison. The sisterhood on which she learns to rely and love is real and rewarding. Thus was a good read and I learned something about it, which is the most important reward of a worthy book. Piper thanks for having the guts to put it on paper and spit it out there.
At least the show was entertaining

Derived From Web

, Jun 11, 2019

These women are littlech and whine because they're rights are taken away and things don 't go their way. New flash : You're in prison! If you want rights, break the law. I don 't think that they should be locked up, but they got themselves abused. They don 't have rights.