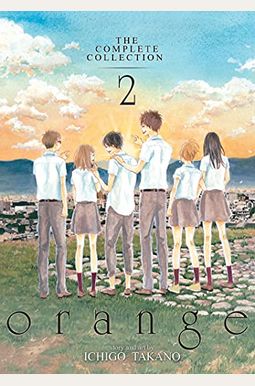 
 
Orange: The Complete Collection 2
Book Overview
EISNER-NOMINATED SERIES A highly-acclaimed shoujo manga about love and time travel Everyone has regrets in life. So who wouldn't take the chance to change the past if given the opportunity? When sixteen-year-old Takamiya Naho receives a mysterious letter, claiming to be from her twenty-seven-year-old self, her life is suddenly thrown into flux. The letter informs her that a new transfer student by the name of Naruse Kakeru will be joining her class, and to keep her eye on him. What is Naho to make of the letter's contents and its cryptic warning?Orange: The Complete Collection 2 also includes a bonus story, Haruiro Astronaut. This five chapter story is about a pair of twins who discover that they can't share everything in life - or at least not an alien that suddenly becomes a part of it. Seven Seas released orange: The Complete Collection 1 and orange: The Complete Collection 2 as separate 384-page omnibus editions. Each omnibus collection contains wrap-around covers, color inserts, and captivating shoujo-style artwork.
Frequently Asked Questions About Orange: The Complete Collection 2

Books like Orange: The Complete Collection 2
Book Reviews
(9)
Did you read Orange: The Complete Collection 2? Please provide your feedback and rating to help other readers.
Beautiful Story

Derived From Web

, May 4, 2022

It's an incredibly beautiful and thoughtful story about love, regret and friendship, Wittman said. The second biggest complaint I have is that the series is over and I wish it had lasted a little longer. Fortunately, there is an anime currently streaming and is very true to the original manga. I have shared this manga with a few friends and it has been met with high praise from our group. Very good illustration, story-telling and characters. Note the volume is only HALF Orange. When I started it, I was so excited to have another large, omnibus style Orange to read, Melissa. About halfway through the book, the series concluded and because I had not realized the other half of the book was a different story, I was left reeling. I appreciate the printers wanting to keep the books relatively similar in sizing and offer as much content as the last, but I just wish I had realized one page that was the case.
Great series!

Derived From Web

, May 4, 2022

I've seen the movies, but I'm not a huge fan of the series. The series finale will air on NBC next May. The reviewer was correct, however, that it was actually more than half way through. It was a surprise to me that it was longer than they had suggested. I however did not like the filler story that the author included to make this book possible to sell for $19.99. But for the Orange series, I was very intrigued and finished it in a couple of hours, Morgenthau said. It was such a rush, I couldn't put it down!
Orange

Derived From Web

, May 4, 2022

If you like romance and feel both then this is the story for you. The main character, a witch, is trying to save Kakeru from killing himself. Before he can do that she writes herself a letter back to him, which he then mails to her. Like a message sent backwards from the lake house or something. I've seen the story, and I must say, the girl is the cutest and her reaction to things are priceless. This was a cute and touching story, said Blair. A must own and must read.
It's basically a slice of life story with a sci-fi twist of time travel.

Derived From Web

, May 4, 2022

My husband and I loved the series. With this volume there are some translation errors every so often, but the story and the artwork are great! I would recommend this to anyone who is looking for an easy to read manga that isn't anything paranormal or intense.
One word: Beautiful.

Derived From Web

, May 4, 2022

I'm so glad I did, said the first manga I ever bothered to read. You learn to live life to the fullest every day, not to regret anything. Even though I'm not Japanese, this manga made me feel so happy. Funny can be so sad at one part and be so good at the other. Reflecting on the many times I tried to take my own life, this really brings the emotions back and how glad I am to be alive. Beautifully drawn, the manga is truly a masterpiece, and should be read. Please be advised that this is a promotional video and that you may have second thoughts about it. I love the way it was written, the way it was directed, and the way the story was told.
The story comes to a close in this epic finale to the story of Kakeru and his friends journey.

Derived From Web

, Aug 27, 2021

Television images could not be loaded. The book was great and at the end it even includes a mini story that is unrelated to the main story so you are getting basically two manga in one. The book is the finale and crescendo to the story of Kakeru and his friends as they face the question, will the letters work? This book will have you asking yourself, "What is truly precious?" The story of Kakeru and his friends is one that I consider to be one of the better Mangas of the last decade.
The book came damaged, horrible printed with glue on it!!!

Derived From Web

, Nov 17, 2018

It came apart and I'm really sad about this. It came with glue in the back and also they printed it wrong, so I'm really sad and disappointed with this!
One of the best "slice of life" mangas I've ever read

Derived From Web

, Apr 20, 2017

A lot of good stuff. Only about half of this book has the original series, and the rest is other content from the same author. Still very good read. A LOT of money. Even more annoying is when they run out of ideas and end up rushing the finale. This manga is not technically a rare find, but it is one of the rarest of finds. The pace was very good, he said. There is a compelling plot. Even though the plot is fairly new, the characters are believable and even likable. These are just a few of the many good reasons to eat well. At the end of the day, you do not feel as if you wasted your time, energy, and emotions.
Great Book!

Derived From Web

, Feb 19, 2017

After reading The Complete Orange Collection 1, I was intrigued to purchase the second book in the series. I would love to see the book expanded further into the lives of the main characters. Only a downside is the abrupt ending that has already been described by many.