Buy 3 Get 1 Free
Our Best Sale Yet! Add 4 Books Priced Under $5 To Your Cart Learn more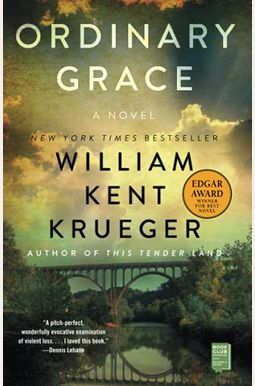 
 
Book Overview
NEW YORK TIMES BESTSELER
WINER OF THE 2014 EDGAR AWARD FOR BEST NOVEL
WINER OF THE 2014 DILYS AWARD
A SCHOL LIBRARY JOURNAL BEST BOK OF 2013
From New York Times bestselling author William Kent Krueger, a brilliant new novel about a young man, a small town, and murder in the summer of 1961.
That was it. That was all of it. A grace so ordinary there was no reason at all to remember it. Yet I have never across the forty years since it was spoken forgotten a single word.
New Bremen, Minnesota, 1961. The Twins were playing their debut season, ice-cold root beers were selling out at the soda counter of Halderson's Drugstore, and Hot Stuff comic books were a mainstay on every barbershop magazine rack. It was a time of innocence and hope for a country with a new, young president. But for thirteen-year-old Frank Drum it was a grim summer in which death visited frequently and assumed many forms. Accident. Nature. Suicide. Murder. Frank begins the season preoccupied with the concerns of any teenage boy, but when tragedy unexpectedly strikes his family--which includes his Methodist minister father; his passionate, artistic mother; Juilliard-bound older sister; and wise-beyond-his-years kid brother--he finds himself thrust into an adult world full of secrets, lies, adultery, and betrayal, suddenly called upon to
Read More chevron_right
Frequently bought together
Frequently Asked Questions About Ordinary Grace
Books like Ordinary Grace
Book Reviews
(17)
Did you read Ordinary Grace? Please provide your feedback and rating to help other readers.
Disappointed after all of the hype

This read is just ok. Krueger can be a decent writer when he wants to. Starts off well. But I came to find a parade of convenient, plot-driven situations and one dimensional characters, one after the other, as if ripped from the pages of some celebrity's small town, coming of age memoire. It was almost pathological how he didn't go into depth on characters' back stories or psyches. But I guess plot-driven, ultimately shallow books are what sell. Sappy.
MY FAVORITE BOOK

Derived From Web

, Apr 20, 2022

I was touched by the book. Only out of necessity did I put it down, Mr. Dhaliwal said. I normally read the one-star reviews when purchasing a book, even if the %'s are very low, because they knew how it would play out as they felt the signs were obvious. Yes, I did not. Good for them, they're geniuses. They missed the whole point. The book is to be read and enjoyed for the pain, values, and message that is spoken unspoken in several difficult situations. Some of the most eloquent and eloquent ideas about friendship, bullying, love, and even marriage were outlined in the book.
Frank's memorable summer of 1961

Derived From Web

, Oct 17, 2021

This is the second of Krueger's books I've read, and I'm his latest fan! There are many, many, vivid characters that come to life. I love his angle of telling the story of it being 13 years old. The other two I've read have danger, excitement, mystery, humor and strong relationships, he said. There are tests of faith, but it all works out.
The Best Book I have Read All Year!!!!!!

Derived From Web

, May 26, 2021

William Kent Krueger's The Fifth Estate was also a finalist in the 2001 National Book Award. The two main characters come to life on the big screen. His description of events as they are played out will grip you and pull you in. The two young boys in the story are endearing and their Dad, who is a minister, makes you wish that he could be your dad. Yes, I am going to read other books by this author.
This is what it is to be human

Derived From Web

, Jul 15, 2020

What did I like about this book? This story is so true to the midwest, the complications of famiy life, the life core of values and faith, and the strength and love that survives great tragedy, he said. A stunningly superb story-telling performance.
Well crafted

Derived From Web

, Nov 11, 2019

I almost dismissed this novel because of the slightly childish tone and religious overtones that struck me as unsophisticated. However, I'm glad I soldiered through, as I came to identify with the young protagonist and the well-crafted mystery he takes upon himself. I rarely finish novels, but this one I did, and thoroughly enjoyed the resolution and the "ordinary grace" interwoven in the plot.
A book about the death of many and moral destruction of one boy

Derived From Web

, Jun 15, 2019

One reviewer said: "This book is repulsive. SICK author Jeff Goldberg is an authority on the subject. Four children and two adults were killed in the attack. It was also mentioned that the Lord's Prayer was "interwoven with religion." Sorry, I even spent a penny on it, it was my Book Club selection.
Depressing

Derived From Web

, Jun 4, 2019

This book is one death or tragedy after another with a 13 year old boy obsessed with breasts and horses mating and using the Lord's name in vain interpersed between, said E.P.A. A depressing read. It's a French curve, Morose said.
Nice Writing But Too Much Sermonizing

Derived From Web

, Apr 30, 2019

I appreciate his writing -- he spins a really nice yarn and at times I felt very much caught up in the sensory experience of life in New Bremen. It was a family affair, and the Drum kids were well painted, too. The relationship of the two brothers and how they interacted with their confidante was the most compelling part of the whole thing, McCann said. Boyhood's wanderings and gruff little conversations are very nice. What surprised me and truly did not appeal was the sermonizing tone of the whole book. I think PeopleSoft customers deserve better customer service, Ellison said.
Couldn't put it down!

Derived From Web

, Apr 6, 2019

I started it early but couldn't put it down. Every time I would try to sleep, the book would call me. I stayed up all night and read through until this morning. Although you think you know where the story is going, it surprises you every time. The sermon on Easter week and feeling abandoned by God was so powerful and heartfelt that I wrote it down to keep for my own moments of despair.