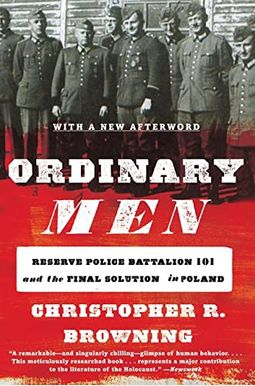  
Ordinary Men: Reserve Police Battalion 101 and the Final Solution in Poland
Frequently Asked Questions About Ordinary Men: Reserve Police Battalion 101 and the Final Solution in Poland
Book Reviews
(13)
Did you read Ordinary Men: Reserve Police Battalion 101 and the Final Solution in Poland? Please provide your feedback and rating to help other readers.
Nothing has changed really

Derived From Web

, Jan 21, 2022

Try this... Everywhere you read the word Jew or Jews swap it with Unvaccinated and things become clearer. Jews had to be killed before their round-up and execution could be carried out by ordinary people. In social media, everywhere are examples of people othering their neighbors who choose not to take these suspicious shots and demand that they are REMOVED from society. Sorry, but it is now happening right! This is how it is done.
Well written and researched

Derived From Web

, Aug 7, 2021

The source tells and letting their statements speak for themselves, while the setting and background made this a powerful read. This had more impact than another summary and pure analysis.
Personal challenge in our own screwed up age. Ideology warning.

Derived From Web

, Nov 20, 2020

I decided to read this book, as Jordon Peterson recommended it. Ordinary men and lessons from life echo the same truth that when ideology takes the soul, and is based on hatred and elitism, anyone can turn on the other and cause personal and/or social chaos and evil. A great book to force a small look within to see what we do when such circumstances occur in our day.
GREAT BOOK TO BEGIN TO UNDERSTAND HOW AVG MEN CAN BECOME CORROPT

Derived From Web

, Jan 9, 2020

VERY WELL WRITTEN, WOULD SUGGEST FOR READING TO UNDERSTAND HUMAN NATURE CORRUPTED DURING BAD TIMES.
Detailed account of the Holocaust.

Derived From Web

, Dec 28, 2019

Very well written history lesson of a terrible time. I could not read more than 25% of the book, every chapter was the same despicable acts against the Jews.
Terrifying.

Derived From Web

, May 29, 2019

For high school students, mandatory reading should be mandatory. Shows how quickly normal citizens can be turned into monsters in the right circumstances.
very disappointing

Derived From Web

, Oct 24, 2018

The book is 90% an account of atrocities committed by the subject unit. If this is the first book you read of the Holocaust, then it is certainly worthwhile. If it's the 50th in my case, then it's just piling on. That is not bad. It is crucial to remember the atrocities committed by the Germans and to try to understand what led them. But the book promised some insight into the people who committed the atrocities. It fails to deliver anything new. Unit cohesion, dehumanization of the enemy, fear of punishment by the authorities... all things we have seen before. And I am not saying that there is nothing new. If it were not a one-star book, this would be a one-star book if it were not for the excellent discussion of the Stanley Milgram experiments and their relevance at the end, with more detail than I have seen previously on these events.
INTERESTING READ

Derived From Web

, Oct 13, 2018

ORDINARY MEN '' found to be a very interesting story about the final solution in Poland during World War II. This book is well worth the investment in time and money. I recommend highly ''.
Hard to read

Derived From Web

, Mar 29, 2018

This was a difficult book to read and then put down. There is much about this history that we do not learn again and again from our peril. Evil and its causes were open to debate, but the ability of average people to participate in such evil was frightening and is remanent.
Not all monsters are born, most are MADE.

Derived From Web

, Mar 27, 2018

Humbling and fascinating look at what has happened during the Holocaust, something to remind us that not everyone who commits monstrous acts is, inherently, a monster. To become one, and if we arrogantly ignore that fact, we risk repeating these same mistakes. If you were to ask me, this should be required reading in schools, if you were to ask me. I can not recommend it enough.