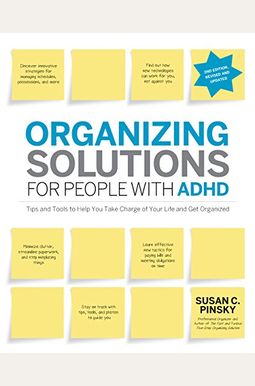 
 
Organizing Solutions For People With Adhd, 2nd Edition-Revised And Updated: Tips And Tools To Help You Take Charge Of Your Life And Get Organized
Book Overview
Organizing Solutions for People with AD, 2nd Edition outlines new organizing strategies that will be of value to anyone who wants to improve their organizational skills.
This revised and updated version also includes tips and techniques for keeping your latest technologies in order and for staying green and recycling with ease. Attention Deficit Disorder (AD) and Attention Deficit Hyperactivity Disorder (ADHD) are prevalent in society today, afflicting about 4.4% of the adult population--over 13 million Americans. Four out of every five adults do not even know they have AD. The chapters, organized by the type of room or task, consist of
practical organizing solutions for people living with AD
:
At work: prioritizing, time management, and organizing documents
At home: paying bills on time, decluttering your house, scheduling and keeping appointments
With kids: driving them to various activities, grocery shopping and meals, laundry, babysitters, organizing drawers and closets
And you: organizing time for your social life, gym, and various other hobbies and activities
Color photographs that capture the short attention span of the reader
are featured throughout, as well as
sidebars and testimonials
from adults with AD, providing numerous organizational tips,
Read More chevron_right
Frequently Asked Questions About Organizing Solutions For People With Adhd, 2nd Edition-Revised And Updated: Tips And Tools To Help You Take Charge Of Your Life And Get Organized
Book Reviews
(14)
Did you read Organizing Solutions For People With Adhd, 2nd Edition-Revised And Updated: Tips And Tools To Help You Take Charge Of Your Life And Get Organized? Please provide your feedback and rating to help other readers.
The best ADHD organization book I've found.

Derived From Web

, May 1, 2022

It's great to hear practical advice, Cheri said. As an adult with ADHD, I have shelves of how-to organizational books. The last one I read, Spark Joy, made me laugh. Three-pages on how to fold socks and underwear complete with illustrations by Sara Fields. I'm a huge fan of Saul Bellow's work, and this book is my style. It's just that paper towels fold. It's just that getting them in a clean bin is good enough. Store things so they can be moved in one motion. The second room will be picked up in 3-minutes. I love the new look of the magazine.
The methods in this book worked extremely well for me

Derived From Web

, May 1, 2022

When I first started reading this and did what it said, it was amazing how much clutter and stress I removed in a very short period of time, Morgenthau said. I feel a whole lot better reducing clutter to a minimum so I can focus more efficiently, he said. It helped me to stop bringing things into my house that I don't need.
just what "the doctor ordered"

Derived From Web

, May 1, 2022

Thanks to this book, I never had to think twice about buying a house. The book also recognizes the trials and tribulations of what we ADHD sufferers go through without using her description of how many steps a shower can take a normal person vs an ADHD sufferer. She has a step-by-step approach to many household dilemmas. Anyone with ADHD should read this book.
No excuse for not working on my piles now

Derived From Web

, May 1, 2022

The book was written by a New York Times best-selling ADHD coach who has helped thousands of clients get organized. You can put faith in her suggestions, Sir Richard said. What a great customer service!
Useful information but formatting isn't ADHD-friendly

Derived From Web

, Dec 22, 2020

Clutter: The 12 Rules for Living With ADHD and a Tidy Home is a must-have book for anyone with ADHD and a disorganized home. It's just that I wish it was a lot easier to get that information into my brain. As someone with ADHD, the formatting of the pages was very difficult to read. Reflecting the light grey background, the headings do not stand out on the white page. Even the font itself is pretty inaccessible for someone who already struggles to read long paragraphs. The author put so much work into finding organizing solutions for a certain set of neurodivergent people, but then made the book itself less accessible for that group. He admits that defeat is a "pretty big deal."
Good book, better pictures please

Derived From Web

, Mar 18, 2020

The book is a bit of a bore, even if you think about it. The photos were taken several years ago. There are a lot of great organizational photos on pinterest.
Almost completely unrelatable

Derived From Web

, Mar 7, 2020

While there are some useful ideas in this book, the author feels like he's being ridiculous. It's just that my husband and I are both ADHD, and we are pretty sure our two young daughters are as well. The methods listed in this book are not supported by the evidence. She tells you that you shouldn't spend the time moving spices into spice jars that fit in an organized unit, but you should instead spend time replacing mismatched hangers. And, frankly, I felt like I was being patronized in more than half the book. In her defense, she says all ADHD people are the laziest slobs on the planet. However, because of the way the contract was written, most of this doesn't apply to us at all. Though I have never written a bad review of a book, I think this one deserves it.
Finally... realistic strategy instead of judgment or unobtainable standards

Derived From Web

, Oct 30, 2019

A great book. My entire household has ADHD so we needed something practical and reliable for us to keep the book design in mind, Melissa said.
Where has this book been all my life?!

Derived From Web

, Jul 15, 2019

Easy to use, affordable, and available with no hassle.
Loved this so much. Spot on and super helpful.

Derived From Web

, Dec 27, 2017

Great to motivate and give me helpful tips to conquer my life long issues with prioritizing and getting organized because of ADD,' said Blair. It would be great to help loved ones understand our struggles with these things as well.