BLACK FRIDAY DEALS CONTINUE - SAVE 20% AT CHECKOUT WITH CODE CYBERBOOK. Learn more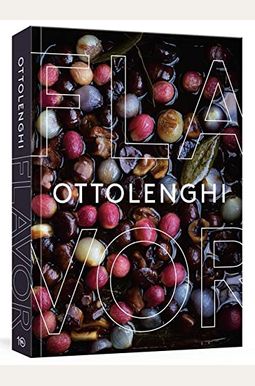  
Ottolenghi Flavor: A Cookbook
Book Overview
NEW YORK TIMES BESTSELER - The author of Plenty teams up with Ottolenghi Test Kitchen's Ixta Belfrage to reveal how flavor is created and amplified through 100+ super-delicious, plant-based recipes.
NAMED ONE OF THE BEST COKBOKS OF THE YEAR BY
The New York Times Book Review
- NPR -
The Washington Post
-
The Guardian
-
The Atlanta Journal-Constitution
-
National Geographic
-
Town & Country
-
Epicurious
Bold, innovative recipes . . . make this book truly thrilling.--
The New York Times
Level up your vegetables.
In this groundbreaking cookbook, Yotam Ottolenghi and Ixta Belfrage offer a next-level approach to vegetables that breaks down the fundamentals of cooking into three key elements: process, pairing, and produce. For
process
, Yotam and Ixta show how easy techniques such as charring and infusing can change the way you think about cooking. Discover how to unlock new depths of flavor by
pairing
vegetables with sweetness, fat, acidity, or chile heat, and learn to identify the
produce
that has the innate ability to make dishes shine. With main courses, sides, desserts, and a whole pantry of flavor bombs (homemade condiments), there's something for any meal, any night of the week, including surefire hits such as Stuffed Eggplant in Curry and Coconut Dal, Spicy Mushroom Lasagne, and Romano Pepper Schnitzels. Chock-full of low-effort, high-impact dishes that pack a punch and standout meals for the relaxed cook,
Ottolenghi Flavor
is a revolutionary approach to vegetable cooking.
Frequently Asked Questions About Ottolenghi Flavor: A Cookbook
Book Reviews
(9)
Did you read Ottolenghi Flavor: A Cookbook? Please provide your feedback and rating to help other readers.
disappointing

Derived From Web

, Aug 19, 2021

... I was very disappointed to get this and now very excited... I made four recipes so far and all of them have been Vapid for the steps and ingredients involved in both taste and texture. I have not currently given up and may update this post... I try to find at least another 10 recipes. However, so far the only ear mark in the book is for it to be donated to Goodwill with a big good luck sticker on it... And here is the update... It is off to Goodwill... I have made 4 recipes and are all worthless. The most recent was the butternut squash galette and the avocado - chilled soup. The book is good, but if you are any kind of chef, the recipes are worthless. Changing the rating to a star.
Which plant does gruyere come from?

Derived From Web

, Oct 24, 2020

I was really looking forward to this cookbook and immediately started flipping through it once I received it. Was very disappointed to see that here are recipes that use dairy without any plant-based alternatives. For example, the kimchi and gruyere rice fritters are fried. There are already so many mainstream cookbooks using dairy that I am not sure why these two did not rise to the challenge of creating fully plant-based meals.
Too much, too fancy, too profit-oriented

Derived From Web

, Oct 24, 2020

Why a cookbook that is more than a coffee table book at 3.5 pounds? Why is there only one spread of the Ottolenghi Flavor Bombs '' out of 300+ pages? Why the heavyweight, glossy paper used in art books? Why only 100 recipes in 300+ pages and so many photos of happy people socializing or line drawings? I love Ottolenghis's approach to food, I have bought every other one of his books, but will not buy another.
Broken bindings

Derived From Web

, Oct 17, 2020

I ordered 2 copies for myself and one as a gift. A few days ago, they arrived. I am ready to present the gift, I opened one of the 2 books and the cover is completely separated. The other book is the same Amazon takes the return, and I am refunded. I do not believe that a replacement would be a better binding quality. Hopefully, a higher binding quality will be used in the future.
Ottolenghi rocks again!

Derived From Web

, Oct 15, 2020

I just received this yesterday, so I made only one dish and it was very difficult to choose which because so many look delicious. The attached photo is of the Eggplant Dumplings Alla Parmigiano that I made tonight and were as tasty as they look! I waited with great anticipation for this new book by chef Ottolenghi because I own and use all his previous books throughout the year. This book Flavor contains beautiful photos and LOTS of inspiration. I recommend it highly! '' ! !
a must have for ottolenghi fans not for the faint of heart

Derived From Web

, Oct 14, 2020

If you have a passion for vegetarian or vegan cooking, this is a book you should consider. I wouldn 't recommend this book for people who are just entering the meatless world or people who are new to cooking or people on a budget. This is not the book with which to start with. If you have extra income and can afford to buy difficult to source ingredients and you have the skill to use them, I would recommend this book. The book has a lot of text, at times almost like a technical manual. It has a purpose and fits in with the general feel of the book. It's a big book, with big ideas. If you know someone who has already mastered the basics of meatless cooking and has time money to take the next steps, this book is a good buy. I received a free copy of this book from clarkson Potter in exchange for a free and unbiased review.
Fans of Ottolenghi might like this book but for me it was overly complicated.

Derived From Web

, Oct 13, 2020

This cookbook is beautiful. The pictures are beautiful and the recipes are described in detail. However, it does not inspire me to make them. Every recipe is complicated and many ingredients use hard to find. None of the recipes look like they can be done quickly or easily with low clean up. It is not a book for the cook of the day. That said, I made the Hummus with Lemon, Fried Garlic and Chile and was delicious. I found the book to be overwhelming and not user friendly. It seems better for a coffee table than for actually cooking. I received a free and unbiased review from Ten Speed Press in exchange for a free copy.
tasty vegetables and more

Derived From Web

, Oct 13, 2020

Indy, Mr. Ottolenghi is known for its beautiful cuisines. This is no exception. A pan of orecchiette was delectable. This book is a resource for the vegetarian and vegan cook. The recipes are not difficult and include a number of dishes, including fish and pasta. The fault I found with the book is that many of the given ingredients are not commonly found in a general supermarket. The ugly pictures, however, will probably tempt the cook to elevate the lowly side dish that is usually veg. I got a free and unbiased copy of Ten Speed Press in return for a free review.
Beautiful book, not practical for everyday

Derived From Web

, Oct 13, 2020

It is a beautiful cookbook! Lots of wonderful plant based dishes. Pictures are enticing and a great read on different flavors and how they affect your cooking. It is, however, impractical for the everyday kitchen, as many ingredients are hard to find outside of larger metropolitan areas. There are a few I would like to try, but not for me and my family overall. It will go as coffee table books with my others in this series. I received a free and unbiased review from Ten Speed Press in exchange for a free copy ''.