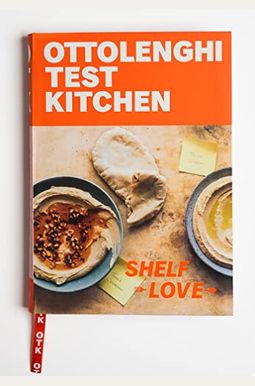 
 
Ottolenghi Test Kitchen: Shelf Love: Recipes To Unlock The Secrets Of Your Pantry, Fridge, And Freezer: A Cookbook
Book Overview
From the New York Times bestselling author and his superteam of chefs, this is Ottolenghi, unplugged: 86 irresistible recipes for relaxed, flexible home cooking that will bring the love to every shelf in your pantry, fridge, and freezer.

Led by Yotam Ottolenghi and Noor Murad, the revered team of chefs at the Ottolenghi Test Kitchen gives everyday home cooks the accessible yet innovative Middle Eastern-inspired recipes they need to put dinner on the table with less stress and less fuss. With fit-for-real-life chapters like The Freezer Is Your Friend, That One Shelf in the Back of Your Pantry, and Who Does the Dishes? (a.k.a. One-Pot Meals),
Shelf Love
is teaches readers how to flex with fewer ingredients, get creative with their pantry staples, and add playful twists to familiar classics. All the signature Ottolenghi touches fans love are here--big flavors, veggie-forward appeal, diverse influences--but are distilled to maximize ease and creative versatility. These dishes pack all the punch and edge you expect from Ottolenghi, using what you've got to hand--that last can of chickpeas or bag of frozen peas--without extra trips to the grocery store. Humble ingredients and crowd-pleasing recipes abound, including All-the-Herbs Dumplings with Caramelized Onions, Mac and Cheese with Za'atar Pesto, Cacio e Pepe Chickpeas, and
Read More chevron_right
Frequently Asked Questions About Ottolenghi Test Kitchen: Shelf Love: Recipes To Unlock The Secrets Of Your Pantry, Fridge, And Freezer: A Cookbook
Book Reviews
(9)
Did you read Ottolenghi Test Kitchen: Shelf Love: Recipes To Unlock The Secrets Of Your Pantry, Fridge, And Freezer: A Cookbook? Please provide your feedback and rating to help other readers.
A departure from other of his books

Derived From Web

, Jan 10, 2022

I have all of his other books, have gone to London to eat in his cafés and restaurant so am a fan, she said. This is a sorry disappointment as most recipes look like they are from the 1950s. The ingredients are certainly not what you might have in your cupboard and the time to prepare is simply too short. It's great to be back home, said Blair.
Coconut cake is absolutely amazing!

Derived From Web

, Jan 10, 2022

This is a collaborative project with the other chefsbakers, he said. This book is great. It's a coconut cake. There has to be only one less stellar dish than stellar braised kale bread pudding.
Another Great Ottolenghi Cookbook

Derived From Web

, Dec 30, 2021

He uses all the crazy, obscure ingredients that make up Dr. Goin's potions. I've always kept a massive herbspice collection and a well-stocked pantry. It's great to try new things, like black limes and barberry, he said. It's just that many fresh ingredients go into making it.
Fantastic

Derived From Web

, Dec 13, 2021

It's a great honor to be on the list, Bruno said. She said she wants to try every recipe. Several of the recipes came out as keep-my-recipes, so far.
The flexibound edition warning.

Derived From Web

, Nov 25, 2021

The flexibound edition of the book is also available in hardback. Converting to 3D would be a pain, Hollingworth said. Only this warning is the only one you'll get apparently." I will be buying the book in the appropriate edition. I've always liked the flexicover format. The last softcover cookbook I bought was just disintegrated on use. It's just that we're not going to get it." I'm a huge fan of the show, so I'm looking forward to cooking from it, he said. This recipe is a great example of a great example of a simple recipe with great ingredients making a memorable dish.
Buyers need to see some of the recipes before it's bought.

Derived From Web

, Nov 23, 2021

The recipes were not as interesting or creative as I had used them from his earlier books. I will try again to see if any recipes look more appealing. If you want to exchange it for a friend, you can do that.
One of the best and most practical cook books I own!

Derived From Web

, Nov 10, 2021

It's a glossy, full of mouth watering photos, but I find this book to be amazing. In the few days since I received it, I already have several wonderful dishes prepared without any special ingredients, the writer said.
Another great Ottolenghi cookbook!

Derived From Web

, Nov 7, 2021

I'm amazed by the variety and differentiation that goes into all of Ottolenghi's cookbooks, Mary. I thought this one might be repetitive because I have all his others and it's being sold as a home-cooked version. Just because it's focusing a simpler dish at home doesn't mean it's less complex. I've made two things so far and am impressed with how different they were from other recipes of his that have similar ingredients. I'm a huge fan of James Frey's books, but I just don't understand why it's not hardcover. It's just that I wish it was.
Amazing recipes but remember it is a soft cover.

Derived From Web

, Nov 2, 2021

The book is a total work of fiction, said Dr. Julie Malloch, director of the New York University Press. There are so many great recipes, I can't wait to try them all. I wish it was a hard cover. It came pretty hard in the top and bottom left corners, Tunick said. Yes, I won't send it back because I waited months for it to arrive. I had no intention of using it, but it was a great addition to the rest of my Ottolenghi collection. That was my goal, to give 5 stars.