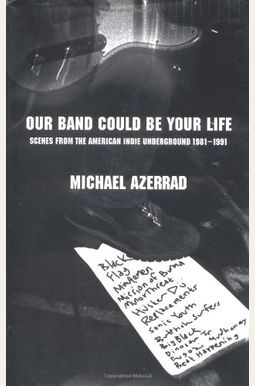 
 
Our Band Could Be Your Life: Scenes From The American Indie Underground 1981-1991
Book Overview
This Description may be from another edition of this product.
The definitive chronicle of underground music in the 1980s tells the stories of Black Flag, Sonic Youth, The Replacements, and other seminal bands whose DIY revolution changed American music forever.
Our Band Could Be Your Life is the never-before-told story of the musical revolution that happened right under the nose of the Reagan Eighties -- when a small but sprawling network of bands, labels, fanzines, radio stations, and other subversives re-energized American rock with punk's do-it-yourself credo and created music that was deeply personal, often brilliant, always challenging, and immensely influential. This sweeping chronicle of music, politics, drugs, fear, loathing, and faith is an indie rock classic in its own right.
The bands profiled include:

Sonic Youth
Black Flag
The Replacements
Minutemen
Husker Du
Minor Threat
Mission of Burma
Butthole Surfers
Big Black
Fugazi
Mudhoney
Beat Happening
Dinosaur Jr.
Frequently Asked Questions About Our Band Could Be Your Life: Scenes From The American Indie Underground 1981-1991
Books like Our Band Could Be Your Life: Scenes From The American Indie Underground 1981-1991
Book Reviews
(15)
Did you read Our Band Could Be Your Life: Scenes From The American Indie Underground 1981-1991? Please provide your feedback and rating to help other readers.
Second Wave Punk Classic

Derived From Web

, May 23, 2022

Michael Azerrad wrote another gem. He is indeed one of my favorite writers who works the punk beat. In this one he details several 80's punk bands through the interesting artistic triumphs and mostly insurmountable business obstacles. I knew several of the artists and some were friends of mine. Intuite's prose brought me back to an important personal history, and he nailed it. All the excitement of what we were doing with all the frustration of trying to make a living out of music. The ending almost brought a tear to this jaded eye. This is great history and I urge anyone who is remotely interested in Punk - music or rock - music - Historie to give it a read.
Our Band Could Be Your Life (Bringing Underground Music Above Ground(

Derived From Web

, May 23, 2022

Our band Could Be Your Life is a very Throrough book with about 590 pages to read. If you are part of the Indie '' age group, you will identify and like reading about the known groups. If you missed the generation and always wondered what it was all about, you learn about what these groups went through just for getting their music heard. I was impressed with their desire to make their own songs, have a friend make the labels and distribute their records in the old fashion, locally. I added, there are quite a few youtubes with footage of many of their gigs so that you can listen to them. I found this the most helpful in reading each chapter. , '' he said.
another great book by a great author

Derived From Web

, May 23, 2022

Michael Azerrad is a great author. Actually, I think about it now, when I found out that he wrote this book, I was just more eager to read it. When I saw the book for the first time, the cover actually drew me into looking at it, lol. I was just beginning to get into ungerground bands and such, so I started to look over to see what kind of bands it talked about. The book is actually quite interesting. I hardly knew who half the bands were at the time, and by reading the selected stories, I found myself going to Media Play to pick up their CDs. It is for anyone who knows the true meaning of music, just not some [one] who likes Nirvana because of Smells Like Teen Spirit...
And It's Accurate, Too!

Derived From Web

, May 23, 2022

I can not speak for the other twelve chapters, but -- speaking as someone who was there and fairly close to the inside -- Azerrad does a truly remarkable job with Mission of Burma, both in terms of getting the facts right and capturing the mood of the Boston scene in their heyday. That gives me a lot of faith that the other portraits of the remarkable bands are as fair and accurate as they are vivid.
An OK read, but missing vital components

Derived From Web

, May 23, 2022

I finished reading most of this book just. I skipped two of the bands because I was just interested in finding out about them. Although the scenes were certainly interesting and growing up as a fan of many of these bands, I just didn 't find the excitement in Azerrad's writing, which tends to the dry side. I also remember in a few places where Azerrad uses a combination of words which he repeats in the next chapter. Here the big crime is the omission on a chapter on the Melvins that influenced many of the bands that participated in the indie scene of the 1990s. Given the author's Nirvana obsession, coupled with the obvious influence that the Melvins had on Cobain and the way in which they have run their careers, it seems like there should have been more than a passing mention.
gotta get it

Derived From Web

, May 23, 2022

If you're a fan of this genre, reading this is required reading. I keep catching this over and over-Azerrad is a very good writer, and he succeeds in portraying what most of society would call Dirtbags making noise into almost Greek mythology. Some of these band stories you couldn t make up, with both the dramatic and the ridiculous constantly battling for supremacy. You got some big egogeniuscrazy people, massive conflict, lack of sleepfoodmoney, and in many cases, excessive drugs and likker. This spells man : F-U-N. The story of the Butthole surfers is itself worth the price.
Insightful...but get your politics elsewhere

Derived From Web

, May 23, 2022

This book is a fantastic look at the minds and music of a select group of musicians whose impact is really beginning to feel now if you ask me... However, one thing I've always found boring, hypocritical, and worthless about the hardcore punkStraight Edge scene is the politics it espoused. The whole Reagan is the enemy bit that has never made sense to me because every musician and writer of that era ranted about it, but I have never seen a thing that any of them can name to prove it. If you want a good, fair dissection of punk politics, see SLC punk that is an eye opener, and the author and bands interviewed in this film should also see it for the reality check contained therein.
Do yourself a favour!!

Derived From Web

, May 23, 2022

For anyone who has ever had anything to do with music, be it in a band, as an mc, promoter, sound dude or just as a music fan, get this book. Not only is it funny, slightly appalling, entertaining and extremely well written, it is also highly inspirational. If you're an old fart like me that still plays, read and it and says, that sounds just like us, buy it, read it and then you'll want to read it again. One of the best books about bands, music I read, and I've read a lot. Mr Azerrad thanks. Cheers Waz is based in Brisbane, Australia.
Excellent book on the indie music scene

Derived From Web

, May 23, 2022

Though I have never been a huge fan of punk music in general, I think Michael Azerrad wrote an excellent book. I enjoyed reading the individual stories of the bands and love Azerrad's wit and humor. These bands never made much money, which is tragic, but they were courageous enough to fight the temptations of the mainstream music industry and keep their D.I.Y. Musical integrity and ethical integrity. In an age where most entertainment is big, it is refreshing to see a book like Our Band Could Be Your Life make such a vapid impact.
A review of indie bands 1980s

Derived From Web

, May 23, 2022

Other reviewers of this book have written silly things, they complain that all the bands here formed at a certain point, then struggled. Well, yes, that's exactly why they are in this book. For the simple reason that their story is known, Dead Kennedys were omitted. For too long, REM was not really underground. Azzerad is an excellent writer. The highlights were the chapters on Black Flag, Sonic Youth and Beat Happening. It was much fun to read about music and its makers.