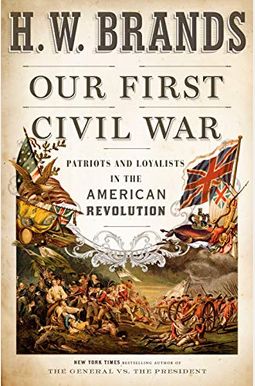  
Our First Civil War: Patriots and Loyalists in the American Revolution
Book Overview
From bestselling historian H. W. Brands comes a dramatic narrative of the American Revolution that shows it to be more than a fight against the British: it was also a violent battle among neighbors forced to choose sides, Loyalist or Patriot.
What causes people to forsake their country and take arms against it? What prompts their neighbors, hardly distinguishable in station or success, to defend that country against the rebels?  That is the question H. W. Brands answers in his powerful new history of the American Revolution. George Washington and Benjamin Franklin were the unlikeliest of rebels. Washington in the 1770s stood at the apex of Virginia society. Franklin was more successful still, having risen from humble origins to world fame. John Adams might have seemed a more obvious candidate for rebellion, being of cantankerous temperament. Even so, he revered the law. Yet all three men became rebels against the British Empire that fostered their success. Others in the same circle of family and friends chose differently. William Franklin might have been expected to join his father, Benjamin, in rebellion but remained loyal to the British. So did Thomas Hutchinson, a royal governor and friend of the Franklins, and Joseph Galloway, an early challenger to the Crown. They soon heard themselves denounced
Read More chevron_right
Frequently Asked Questions About Our First Civil War: Patriots and Loyalists in the American Revolution
Book Reviews
(5)
Did you read Our First Civil War: Patriots and Loyalists in the American Revolution? Please provide your feedback and rating to help other readers.
Typrical H.W.Brands

Derived From Web

, Feb 20, 2022

Every year, Prof. Brands pumps a book out. This book turns out to be a short history of the American War For Independence. But there are many more books on this subject that are much better. For someone unfamiliar with these events, this is, however, a good place to start. Sadly, the book touches only the topic. For example, there is no coverage for fighting in the south, where there was a major civil war between loyalists and Patriots.
Something missing

Derived From Web

, Dec 12, 2021

This was the typical engaging prose of one of the best history authors of today, but it did not hit the mark. His theme that the revolution was a kind of civil war that was visible in some parts and completely missing in large portions. There was virtually no discussion about the southern theater, which resembled a civil war by most accounts.
Brands writes history as a story, not as a series of facts. And he writes really well.

Derived From Web

, Dec 2, 2021

A few pages into any of his books, you will be drawn in by how well he writes history as a story and not simply by stating facts. One of my favorite things is his history of the Gold Rush.
Excellent read

Derived From Web

, Nov 21, 2021

H. W. Brand captures the life and times of the main figures of the American Revolution in a very readible and interesting way. I could not put the book down. Historical figures come to life as real people with real life problems, foibles, and strengths.
Great book from a unique perspective!

Derived From Web

, Nov 17, 2021

I ordered two copies, one for myself and one for my AP US history teacher from high school and wow, is it captivating. I am lucky enough to read in his history course, where I am also privileged to be his book, The Heartbreak of Aaron Burr. As in his lectures, his books are unique, engaging and captivating. I definitely recommend that anyone involved in US history, give them a shot at least slightly.