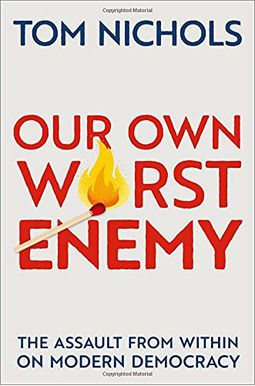 
 
Our Own Worst Enemy: The Assault from Within on Modern Democracy
Book Overview
A highly engaging yet contrarian account of the spread of illiberal and anti-democratic sentiment throughout our culture that places responsibility on the citizens themselves.
Over the past two decades, citizens of democracies across the world have become angrier and angrier with each other--and with their governments. People who claim to value freedom, tolerance, and the rule of law have increasingly embraced illiberal politicians and platforms. These citizens justify their rejection of democratic norms and traditions as a protest against a cast of elite villains, including globalists, militarists, journalists, bureaucrats, intellectuals, and of course, politicians. The only people these voters do not blame for the parlous state of their own democracies is themselves. Is this just a passing moment in history, or a tide that threatens to wash away the democratic experiments of the past three centuries? In
Our Own Worst Enemy
, Tom Nichols challenges the current depictions of the rise of illiberal and anti-democratic movements in the United States and elsewhere as the result of the deprivations of globalization or the malign decisions of an undifferentiated elite. Rather, he places the blame for the rise of illiberalism on a different source: the people themselves. Nichols traces the illiberalism of the 21st century to the growth of unchecked
Read More chevron_right
Frequently bought together
Frequently Asked Questions About Our Own Worst Enemy: The Assault from Within on Modern Democracy
Book Reviews
(5)
Did you read Our Own Worst Enemy: The Assault from Within on Modern Democracy? Please provide your feedback and rating to help other readers.
Interesting propositions but mired by political bias

Derived From Web

, Sep 4, 2021

I was hoping from the author for a balanced view. Although I found some of the propositions to be compelling, this author's credibility quickly dissipated, as he makes his left leaning biases very obvious. To keep the Jan 6th Capital riot devoid of facts and yet ignore the other violent riots around the country is disingenuous and leads me to conclude that the author's insights can not really be taken seriously.
We have met the enemy and he is us.

Derived From Web

, Aug 28, 2021

In this slim volume, Tom Nichols does something that elected officials dare not do. He lays the blame for the weakness of our democracy squarely where it belongs, on the shoulders of the voters themselves. In often humorous detail, Nichols lays out the comically contradictory demands of the average voter, who is so often incorrectly praised by the media as having some sort of homespun wisdom. The truth is that we recieve the democracy that we deserve. In fact, Jan 6th showed us that many Americans, politically speaking, are happy to completely dispense with democracy if its white tribe loses some of its white power as a result of an election. Sadder still when we realize that we do this to ourselves.
Excellent follow-up to his last book

Derived From Web

, Aug 19, 2021

Excellent service. Ignore the guy who wrote the One Star review, who claims that Nichols is a liberal, which makes me doubt that he read the book. Tom Nichols is not a liberal, though he shares their opposition to authoritarianism with the liberals. In his last book, he criticized the rise of the opposition as an expert. Here he considers the frightening question to be the death of respect for expertise, a symptom of the decay of democracy.
Last chapter is a gut punch

Derived From Web

, Aug 19, 2021

I hesitate to say that I like '' this book. Instead, I say I needed this book. My thoughts and fears echo, Nichols. I am involved in the level of American civic education in the USA. It appears that people don 't know the meaning of democracy or autocracy. This is a confused electorate and my experience when Tom harpings the points tells me that too many of us don 't want to be bothered. At all, wonderful things happen. Anytime, about anything. I hope that there are enough left of us to preserve democracy. I used to vote Democratic, but never went back since Trump. If we do not want to save our Constitution, then it will be up to the Independents and Dems. The R's are nuts.
The academic elite will save us.

Derived From Web

, Jul 24, 2021

Nichols'description of himself as a man of letters and an officer of instruction at several institutions of higher learning also intrigued me enough to read it. Sad to say that this work of the liberal intellectual blah blah goes only to prove that he hates the working class and believes that only the academic elite can save us. Complete narcissistic nonsense that liberal professors everywhere love to read.