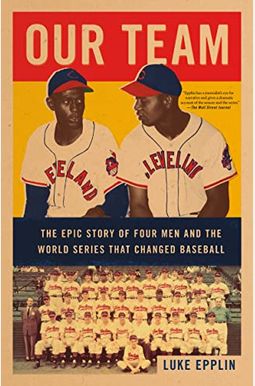  
Our Team: The Epic Story of Four Men and the World Series That Changed Baseball
Book Overview
The riveting story of four men--Larry Doby, Bill Veeck, Bob Feller, and Satchel Paige--whose improbable union on the Cleveland Indians in the late 1940s would shape the immediate postwar era of Major League Baseball and beyond.
In July 1947, not even three months after Jackie Robinson debuted on the Brooklyn Dodgers, snapping the color line that had segregated Major League Baseball, Larry Doby would follow in his footsteps on the Cleveland Indians. Though Doby, as the second Black player in the majors, would struggle during his first summer in Cleveland, his subsequent turnaround in 1948 from benchwarmer to superstar sparked one of the wildest and most meaningful seasons in baseball history. In intimate, absorbing detail, Luke Epplin's
Our Team
traces the story of the integration of the Cleveland Indians and their quest for a World Series title through four key participants: Bill Veeck, an eccentric and visionary owner adept at exploding fireworks on and off the field; Larry Doby, a soft-spoken, hard-hitting pioneer whose major-league breakthrough shattered stereotypes that so much of white America held about Black ballplayers; Bob Feller, a pitching prodigy from the Iowa cornfields who set the template for the athlete as businessman; and Satchel Paige, a legendary pitcher from the Negro Leagues whose belated entry into the majors whipped baseball
Read More chevron_right
Frequently Asked Questions About Our Team: The Epic Story of Four Men and the World Series That Changed Baseball
Book Reviews
(7)
Did you read Our Team: The Epic Story of Four Men and the World Series That Changed Baseball? Please provide your feedback and rating to help other readers.
Results 1 Racism 0

Derived From Web

, Aug 17, 2021

Interesting book about the integration of baseball in the late 1940s. A lot is said about Jackie Robinson and he deserves every credit he gets. At the same time, there were other players whose performances, in spite of prejudices, spelled the myths behind segregated baseball. Even when Sachel Page smoked the best of the Major League players twenty years past his prime, the narrow-minded thought leaders of baseball questioned whether Negroes were capable of competing in the Big Leagues. I liked it so much that I sent a copy to my boyhood baseball pal.
A Love Song of a Book for Baseball Fans

Derived From Web

, Jul 26, 2021

I loved this book ''. Telling the story of the Cleveland Indians in 1948, the last time they won the penguin, by focusing on Bill Veeck, Bob Feller, Larry Doby and Satchel Paige, is a brilliant idea. Veeck always makes for a good subject, Feller is worth understanding, Doby went through everything that Jackie Robinson faced since he joined the American League, and Satchel Paige is Satchel Paige. Galore's great old baseball memories are still. The book is also a picture of postwar America. The writing is smooth and there are many footnotes if you are interested.
Must read for baseball fans

Derived From Web

, May 18, 2021

While Jackie Robinson gets the bulk of the credit, if Larry Doby had failed, he could have been a one-off, written as a fluke, and the integration of baseball could have taken years longer. The book switches focus between Larry Doby, the Indians'Canny and Flamboyant Owner Bill Veeck, legendary black pitcher Satchel Paige and star white pitcher Bob Feller, who pioneered barnstorming tours of black and white players, despite being skeptical himself of black players who succeeded in the majors.
Riveting Read

Derived From Web

, May 14, 2021

As an avid baseball fan in the late 1940s and 1950s, this book literally brought back my youth and was enhanced by memories of that time. This is a very well written and comprehensive picture of that pivotal time in baseball, which revealed a great deal of information and biographical details of many players and coaches I saw on outings with my father in Chicago. A really great read! Tom Engh is a Tom Engh.
Just splendid

Derived From Web

, Apr 26, 2021

In 1948, I was ten years old and a rabid Boston Braves fan. My father went to game 1 of the World Series with the Indians, but not me. I remember that era well. This book brings it to life and adds to the historical perspective of a boisterous post-war coming to grips with integration in baseball. We didn 't understand the significance of events that played before us and which both broke barriers and today remain relevant. And it is a great read, especially for a fan.
Excellent chronicle of race and baseball in post war America

Derived From Web

, Apr 12, 2021

In a well researched and exceptionally well written book, Luke Epplin tells the story of four individuals, Larry Doby, Satchel Paige, Bob Feller and Bill Veeck and how they miraculously came together during the baseball season of 1948 in Cleveland. He weaves their stories together skillfully, culminating in the World Series. He also describes in detail the difficulties that black players had in finally integrating baseball. This is both a book about baseball with a commentary on the race and a book about race relations with a baseball background.
A Great Sports Read about an Important Time in Baseball History

Derived From Web

, Apr 11, 2021

The author Luke Epplin takes the reader back in time to the magical season of the Cleveland Indians in 1948. This book focuses primarily on four people offbeat and courageous team owner, Bill Veeck, two pioneering black players, Larry Doby and Satchel Paige and All-American hero Bob Feller. Veeck integrated the American League by signing Paige and Doby, and their backgrounds are given along with interesting information about the Negro Baseball Leagues. In the meantime, Feller's abilities as a baseball premier fastball pitcher were declining. I highly recommend this book as both a valuable underdog story and an interesting statement about the early racial integration of the American League Baseball.