Buy 3 Get 1 Free
Our Best Sale Yet! Add 4 Books Priced Under $5 To Your Cart     Learn more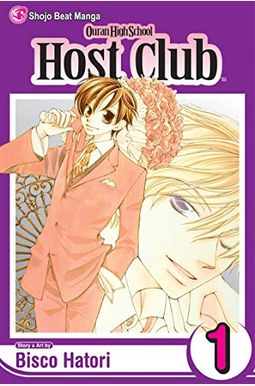 
 
Ouran High School Host Club, Vol. 1
Book Overview
One day, Haruhi, a scholarship student at exclusive Ouran High School, breaks an $80,000 vase that belongs to the 'Host Club', a mysterious campus group consisting of six super-rich (and gorgeous) guys. To pay back the damages, she is forced to work for the club, and it's there that she discovers just how wealthy the boys are and how different they are from everybody else.
Frequently bought together
Frequently Asked Questions About Ouran High School Host Club, Vol. 1
Books like Ouran High School Host Club, Vol. 1
Book Reviews
(16)
Did you read Ouran High School Host Club, Vol. 1? Please provide your feedback and rating to help other readers.
Hilarious!!!!!! It's a must buy!

Derived From Web

, May 27, 2022

If you want to laugh and have a good time reading manga without looking like a dork, this is your chance! It is about a school for rich kids who has this host club and this boy who discovers it and makes him a host to pay this super expensive vase 8 million yen and crazy things keep happening!
Ok start to series

Derived From Web

, May 27, 2022

Maybe I get a better feel for it after reading a few in this series, but initially it is kind of confusing because the panels are crowded with text and it makes it hard to follow. I like the premise of a poor girl at a rich school. The hilarious coffee bit was instant.
Even better than the anime!

Derived From Web

, May 27, 2022

I loved the anime series when it first came out, but this was my first time reading the manga. I am so glad that I did. I finished the series in 4 days and is even better than the anime. Since it runs longer, the manga ties loose ends better than the anime. Although it can be sad at times, the series still retains its humor and pokes fun at typical Shojo manga situations. If you liked the OHSHC anime, give the manga a try.
A BIG fan!

Derived From Web

, May 27, 2022

If one has watched the anime, this is all in the series. I took the time personally and decided to read through the early books anyway. I'm glad that I did! There are details that have been changed, and the timeline is slightly different within the manga. This detail helped the entertainment level to still be high, though the stories of the chapters I already knew were. This book was enough to get me hooked, and now I get into the part of the series that only the readers will be able to enjoy. Wonderful manga : Here and there it is humorous, fun and a touch of drama!
Crossdressing again? Well, yes and no

Derived From Web

, May 27, 2022

A poor girl in a rich school breaks Haruhi a vase that costs about $ 80,000. How do you buy it? The vase belonged to Host Club, a campus group of six boys that help rich girls who need a little help. I think the rich can be boring ''. She eventually gets a job with them to help pay off her debt. What the guys did not know was that she was a she. Now she has to dress up like a boy to help her catch the dough and pay for the damage she has done. Instead of a boy who is dressed as a girl, you have a girl who is dressed as a guy. While it has been done before, I don 't think it has been done so well. The artwork is interesting, the plot is quick, the characters are good and there is a lot of humor.
A review of Ouran High School Host Club, vol. 1

Derived From Web

, May 27, 2022

When a scholarship student Haruhi steps into the supposedly unused music room hoping to get some studying done, she discovers the Host Club of the Ouran High School. The club entertains female students with teas, parties, conversation and lots of drama. They also happen to think that Haruhi is a boy and when she accidentally breaks an $ 80,000 vase, she demands that she repay them by working for the club. It is goofy, manic and a little confusing, but I think that as the first volume goes on, the characters get nailed and are a bit more defined. There is a great moment where a fangirl casts each member of the club in their stereotype. Haruhi is not quite what I expected... she's tough, capable of holding her own and sees in the club through a lot of acts. I am not yet attached, but we'll see how I feel about the next volume.
Ouran High School Host Club review

Derived From Web

, May 27, 2022

OHSHC is a funny series that has a lot of funny and comedic moments with a touch of romance. It is not absolutely horrible, but it has the feel of a mangaka who started out just. Art makes it hard to tell what is going on at some points with flowers and roses everywhere. This is a great series with a great release by Viz as always.
A Comfort Read

Derived From Web

, Feb 10, 2021

I read this book several times and I never seem to grow tired of it. It's funny and not too serious, I can safely say that this is one of my comfort readings. Just like the show, it is a comfort show for me. I read the manga before watching the show, and I must say that I like the animation better than the manga illustrations. It is more beautiful and aesthetically pleasing, but they are both equally amazing in the long run.
Finally jumping into the manga.

Derived From Web

, Jan 18, 2021

Now '' is chef ; I can 't wait to dive into the manga. It has taken me only fifteen years to write it. lol, No, Rush. Right?! I loved the Millennium Snow manga and the OHSHC anime, so I know that I 'll love it.
Great book, but it was damaged

Derived From Web

, Oct 8, 2020

It would have been 5 stars, but is damaged that is really sad, but I love the anime and I can 't wait to finish the manga.