Buy 3 Get 1 Free
Our Best Sale Yet! Add 4 Books Priced Under $5 To Your Cart     Learn more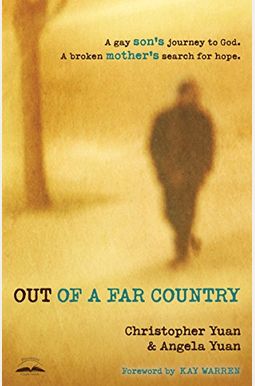 
 
Out Of A Far Country: A Gay Son's Journey To God. A Broken Mother's Search For Hope.
Book Overview
Coming Out, Then Coming Home
Christopher Yuan, the son of Chinese immigrants, discovered at an early age that he was different. He was attracted to other boys. As he grew into adulthood, his mother, Angela, hoped to control the situation. Instead, she found that her son and her life were spiraling out of control--and her own personal demons were determined to defeat her. Years of heartbreak, confusion, and prayer followed before the Yuans found a place of complete surrender, which is God's desire for all families. Their amazing story, told from the perspectives of both mother and son, offers hope for anyone affected by homosexuality. God calls all who are lost to come home to him. Casting a compelling vision for holy sexuality, Out of a Far Country speaks to prodigals, parents of prodigals, and those wanting to minister to the gay community.
But while he was still a long way off, his father saw him and felt compassion, and ran and embraced him and kissed him.
- Luke 15:20 Includes a discussion guide for personal reflection and group use.
Frequently Asked Questions About Out Of A Far Country: A Gay Son's Journey To God. A Broken Mother's Search For Hope.
Books like Out Of A Far Country: A Gay Son's Journey To God. A Broken Mother's Search For Hope.
Book Reviews
(16)
Did you read Out Of A Far Country: A Gay Son's Journey To God. A Broken Mother's Search For Hope.? Please provide your feedback and rating to help other readers.
So relevant today on how to truly love unconditionally!!!😇

Derived From Web

, May 26, 2022

I loved the personal reflections of the Yuan's candid struggles. The Yuans'family testsimonies touch so many important issues and topics of today's homosexuality, prisons and individual bias. I believe that their fundamental point is to know God by having an intimate relationship with him. Just a note : I would suggest reading the questions first before you look at each chapter, it keeps it in the forefront of your mind.
Very Good

Derived From Web

, May 26, 2022

I loved this book very much and enjoyed it immediately after beginning it, Christopher. The only thing that leaves me scratching my head is when Christopher was saved exactly. For sure, there would be a point when this would be covered in the book, but it was really never. Like all sudden, Leon was a believer. No locating of those moments, which I hoped for so that I could share the joy, as there were so many other occurrences and milestones to which we were privy. I believe that it happened when he was in prison. I am happy for Christopher, and I like his approach to the whole theme. It is much more straightforward and workable than most other ways it has handled in books. Such a heavily weighted subject, which has not necessarily improved over time. For once, we have a book where the individual does not give up Christianity or connect with the liberal side. I hope to hear him speak one day ''.
An interesting look into the gay lifestyle

Derived From Web

, May 26, 2022

I liked the way this subject was handled ''. It traveled back and forth between mother and son and I learned allot from it. Book is great and gives good insights.
Inspiring, encouraging read

Derived From Web

, May 26, 2022

This book was a very simple, fast read, as the authors do a great job of telling their stories. I appreciate their vulnerability in telling such an intimate story, but they have personally inspired me in their vulnerability. I also like the way the author shares his reflections on such a rough life journey ''. Encouraged reading, inspiring!
A story of redemption

Derived From Web

, May 26, 2022

Love the sinner, but hate the sin were words that came to me as I read this book. The way mother and son told their stories brought me on an emotional roller coaster at times. I am reminded that we are all guilty sinners, but are saved by God's grace.
The only thing I would have like to have read was exactly when and how Christopher ...

Derived From Web

, May 26, 2022

I don 't know if I should rate it this high, but it gave me hope as to the power of prayer and no matter how long we have to wait for the Lord to never top the prayer. It also showed that God does not show favoritism, but loves all His children the same and gives us all second chances. The only thing I would have liked to read was exactly when and how Christopher realized he needed Christ and his moment of salvation. I've definitely related with his mother and that helped to show that we are not alone in this fight. Christopher, thank you for being so open on your journey.
excellent look at both sides

Derived From Web

, May 26, 2022

I wanted to give this 3 stars because I'm jealous that this has not happened with my kid. But that would be selfish to lower the rating out of jealousy. Excellent look at both sides, especially the perspective of the son after he became Christian.
Compelling Story of Life

Derived From Web

, May 26, 2022

Christopher tells a story of this struggle that he has lived through clearly. His mothers'love for him has truly led him to an area of healing in his life. God is on a continuous road towards Christopher. He is honest and forthright in exposing his life to the reader.
EXCELLENT!

Derived From Web

, May 26, 2022

My compassion was again stirred toward the homosexual community and I was reminded of what Christ can do through one who is completely surrendered to Him. HIGHLY RECOMMEND! This book is full of TRUTH, hope and grace for ALL! A great read! Are you inspired by this book? You will also love the secret truths of an unusual convert from Rosaria Champagne Butterfield by
Out of a Far Country

Derived From Web

, Sep 11, 2020

I have never been in this situation so that I can not speak from experience. I know people who deal with homosexuality in their lives, but I am not in their skin, this is a story of a family. A Christian '' family comes to terms with the homosexual lifestyle of their son. Their story echoes in many ways with any other. Our children stumble and make decisions that parents don't agree with. This includes their sexuality and the limit of our financial involvement. This book is marketed as an encouragement to parents with gay children to give them hope. I don 't know if that is truly the case. It will make the parents feel better? It is an informative read into the lure of money in drug trade, the strength of parental love and the ongoing battle between good and evil that we all face.