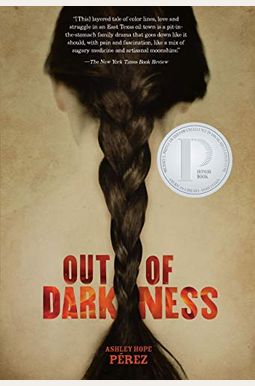 
 
Book Overview
This Description may be from another edition of this product.
A dangerous forbidden romance rocks a Texan oil town in 1937, when segregation was a matter of life and death.
A Printz Honor Book
This is East Texas, and there's lines. Lines you cross, lines you don't cross. That clear?
New London, TX. 1937. Naomi Vargas is Mexican American. Wash Fuller is Black. These teens know the town's divisive racism better than anyone. But sometimes the attraction between two people is so powerful it breaks through even the most entrenched color lines. And the consequences can be explosive. Naomi and Wash dare to defy the rules, and the New London school explosion serves as a ticking time bomb in the background. Can their love survive both prejudice and tragedy? Race, romance, and family converge in this riveting novel that transplants
Romeo and Juliet
to a bitterly segregated Texas town. Includes a fascinating author's note detailing the process of research and writing about voices that have largely been excluded from historical accounts.
A Printz Honor BookA Booklist 50 Best YA Books of All Time SelectionA Kirkus Reviews Best Book of the YearA School Library Journal Best BookWinner of the Tom s Rivera Mexican American Children's Book Award
Frequently bought together
Frequently Asked Questions About Out Of Darkness
Books like Out Of Darkness
Book Reviews
(10)
Did you read Out Of Darkness? Please provide your feedback and rating to help other readers.
Searing, Powerful and Important

Derived From Web

, Feb 26, 2022

This is a remarkable work of historical fiction in which the author uses a real historical event to illustrate the larger problems of racism in the United States. The book has wonderfully realized characters who evoke the reader's compassion, but also serve to represent the traumas of racism and its consequences. There are times when this is difficult to read, but it is precisely that makes this book so powerful. We need to read books like this to grapple with difficult realities and learn to empathize with people who have suffered so enormously. This is the kind of book that should be as many readers as possible and should be available in every library. It is the kind of book that can make its readers more compassionate and empathetic human beings through its narration of harsh realities.
A stunning and powerful work

Derived From Web

, Oct 9, 2021

This beautiful book, rich in honest and potent language, should be mandatory reading for high school students. The historical aspects are perfectly drawn, the characters are some of the most believable I have ever read. It is raw and will make you uncomfortable. But you will come through the other side of this read a new person with changed insight.
AMAZING READ

Derived From Web

, Oct 8, 2021

This book was an amazing read centered around a fictional event, with factual characters. I don 't understand the critics of the book complaining about language or context, as all seem very real and spoken as people of that time period.
Trigger warnings, but well-written and thought-provoking

Derived From Web

, Oct 6, 2021

Spoiler Alert : This story is a tragedy. Trigger alerts for the themes of racial abuse, rape and child sexual violence. There is no high ending, but that does not mean that the book should not be read by happy readers of high school age. Finally, we still make them read Romeo and Juliet as early as the middle school. I suspect the real cause for the negative reviews is that the protagonists we grow up to care about so much are not white, and the source of all misery is the white East Texas community they live in in the 1930s. The good old days are now Ah. We can't deny what we fix.
Disturbing

Derived From Web

, Mar 22, 2021

How was this book even published? It's terrible. And in the school libraries. What is wrong with people? Harmful is being revised by Stian.
Traumatizing!

Derived From Web

, Dec 10, 2020

I had to read this book for a college class, and it was so traumatizing for violence, sexual abuse and racism that I could only make it halfway. I don 't know how this book was published.
Harmful material

Derived From Web

, Oct 15, 2020

For the purposes of this section, the term miner '' means an individual younger than 18 years of age. "Harmful material " means material whose dominant theme appeals as a whole to the prurient interest of a minor, in sex, nudity or excretion. Patently offensive '' to the prevailing standards in the adult community as a whole with respect to what is suitable for minors.
Emotional Roller Coaster

Derived From Web

, Feb 27, 2019

An extraordinary book. Stories and characters and timelines became so perfectly connected that I couldn t put it down and finished the whole thing in a few hours, needing so badly to know how it ended. I have now recommended this book to everyone. It left me in tears at the end, but should be a required read for anyone who wants to understand more about racism in the South and also loves fully developed characters that make you miss them at the end of the book. Wonderful!
Out of Darkness

Derived From Web

, Jan 12, 2019

I remember in the book of a couple at a high school where I taught, and Wash reminds me. The female race would be considered other according to modern standards and the race of the young man was African American. These crossed lovers tried to date. The other students, however, refused to leave them. For example, one day as I attended the students in the hall, the pair walked into the class holding hands, but out of the blue a girl ran in between them breaking their connection, refusing to allow them to share their affection. Eventually, their relationship ended just like Naomi and Wash in the book due to external interference. Out of Darkness is a classic example of Romeo and Juliet having teamed up.
Take the young ADULT label seriously

Derived From Web

, Feb 21, 2017

This was a raw and graphic novel filled with as much abuse and hatred as there was love and hope. It was written beautifully, with lyrical descritpions, and the characters were fleshed and realistic. There was sexual content that was both consensual and forced, though not described in gratuitous detail. There was also an abundance of racial slurs and violence, once again central to the story.