Buy 3 Get 1 Free
Our Best Sale Yet! Add 4 Books Priced Under $5 To Your Cart     Learn more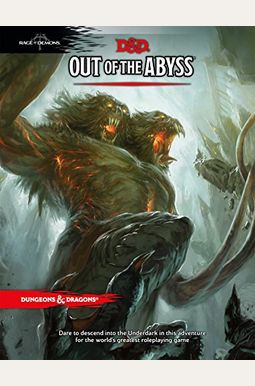 
 
Out Of The Abyss (D&D Accessory)
Book Overview
Dare to descend into the Underdark in this adventure for the world's greatest roleplaying game
The Underdark is a subterranean wonderland, a vast and twisted labyrinth where fear reigns. It is the home of horrific monsters that have never seen the light of day. It is here that the dark elf Gromph Baenre, Archmage of Menzoberranzan, casts a foul spell meant to ignite a magical energy that suffuses the Underdark and tears open portals to the demonic Abyss. What steps through surprises even him, and from that moment on, the insanity that pervades the Underdark escalates and threatens to shake the Forgotten Realms to its foundations. Stop the madness before it consumes you
A Dungeons & Dragons(R) adventure for characters of levels 1-15
Frequently bought together
Frequently Asked Questions About Out Of The Abyss (D&D Accessory)
Books like Out Of The Abyss (D&D Accessory)
Book Reviews
(9)
Did you read Out Of The Abyss (D&D Accessory)? Please provide your feedback and rating to help other readers.
it is a pretty dense read (referencing tables and rules from the 3 ...

Derived From Web

, Apr 20, 2022

I've bought and read all of the adventures, and this one is the most interesting and in-depth of them all. It's a pretty dense read, and isn't nearly as easy to read as the others.
Do love the beginning

Derived From Web

, Apr 20, 2022

I don't expect them to make it out alive, Mr. Rule told the judge.
Great adventure that really has me and my players excited

Derived From Web

, Apr 20, 2022

It's great to be back home, Coach said of the new adventure. Though I took a star off because it has a few major organizational problems that can make preparations take longer, I think it's worth it. But the adventure itself makes those problems well worth it.
Impossible to navigate.

Derived From Web

, Jan 14, 2022

I wanted to like this, it had tons of potential, maybe the story could be salvaged it was organized at all, Morgenthau said. Everything can be read in one, but almost nothing can be read in one, often to another location. So unless you want to memorize everything, you are left flipping back and forth, referring to other books, and ultimately giving up and saying, "No, I don't know." I think this is because of the move to DandBeyondD, or they simply don't care how badly the books are laid out because they want you to buy digital books at the same price with much less overhead. In fact, I will never purchase another DandD book, let alone any of the digital content.
Pure variety and fun

Derived From Web

, Aug 10, 2021

This was nuts, said Dr. Joseph D'Antonio, "but in a good way." It starts off immediately putting the players in a situation many would not have had time to think about before, and quickly sets them off on an adventure of a lifetime through a terrifying setting. It turns from tabletop tomfoolery to survival anxiety, and we love it. I'd recommend that players be more involved in figuring out a way to go during the "traveling" portions of this adventure, as you'll soon see in Chapter 2. It takes tons of prep work from the DM to run this smoothly. Once you get used to it, it's a blast.
Full of great ideas... not for novice DM's

Derived From Web

, Jun 25, 2021

Yes, I love the ideas here throughout the campaign, but it's overwhelming. But what I really want to read is to hear what they have to say about what worked well and what didn't work so well. The other six are: Business Development, Strategy, and Program Management. Don't play with random strangers, even if you know your group gaming well. There are some that are just too good to keep coming back for more. Passengers can now pre-book flights to Las Vegas, saving money on hotel rooms. If they have any questions, pay attention to the players and if they like something give it more of that. Passengers are asked to cut travel short if necessary. Balance has been found and the players have been having fun, he said. At the moment, Glabbagool and Stool are the only two products that stand out. There are also some online resources out there that deal with this subject matter. Thanks for the tip.
Great for story, lacking many new creatures/items

Derived From Web

, Feb 6, 2020

If that's what you're looking to do, this book is probably a five-star introduction to the whole thing. It has some great story concepts, and some really cool concepts and interactions, too, I can't say. For me, and many other DMs, this book is lacking in several areas. Again, I know that isn't what the adventure books are really for, but this book seems to mostly contain items and creatures recycled from the DMG and the MM, which is disappointing as it's the only sourcebook that seems to explore the Underdark in any great depth.
Great adventure and can be ran despite being "new"

Derived From Web

, Jan 15, 2019

But, first, I've seen a TON of people saying this adventure isn't for "new DM's" and as someone who has never DM'd a story start to finish, I can assure you that you can absolutely DM this book if you're new to it. Yes, I do believe in reincarnation. Before you can read the entire book, familiarize yourself with the key components of your core books, and brush up on the chapter you're going to do before game time. Don't let these other reviews scare you off by saying, "Noobie dm's." The story is a lot of fun and has several twists and turns, too, so keep an eye on this kid, he said. Even if you're stuck on a chapter, you can always Google things. Just be prepared to read a bit and do some prep work, Thibault said.
Great for running as an entire module or cannibalizing bits ...

Derived From Web

, Aug 1, 2017

Organized. Detailed descriptions of each item. Great for running as an entire module or cannibalizing bits and pieces of your own existing adventures.