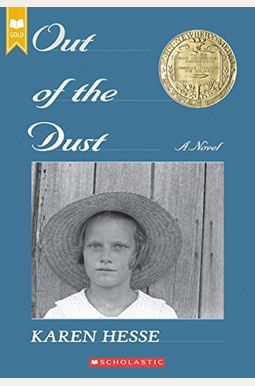 
 
Book Overview
Acclaimed author Karen Hesse's Newbery Medal-winning novel-in-verse explores the life of fourteen-year-old Billie Jo growing up in the dust bowls of Oklahoma.
Out of the Dust
joins the Scholastic Gold line, which features award-winning and beloved novels. Includes exclusive bonus content Dust piles up like snow across the prairie. . . .A terrible accident has transformed Billie Jo's life, scarring her inside and out. Her mother is gone. Her father can't talk about it. And the one thing that might make her feel better -- playing the piano -- is impossible with her wounded hands.To make matters worse, dust storms are devastating the family farm and all the farms nearby. While others flee from the dust bowl, Billie Jo is left to find peace in the bleak landscape of Oklahoma -- and in the surprising landscape of her own heart.
Frequently Asked Questions About Out Of The Dust
Book Reviews
(14)
Did you read Out Of The Dust? Please provide your feedback and rating to help other readers.
I Gets Better

Derived From Web

, Apr 25, 2022

I am 11 years old and don't judge my review. I was a little new to this style of reading. And when I read books all the way from first grade magic treehouse to Harry Potter, they all have styles that are written like books. I think this writer was aiming for a more detailed and introspective look at the world. Along the story I was interested about this style I have been reading and outlining random occasions but as I went along it got better as I had a better understanding of the style the author was trying to write, it was great. I have had a great time reading this book and strongly recommend it to everyone, especially if you have young children. You can't blame them, parents. A great book. Deserves a lot of credit.
class report

Derived From Web

, Apr 25, 2022

The book was my daughter's first choice. The teacher had to read it for a report the class was working on. But this story wasn't her pick, and all the students had to pick something out of this book to write about. She gave it a so-so book, Simon says.
good

Derived From Web

, Apr 25, 2022

I liked the way the book was written, too. For me it was an easy read, even if I had some technical problems. It is a book almost like the diary of the times. It was an easy read, Glover said. My granddaughter had to do a report on this and I read half of it while I was visiting her and her mother and asked if I could finish the book when she was finished with it.
I enjoyed This book. It gave the reader a good idea of that era. I also liked the poetic style. I recommend this book to youn

Derived From Web

, Apr 25, 2022

I enjoyed the book, Morgenthau said. It gave the reader a good idea of what life was like in those days. I've always liked the poetic style of writing. I would recommend this book to anyone. Turner said he was "100 percent behind George Bush" in Iraq, but stopped short of saying whether he would support the US president.
Great book

Derived From Web

, Apr 25, 2022

It's a great read, but it isn't like any other books I've read. I really enjoyed this book so much I had to read it twice. It's great to be back home, said Blair. It was so amazing to me how well I could visualize it. It's great to read. If you enjoyed reading this, please do not hesitate to contact us.
Beautifully simple, poignant and so real

Derived From Web

, Apr 25, 2022

Beautifully simple, poignant and so real, Levine said. It was a blast of stifling dust and mud. It was a bittersweet ending to a sweet and positive story.
Written as if free verse

Derived From Web

, Jul 24, 2021

This is written as if it were free verse poetry, but the lines don't end where pauses belong. You can't have a bad book, even if you don't read it. It took me a good chapter or two to look beyond the style and find the story, he said. A very good story, Robert Duvall said. It was a good read, said Blair. There were some very bittersweet moments in it, Crowe said. I love books about the dust bowl days, and some of my favorite books are middle school. It's for children ages 13 and up, and requires no parental involvement.
Trash our school forced us to buy

Derived From Web

, Jun 6, 2021

Dad bought this for my son because he wanted to play with it. It was mandatory reading at school for him to be in 7th grade. I read it swiftly out of concern with so many schools' reading requirements coming under fire by parents looking for their kids. It's just that the valve was a little bit loose, so it was just ok. There were definitely some uncouth parts, but nothing worth storming a school board meeting over, Mr. Rule told the judge. It was just uncouth enough for my son to roll his eyes and call out bad writing on his own. Even at that, the worst of it is that this book is in truth written by a woman born and raised in the Big Apple. She writes that she has no idea what life is like on a farm. The book promotes offensive stereotypes of women, minorities and the elderly. It's just trash.
Out of the Dust

Derived From Web

, Jan 2, 2021

My high school niece has always been a reluctant reader. Librarian me gave her a book and two or three other books each month last year. I selected books from the Newbury Medal Award given by the Book Reviewer's office each year for the best children's-young adult book. The Dust Bowl is the story of a young girl who lived through the Depression in the 1930s. That time in history isn't in any of her social studies texts. We had an engaging discussion about the book, said Dr. Goin.
Beautifully written and filled with meaning

Derived From Web

, Jun 27, 2019

In Out of the Dust, a serious story, 14-year-old Billie Jo, who lives in Oklahoma during the Dust Bowl years of the 1930s, tells the reader what it was like to be a teenager. In her book, "Shattered Glass," Billie Jo laments the tragedies that shredded her inside and out. Her profound sadness, her near loss of hope, her gradual return to embracing life make for a powerful and emotional read. There is a story and a lot of beauty in this story, McBride said.