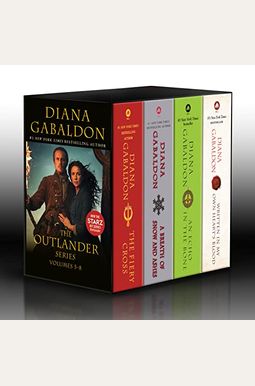  
Outlander Volumes 5-8 (4-Book Boxed Set): The Fiery Cross, A Breath Of Snow And Ashes, An Echo In The Bone, Written In My Own Heart's Blood
Frequently Asked Questions About Outlander Volumes 5-8 (4-Book Boxed Set): The Fiery Cross, A Breath Of Snow And Ashes, An Echo In The Bone, Written In My Own Heart's Blood
Book Reviews
(14)
Did you read Outlander Volumes 5-8 (4-Book Boxed Set): The Fiery Cross, A Breath Of Snow And Ashes, An Echo In The Bone, Written In My Own Heart's Blood? Please provide your feedback and rating to help other readers.
Outstanding series

Elizabeth K

, Jul 31, 2022

These books captured my attention, so that I read them all in a very short time, despite the length of each, and my bad eyesight. So captured in the storyline that l could not put them down.
Kindle shoppers: consider buying the books individually

Derived From Web

, Apr 20, 2022

I love the story, I love the writing. I have only one regret... buying the bundle for my Kindle. Yes, I saved a bit of money, but the books are so HUGE that it is difficult to find my place. My tablet does not allow me to skip through the chapter, so I have to go by percentage. 1% of each of these books covers a substantial number of pages. The task makes the task much more difficult if 1% of the four books are together.
I bought the entire Outlander eBook Series for my wife ...

Derived From Web

, Apr 20, 2022

Two months ago, I bought the entire Outlander eBook series for my wife. Since then, she has not spoken to me, not because she is mad at me, no way, she can 't put the books and talk to me. I can 't wait for her to finish the last book. I hope Diana Gabaldon does not add any new books to the Outlander series and starts a new series instead, so my wife starts talking to me, but then a new series can captivate my wife as well.
The books are cheaply constructed.

Derived From Web

, Feb 23, 2022

I love stories ''. I dislike the physical construction of the book binding, book dimensions, ink, font size.
Books arrived in perfect condition

Derived From Web

, Dec 1, 2021

After reading some bad reviews about the binding and printing of these books through this printer, I was skeptical, but the books arrived in perfect condition, wrapped in plastic. I am very pleased ''. I am beginning with Outlander, but I am glad that the books are all in good condition and I can look forward to reading them.
If you're an Outlander fan, you'll want to continue the journey...

Derived From Web

, Nov 5, 2020

I am a big fan of Outlander and while not every book is great or equal, I still love the characters and travel with Jamie and Claire Fraser and the rest of their friends and family through different times and places. The books are short and therefore a commitment, but if you start reading the first four and want more, you've got it.
Great story

Derived From Web

, Dec 27, 2019

I don 't often make time to read. I read the entire 4 volume bundle in about 2 months, and read the entire 4 volume bundle in about 2 months. It is engaging and nearly impossible to put down.
This does not have anything to do with the content of the books, but the Bundle

Derived From Web

, Nov 17, 2019

I love reading books! '' Bundling is absolutely enjoyable, but I don 't enjoy the bundling. I cannot tell where I am in each individual book, book by book. Consequently, I can not tell when each book ends. It is frustrating to me as the books are so long and I like to read other books in between. In order to order them together, there is no savings in ordering them together.
Best books in a long time.

Derived From Web

, Sep 2, 2019

I loved every word and plot - twist of the whole series. In the future, I hope there are more books. 9,10,11 and 12 are included.
Magic, Passion, History, and Pure Reading Delight

Derived From Web

, Apr 14, 2019

The Outlander series is eminently readable, rereadable, and each of the novels and short stories has a permanent place on my book shelf, both the books that are tangible and those that I access electronically. I love the characters, the penguineal all the way into the heart of the material Jamie Fraser and Claire Randall Fraser, lovers and partners who join together despite the former belonging in the twentieth century and the latter the eighteenth. I have absolutely recommended these books to anyone looking for a satisfying, rip-roaring, heartbreaking, funny, poignant literary genius. Diana Gabaldon's epic saga could not be more deserving of its popularity. From the beginning, this multi-volume story explodes with suspense and romance with an added bonus of a rich historical setting.