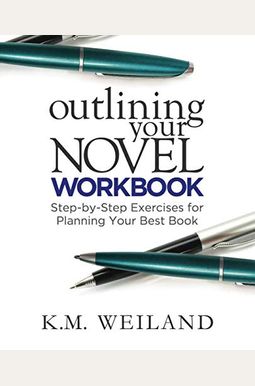 
 
Outlining Your Novel Workbook: Step-by-Step Exercises for Planning Your Best Book
Book Overview
Learn How to Make Your First Draft Easy Award-winning author K.M. Weiland's previous book, the bestselling Outlining Your Novel, showed writers how to embrace outlines in a way that makes the writing process fun, inspiring, and easy. Now it's time to put those lessons to use Building upon the principles you've already learned, the Outlining Your Novel Workbook presents a guided approach to getting the bones of your story down on paper, identifying plot holes, and brainstorming exciting new possibilities. Containing hundreds of incisive questions and imagination-revving exercises, this valuable resource will show you how to:
Create your own personalized outlining process
Brainstorm premise and plot ideas
Discover your characters
Choose and create the right settings
Organize your scenes
And so much more
This accessible and streamlined workbook will empower you to create a powerful outline-and an outstanding novel. Start writing your best book today
Frequently bought together
Frequently Asked Questions About Outlining Your Novel Workbook: Step-by-Step Exercises for Planning Your Best Book
Book Reviews
(12)
Did you read Outlining Your Novel Workbook: Step-by-Step Exercises for Planning Your Best Book? Please provide your feedback and rating to help other readers.
Highly Recommend.

Derived From Web

, Jun 1, 2022

The book is wonderful. The exercises were printed into a word template and converted them into index cards. I will be using these cards as I plot this next novel. It is so helpful to be incredibly.
Helpful but I prefer the original book

Derived From Web

, Jun 1, 2022

K.M. is a Korean medical school. Weiland explains the process of outlining your novel in a very approachable, understandable way. That said, if you bought the original book, as I did, you'll find the material in the workbook rather redundant. Maybe it's just me. While reading the original book, I took notes and worked through the steps in my writing journal, making a workbook unnecessary.
Good pacing, exercises about right

Derived From Web

, Jun 1, 2022

The Companion Workbook sequel to the book Outlining Your Novel '' was published in March 1996. Good pacing, exercises on the right, not too intimidating.
Love this Book for the detail

Derived From Web

, Jun 1, 2022

This has lots of suggestions and tips to keep you interested and specifics on how to move forward with your latest creation. I really got a lot out of it and enjoyed reading it. Thank you for your insight and your ideas.
I love this book and reference quite often in my blog ...

Derived From Web

, Jun 1, 2022

My Bible : I love this book and often reference it in my blog posts. It has changed my writing no more for me!
Wonderful!!!

Derived From Web

, Jun 1, 2022

I have read this book several times and still get new ideas for improving my writing! For those who appreciate the preparation before diving into story writing!! You are the best!
I will dedicate my novel to K.M. Weiland!

Derived From Web

, Jun 24, 2021

I get a lot of mileage from this book. Weiland uses her personal touch to convince me to grind through another painful trip with a novel whose wheels start falling off about halfway through. If the thought of starting another novel depresses you, spend a few bucks and give this a shot. Final Thought '', I find the author's idea of using a mind map particularly interesting. Traditional outlines are-to-me-a creative activity that kills right flow. They are also difficult to update stubbornly.
Great Help For Those Struggling With Outlining!

Derived From Web

, Jun 28, 2020

I debated whether to purchase this book as I don 't have the book that goes with it, nor did I have the funds at the time to purchase both. I am so grateful that I made the decision to reach out to the author who didn 't force the issue of purchasing both. I do agree that if you can buy both, do so, however, this workbook alone has helped me tremendously. I was wrestling with the ideas in my head and how to present them in a cohesive manner. This book helped me to write a fantasy fiction novel. Since purchasing this book, I have ordered many other of her books and workbooks, as they really get to the heart of writing your book and making it an engaging and enjoyable read. I highly recommend '' this workbook!
Too General and Too Vague

Derived From Web

, Apr 16, 2019

This book on the outline of a novel was written in an almost apologetic fashion, in my opinion. Every so often, and after giving advice, the author emphasized that her suggestions were just that, suggestions, and the reader might choose a different approach. A kind of book do-this-and-not-that type. This book might be more suited to someone who has never outlined much of anything and needed a gentle push. In all fairness, I might be a little too hard on the author. I have written several non-fiction books and published several. I have never attempted to write a mystery novel, which is precisely why I purchased a novel workbook, Outlining. The possibility exists that my non-fiction writing is obscuring my effort to create an outline for novel writing. If it does not work for you, you can always return it.
The Miracle on Amazon

Derived From Web

, Sep 22, 2017

HEAVEN SENT is a RADIAL That is what this book is about. I had already finished my WIP and have been trying to find out what is wrong with it. This is not working WHY? I bought this workbook and it helped me to figure out my obstacles. Though I did the whole writing process backwards, this book has worked a miracle. Filling out all the questions in the book has helped me to delve deeper into my characters'backstories and plots. I can not wait to publish my book because I know it will be the best ever. KM... again thank you!