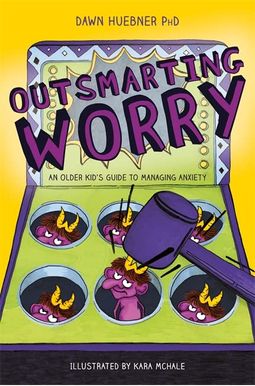  
Outsmarting Worry: An Older Kid's Guide To Managing Anxiety
Book Overview
Worry has a way of growing, shifting from not-a-big-deal to a VERY BIG DEAL in the blink of an eye. This big-deal Worry is tricky, luring children into behaviours that keep the anxiety cycle going. Children often find it hard to fight back against Worry, but not anymore. Outsmarting Worry teaches 9-13 year olds and the adults who care about them a specific set of skills that makes it easier to face - and overcome - worries and fears. Smart, practical, proven techniques are presented in language immediately accessible to children with an emphasis on shifting from knowing to doing, from worried to happy and free.
Frequently bought together
Frequently Asked Questions About Outsmarting Worry: An Older Kid's Guide To Managing Anxiety
Books like Outsmarting Worry: An Older Kid's Guide To Managing Anxiety
Book Reviews
(9)
Did you read Outsmarting Worry: An Older Kid's Guide To Managing Anxiety? Please provide your feedback and rating to help other readers.
Helpful and Fun

Derived From Web

, May 17, 2021

My son looks forward to reading this book. It's fun and amusing. It is still helpful if the issues don't align with his type of ocd. It is for kids between the ages of 8 and 12. It works for my son who is 11. It allows you to do one step at a time that is doable. The act of reading and working through the book gives a sense of control. After working through the book, our psychologist said we may want to revisit it again and again when we need some help. I would recommend it to others.
Excellent!

Derived From Web

, Dec 21, 2020

The book is good in content. It will help my boys gain the skills they need to be able to recognize and deal with their OCD behaviors. Zoloft has been used by my son since he had PANSOCD from walking pneumonia. New behaviors are springing up after he received CBT which helped tremendously, but as old behaviors were extinguished during the therapy, new smaller ones are springing up. The book is perfect for him because he needs to have some skills ready for the next half of Zoloft and I have realized that dropping his dosage slowly has been difficult. Thanks to Dawn Heubner for writing it.
'Worry's Smalls'...

Derived From Web

, Nov 13, 2020

This book is not for children who have been traumatized, because of the author's confusing loop de loop terminology. This book starts talking about the amygdala on page 2. It was amazing! I thought it would be amazing. Around 50 pages later, we are learning to just accept anxiety and tell ourselves whatever we need to. It doesn't align with healing the amygdala and is not a real strategy for dealing with anxiety. There are successful strategies for re- wiring the amygdala, and I suggest people look for those pastures of inner peace.
Helped my teen

Derived From Web

, Aug 26, 2019

My daughter had to be home- schooled because she got sick. Her panic attacks and worry were very high. She didn't know why she was sick in the beginning. She is doing better. As the new school year approaches, I thought this book might help with some of my worries. She loves to read and said the book was very relevant to her fears and she was happy to hear it wasn't just happening to her. She has seen a therapist to help her with her anxiety, but she said this book helped more because she could relate to what was being said and was easy to understand. She really liked the book and felt it could help others.
Amazing with so many practical tips!

Derived From Web

, Dec 9, 2018

I recommend this book to all of my students' parents because I think it will benefit them to hear it again and they will be able to discuss it with their parents. I helped so many students with anxiety that I think this book really hit the mark. We all have a common language and it's the same at school as it is at home for those that bought it and are using it at home too. Students use it with each other. One student will say to another, " It's okay, you' re not in danger, but your brain is playing tricks on you." Don't let it get in the way. It is so cool! It's!
great book on anxiety

Derived From Web

, Aug 14, 2018

My 9 year old and I read a book together to learn how to deal with anxiety. At times, it was well written, witty and funny. We learned new tricks to help with anxiety while reading it with my son. It's highly recommended to kids about 7-13 years old.
Great aide for both kids who worry about everything and for the parents/grandparents/teachers who are involved in their lives.

Derived From Web

, Jul 29, 2018

Written in a way that is easy to understand. In today's society, some kids are faced with daily stresses in their home life due to peer pressure, family member in the military or public service, and they worry about things which eventually can affect their everyday life. Past toddler stage kids can get a grasp on dealing with their worries after reading this book. I have a grandson with Asperger's who has anxiety issues when his routine has changed or he is faced with something new. This book is written in a way that he can read it and understand how to control his issues, and the author has guidelines for adults to help. I highly recommend this book for kids who deal with worrying and can have a meltdown due to it as an aide to help them deal with their anxieties. It's an easy read.
Helped me tremendously!!

Derived From Web

, Apr 25, 2018

I was hesitant to read it because I was a 13 year old. I can not sleep alone, I am very anxious. The decision to read this book was one of the best decisions I have ever made, it gave me great tiles on how to cope and understand that what I am feeling doesn't make me a bad person. This book is very good.
Get it

Derived From Web

, Nov 6, 2017

Another strike. Explains how to deal with anxiety. Anyone who is anxious, no matter their age, should be required to read this and her book. The exercises are great for everyone. Should be required reading.