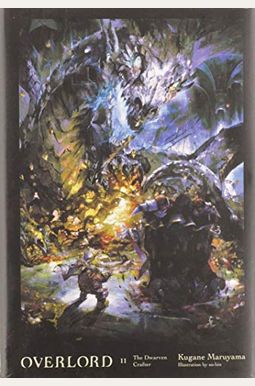 
 
Overlord, Vol. 11 (Light Novel): The Dwarven Crafter
Book Overview
The world is all yours.
In search of lost rune technology, Ainz heads for the dwarf country with Aura and Shalltear in tow. On his arrival, instead of a welcoming party, he's greeted by an army of creatures known as the kuagoa, poised to lay waste to a dwarven city. In his quest to obtain the secrets of the runes and even the rune crafters themselves, Ainz may find himself facing not only these strange subterranean creatures, but also the most powerful race that calls the Azerlisia Mountains home-frost dragons
Frequently Asked Questions About Overlord, Vol. 11 (Light Novel): The Dwarven Crafter
Book Reviews
(10)
Did you read Overlord, Vol. 11 (Light Novel): The Dwarven Crafter? Please provide your feedback and rating to help other readers.
Ainz

Derived From Web

, Feb 27, 2022

Here is the question of whether or not you should get the rest of the series just do it. It is such a clean looking series for you book shelf with books that you actually want to continue reading. If you are a fan of dark fantasy like dark souls, but you are also a fan of protagonists who are simultaneously funny and unintentionally cool, like Sir Daniel Fortesque, then this is the series for you. Writing, character personality, character development, character design, plot and setting all get five stars from me. I have been a fan of this series since I first saw the anime released when it was released, and I immediately went out and got all the light novels and manga to experience the story in as many different ways as possible. The best is overlord.
According to my son, it's a great series and very well written.

Derived From Web

, Dec 15, 2019

My 20 year old son loves this series, so I bought pretty much all of them at this point. It is wonderful to have him so intrigued by a series that he'll put the PlayStation controller consistently to read for a few hours! I can '' say :
11 and counting... awesome read again as always

Derived From Web

, Nov 23, 2019

Addicted would be the right word! Can 't wait to see how the last two sentences of the epilogue would be resolved in the next book! Every book so far has been incredible fun to read! So good!
Great piece of literature!

Derived From Web

, Nov 14, 2019

I am biased when it comes to Overlord, seeing as I love the series in whatever form it takes! However, much like all overlord books in the series, they are all extremely well written in comparison to other light novels. The imagery makes you feel like you can see and feel the emotions of the characters involved, and their actions don 't leave it all to the imagination of the reader to figure out what is going on.
Dwarves are awesome

Derived From Web

, Nov 9, 2019

This part was a super fun to read, since the last few books are mostly slow to me. I like dwarves and they are written perfectly and honestly, females never even occurred to me.
An amazing reading experience

Derived From Web

, Nov 8, 2019

From the moment I received it, I couldn t put it down! It has such a great story filled with funny moments that had me bursting out of laughing and good serious moments that made me so nervous. Kugane Maruyama, you are a brilliant writer! Keep it up! Cannot wait in line for the next novel ''.
Great Series, Great Book.

Derived From Web

, Nov 7, 2019

This book and this series by extension is everything that a fantasy fanatic like myself could ask for. From these books, nothing good comes except. Worth the price and worth reading the book.
Another amazing continuation

Derived From Web

, Nov 5, 2019

This book is loved and the story is told. I get very addicted to it ''. I'm hooked as someone who doesn't read a lot. There is a typo in chapter 5, though the feeling is more than just feeing. Didnt want to bring this up in the review, but did not know where else to submit feedback. I hope that this story goes on forever. I kind of not even want another player to show up, just Ains infinite God Mode.
Waited months for this book only to read it in one sitting.

Derived From Web

, Oct 30, 2019

By the end of this book, Binge read it in one sitting. By page 50, I was already laughing and happy with this book.
Amazing

Derived From Web

, Oct 29, 2019

Overlord is one of the greatest fantasy stories of all time. This book is no exeption to the standard, set by the author.