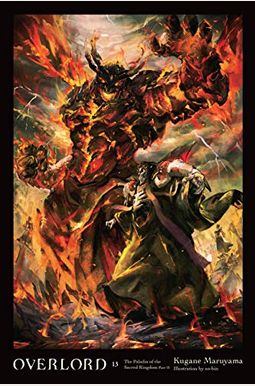  
Overlord, Vol. 13 (Light Novel): The Paladin Of The Sacred Kingdom Part Ii
Book Overview
The Sacred Kingdom is surrounded on all sides. As the army of feral creatures closes in, the country's strongest paladin Remedios leads her exhausted troops in a valiant defense. It will not be enough to save them. Their only chance of survival is to place all their bets on the King of Darkness-Ainz Ooal Gown
Frequently Asked Questions About Overlord, Vol. 13 (Light Novel): The Paladin Of The Sacred Kingdom Part Ii
Book Reviews
(9)
Did you read Overlord, Vol. 13 (Light Novel): The Paladin Of The Sacred Kingdom Part Ii? Please provide your feedback and rating to help other readers.
Truly a great series. I can't wait until the next book.

Derived From Web

, Feb 27, 2022

Here is the question of whether or not you should get the rest of the series just do it. It is such a clean looking series for you book shelf with books that you actually want to continue reading. If you are a fan of dark fantasy like dark souls, but you are also a fan of protagonists who are simultaneously cool and unintentionally funny, like Sir Daniel Fortesque, then this is the series for you. Writing, character personality, character development, character design, plot and setting all get five stars from me. I have been a fan of this series since I first saw the anime released when it was released, and I immediately went out and got all the light novels and manga to experience the story in as many different ways as possible. The best is overlord.
My fourth read through

Derived From Web

, Dec 9, 2021

I love Overlord absolutely. I started with the anime years ago and then I binge read the web novel and then read the light novel and now I am buying them all on hardcover soon, since they are beautiful and maybe more sales will motivate them to hire an adequate translator. The guy who has translated most of the volumes is why it changes from the Sorcerer King to the King of Darkness, etc.
It concluded atleast

Derived From Web

, Oct 2, 2021

Honestly, I am a bit of a cheat. Endless conversations that circled around the theme just are great! Ainz is great! Or we're doomed! It made it such a drag to read. I think I skipped half of the dialogue and description and didn't really miss much of anything. Just a straight filler to get a word count goal that seemed like. Not the worst volume atleast, but if it continues like this, the next volume will be the last if I purchase it.
Quite enjoyable.

Derived From Web

, Aug 7, 2021

I really enjoyed how the author was able to wrap everything so succinctly with the end of the novel, especially with the foundations laid for upcoming stories.
The Saga is rushed

Derived From Web

, Jul 8, 2021

This 13th installment is typical in style and substance. It's everything you expected, except perhaps the focus has pulled away from the series'protagonist. The only problem I have with the boom is the feeling that it is rushed to print. Several editing errors, one of which led me to read a passage several times. I look forward to the next arc perhaps returning to the village of Carne?
Worst editing/ translation of the 13 books.

Derived From Web

, Jun 24, 2021

The story is great! The art is beautiful! But wow, more editing fails and translation is impossible than any other book. The others were simple to use. But this is like someone rather new to the process of writing a free translation for a webnovel... For an example, I drew a picture. For the 2 problems, I dropped 2 stars. This book was also printed... maybe they didn 't have access to the printer, but quality over quantity. I doubt that they would lose much money in the long run. But maybe this is the book better read online than with buying... Side note : it has been so long that I had to stop reading to read part 1 of the build up. I remember being super hyped up for this book!
Great continuation of the story - translation a little forced

Derived From Web

, Jun 15, 2021

A great read overall and a beautiful continuation of the sacred kingdom arc. I really enjoyed the author's writing style, where he goes to great lengths to describe a person or an event, and this applies even to minor characters that make short appearances. It lends a good amount of depth to the world and its inhabitants. On the minor downside, I continue to think that the translation feels a little forced, especially on a few key terms that appear frequently. Now that the anime even accepts the term "Sorcerer King ", it feels jarring to read the Kingdom of Darkness ''. Terms such as weakness is wickedness '' feels wrong to a native English speaker. The alternative weakness is a sin '', found on fan wikis feel far more natural. This is still a must read for fans of the series.
A solid continuation

Derived From Web

, Jun 8, 2021

I really enjoy how each book wraps some conflictsprojects while attracted to other things going on elsewhere. This book wraps the main conflict from the previous book, yet leaves many pieces about what can be and is still building.
Waiting for the Next book.

Derived From Web

, Jun 5, 2021

Interesting : A glitch in the Matrix as Shizu repeats twice the King of Darkness. Reality check : Satoru Suzuki is still attached to his VR chair, where his physical body is undergoing decay. In this volume, Cheered countless times for the King of Darkness, but somehow it still felt empty. Millions of terabytes of memory devoted to keeping the simulation running for only a few players like Suzuki to give the impression of reality. What happens in the real world of Yggraessill?