OUR BIGGEST SALE EVER - SAVE 20% AT CHECKOUT WITH CODE CYBERBOOK. Learn more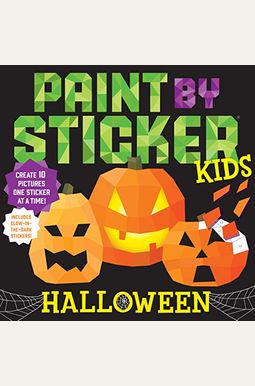 
 
Paint By Sticker Kids: Halloween: Create 10 Pictures One Sticker At A Time! Includes Glow-In-The-Dark Stickers
Book Overview
Paint a world of spooky fun with stickers--including stickers that glow in the dark

New in this bestselling activity series, Paint by Sticker Kids: Halloween includes everything kids need to create ten vibrant images, including jack-o-lanterns, a haunted house, a mummy, and a pair of friendly ghosts.

Step 1: Pick an image. Step 2: Find the stickers. Step 3: Match the numbers. And watch your Halloween painting come to life

Includes everything you need to create ten sticker paintings on sturdy card stock. Plus, all the pages are perforated--making it easy to tear out each finished work to frame and share



Frequently Asked Questions About Paint By Sticker Kids: Halloween: Create 10 Pictures One Sticker At A Time! Includes Glow-In-The-Dark Stickers
Book Reviews
(11)
Did you read Paint By Sticker Kids: Halloween: Create 10 Pictures One Sticker At A Time! Includes Glow-In-The-Dark Stickers? Please provide your feedback and rating to help other readers.
All Paint By Stickers Are Awesome!

Derived From Web

, Nov 14, 2021

I swear by these paints by sticker books. My 7 year old daughter has 4 different versions : The stickers are a little small, so that the persons fine motor skills are put to use. Wouldn 't recommend for little children because of this and also because the stickers must be correctly placed to look like it is supposed to.
A big hit!

Derived From Web

, Nov 3, 2021

I bought this books for my eight-year-old son, who loves sticker books. He can hardly eat Halloween candy, so I thought it would be a great non-food treat. I could not have predicted how much he would love this book! He has been working on it diligently for the last three days. I love that it is great fun while also being a wholesome motor activity. His ten year old brother was jealous that he didn 't get the same book, so I know that I will buy more of these paints by sticker books! I have already purchased two of the Christmas books! I highly recommend this as a creative gift for children who like sticker books and are unique.
Great afternoon activity

Derived From Web

, Oct 18, 2021

The Grandkids loved these sticker art books absolutely. It was easy enough for them to do with little or no help.
Great Bonding Activity

Derived From Web

, Oct 5, 2021

I bought several of the Halloween Sticker books as treats for children 5-7. I was surprised how many really small stickers there were in this book. While my intention was to give the kids an activity they could do on their own, looking at the pages, I saw that the parents would need to help the little fingers peel off and position these stickers. This is not a problem in itself, but it was surprising that a book geared for this age would have so many little stickers. Plus, the pages need to be pulled out because the book would not lie flat. It is still a bonding activity.
Tedious for younger kids

Derived From Web

, Sep 21, 2020

The stickers are thin and there are a LOT of them and it can be difficult for children to find where the stickers belong on the picture as the numbers are not in order on the picture. If your child does not have a huge amount of patience, it is not a good option. The description says for first grade students, but not sure many kids would have the patience in kindergarten and could lead to frustration. Might not be right for some children and not for others. Some adult children will need younger help. Not an issue if you planned doing this, but not good if you were hoping for a child to allow this independently.
Great easy activity for older kids!

Derived From Web

, Nov 6, 2019

Bought these as a fifth party activity for 50 last graders. Wasn 't sure how well they would go over because 5rd graders think they're too cool for everything, but they were a hit! My teachers said that they had never heard their class that quiet. Lol! ! It was a little pricey adding 5 books to cover a page for each of the children in my two classrooms, but it was extremely easy to do without Pinterest failing and that is worth something in itself. Perforated pages with their own sticker pages made it extremely easy to pull apart and stick to their stickers and let the kids choose their pictures. I am not sure I'd suggest these for little kids, maybe 5 and under, but perfect for the 6-13 crowd. I wish these books were a little cheaper, but I would still buy them again!
Not as good quality as expected

Derived From Web

, Oct 19, 2019

The quality was good so I expected the same. On the Halloween book, several of the stickers seemed slightly too small for the box, so that there were white spaces throughout the picture where the stickers did not touch. Some of the stickers are smaller than expected, I enjoy the adult version because the smaller stickers are more difficult to place, but some of the stickers were as small as some children's sticker books. The quality is decent in general, better than other brands I tried. The pages tear easily, I like the textures stickers on the glow in the dark. The only thing I would really change would be the stickers being slightly too small for their area, seemed like the corners were too rounded.
A fun activity

Derived From Web

, Oct 13, 2019

These are so simple and fun to do. My son is 7 and was able to line his letters without help, my 5-year-old daughter needed help matching the stickers to their location, but was able to complete them easily. It took them about 30-45 minutes to finish a page.
Keeps those kids busy

Derived From Web

, Oct 3, 2019

Our sons enjoy creating these mosaic art pieces. They are not difficult to use and are a great book to bring for dinners out.
Small pictures

Derived From Web

, Sep 28, 2019

On each page, the picture sizes are fairly small. This is disappointing compared to other sticker books, I bought for my grandchildren.