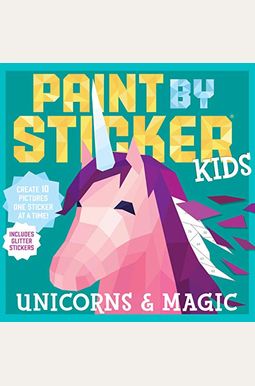 
 
Paint By Sticker Kids: Unicorns & Magic: Create 10 Pictures One Sticker At A Time! Includes Glitter Stickers
Book Overview
Paint a magical world with stickers

Step 1: Find the sticker. Step 2: Peel the sticker. Step 3: Place the sticker. And watch your enchanting paintings come to life

Includes everything you need to create ten sticker painting on sturdy card stock. Plus, all the pages are perforated--making it easy to tear out each finished work to frame and share

Frequently Asked Questions About Paint By Sticker Kids: Unicorns & Magic: Create 10 Pictures One Sticker At A Time! Includes Glitter Stickers
Book Reviews
(18)
Did you read Paint By Sticker Kids: Unicorns & Magic: Create 10 Pictures One Sticker At A Time! Includes Glitter Stickers? Please provide your feedback and rating to help other readers.
Fun and engaging

Derived From Web

, Nov 3, 2021

My grandniece loves puzzles and stickers. She loves this one because it has a lot of pretty girlee colors. It was not going to be hard without numbers or directions. It was perfect for her age. She goes back to it to finish another.
Used on roadteip

Derived From Web

, Oct 3, 2021

This was a find on the video sharing website. It was used on a road trip. It was great for the bigger kids to be challenged and kept quiet. The book was completed in a week. 9 year old loved it. It was too hard for five years.
Extremely appealing!

Derived From Web

, Jul 6, 2021

I bought books for my kids. They go right to them whenever they visit. I enjoy it! It's satisfying.
Great Way To Spend The Day!

Derived From Web

, Oct 1, 2020

I spent a Saturday afternoon with one of my granddaughters making pictures for the collection. We had a great time. My dexterity is not what it used to be, so I made my granddaughter finish 6. The pictures are nice and we had a good time talking and laughing when we made silly mistakes. I recommend these for children and adults who are familiar with numbers. I think it would be fun for one of my younger children to see what they come up with. You need a long attention span and patience.
Book for all ages

Derived From Web

, Aug 5, 2020

A great book to read to children. My daughter is almost 5 years old and still needs my help. Will buy again and recommend it. !
A fun diversion for all ages

Derived From Web

, May 6, 2020

Being a fan of coloring for relaxation, I was intrigued by this new twist. There are ten different fairytale icons, including a fairy, a princess, a castle, a gingerbread house, a wizard, a dragon, and two magnificent unicorns. The stickers you use to fill in the spaces are sturdy. There is a good selection of colors and glitter stickers. Younger kids can create with these alone, but older kids may need help. It is a great activity for adult-child bonding. For those who are prone to frustration, do the activity in short sets, and in no time a magical image appearing from random shapes is sure to capture them completely. Excellent activity for building eye-hand coordination, fine motor skills, visual tracking and the "pincer" finger grasp that is so critical for sustained writing.
Problems with curling stickers

Derived From Web

, Apr 19, 2020

We own several of these books, and have enjoyed them all. This one was a lot more complicated with many small pieces and adult assistance required. The glitter stickers were the biggest issue. They won't lay down on the page. The edges are curled, so they keep popping off. I wouldn't recommend this book unless the publisher corrected the issue.
Do not buy this product. Glitter stickers do not stick.

Derived From Web

, Mar 19, 2020

glitter stickers don't stick Within a month, glitter stickers were peeling up after being bought for Christmas. We returned the first book thinking it was a faulty one, but the second one did the same thing. It appears to be a manufacturing flaw. Do not recommend this product. Get the ones without glitter.
Glitter stickers are curling up and off page...so sad

Derived From Web

, Mar 2, 2020

My kids and I were excited about the sticker by numbers books, but I am sad about the glitter stickers. Three of the sheets had stickers on them that were curling up and off the page. We tried one glitter picture and if the problem would go away once the glitter stickers were placed on the picture, but within 30 minutes they were already lifting up off the page. The glitter stickers are terrible, both on their sticker sheets and on the final picture, but the non glitter stickers are staying down just fine. It was very disappointing! It's!
Glitter stickers won't stick

Derived From Web

, Jan 27, 2020

Many of the pages had glitter sticker pieces that were not sticky at all. When my daughter tries to stick them on the puzzle picture, they are almost curling off of the sticker page. She was getting upset. There are a few pictures without glitter stickers, but the majority have them. We have another book from the same brand that we love.