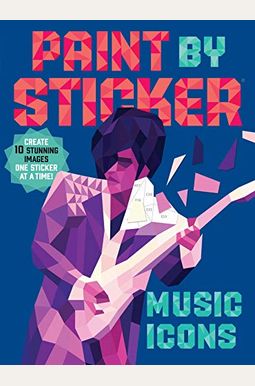 
 
Paint By Sticker: Music Icons: Re-Create 10 Classic Photographs One Sticker At A Time!
Book Overview
Paint by Sticker is the most exciting new idea in activity books, both for grown-ups and kids. A compelling activity for crafters and artists, doodlers and colorers of all ages, each Paint by Sticker book includes everything you need to create twelve vibrant, full-color paintings. The original images are rendered in low-poly, a computer graphics style using geometric polygon shapes to create a 3D effect. As in paint-by-number, each template is divided into dozens of spaces, each with a number that corresponds to a particular sticker. Find the sticker, peel it, and place it in the right space. Add the next, and the next, and the next--it's an activity that's utterly absorbing, both in the pleasure of peeling and sticking and the growing satisfaction of watching a painting come to life, emerging from a flat black-and-white illustration to a dazzling image with color, body, and spirit.

Paint by Sticker: Music Icons brings us face-to-face with Elvis, The Beatles, Beyonce, David Bowie, Cher, Prince, Michael Jackson, Kurt Cobain, Madonna, Nina Simone, Dolly Parton, and Weird Al Yankovic.
Frequently Asked Questions About Paint By Sticker: Music Icons: Re-Create 10 Classic Photographs One Sticker At A Time!
Books like Paint By Sticker: Music Icons: Re-Create 10 Classic Photographs One Sticker At A Time!

Book Reviews
(11)
Did you read Paint By Sticker: Music Icons: Re-Create 10 Classic Photographs One Sticker At A Time!? Please provide your feedback and rating to help other readers.
Tons of fun!

Derived From Web

, Jan 22, 2022

It's just that much fun for any age. I'm in my twenties and I just love Paint By Sticker books. I would absolutely give this to someone as a present, especially those who are crafty or creatively minded. These are excellent for road trips or plane rides- everything you need is provided in the book and you don't have to worry about colored pencils vanishing or rolling onto the floor, Bruno said. The product was developed with the user in mind, allowing the user to create a lovely image without worry or excess packing. Definitely recommend it as a way to kill time or when a person is listening to an audiobook. I would recommend getting for students with ADD so they can listen to their books while doing something with their hands, it has worked great for me!
Where has this been my entire life??

Derived From Web

, Dec 2, 2021

One look at him and you know he's Prince. Now the rest is just mechanical, Sterk said. My daughter and I picked a cat at the airport for a flight. Realizing this, I went to Amazon to find a different one. I am a grown ass woman and I LOVE these stickers! Use tweezers to remove the excess skin, said Dr. Goin. This is a great tool, especially for people who have trouble with Excel. But seriously, two words of advice: It might be more fun after a fat glass of red wine. Zilkhai said: "I think it's great to be back home.
Creative BFF Enjoys!

Derived From Web

, Mar 17, 2021

Heard of this at work and my best friend loves craft and things she can do in downtime and just relax, she said. I am not good at little things like this because I'm a perfectionist and get bored easily, she said. I surprised her with it and she loves it! She always sends me pictures when she's done with a page, even if she doesn't have time to do it. I love the concept of musical icons too that was the only thing that really convinced me to go ahead and buy it, he said. She does like to use tweezers, but she doesn't mind if they get stuck.
Love these sticker books!

Derived From Web

, Jun 9, 2018

I love the new look of the magazine. There was a small misprint in the back of the book, but I am so pleased with the outcome. Use tweezers to remove the bits. It makes it so much easier and relaxing on the mind, Thibault said. Another great tip is to work from the outside in. I'm 19 and these help me so much with my OCD and anxiety. HIGHLY RECOMMENDABLE!
Very enjoyable, with only minor frustrations

Derived From Web

, Feb 14, 2018

Now I have several of the Paint By Sticker books and I'm really enjoying them. Madonna and David Bowie are my two favorites, Taylor said. Cher's picture makes her look like a Medusa, and Dolly Parton's picture is unrecognizable as her, but the others are good. Two minor complaints were filed with the police. Some of the stickers are not completely cut, which is pretty frustrating. Berkshire Hathaway made headlines last week when it was revealed that CEO Warren Buffett had donated $5 million to charity. The numbers themselves are printed on the sticker sheet, making it difficult to read. McCartney said: "I've had a problem with this on the Beatles picture. This is by far the best product I have ever purchased. It's just that we get to do it all over again."
Another great sticker book, though the original is better

Derived From Web

, Jan 2, 2018

Michael Jackson, David Bowie and Prince are among the artists whose images grace this page. Other people take coloring inside the lines seriously, so you might actually get stressed out by something like this. Dolly Parton and Cher just look weird in this, imo. Beyonce is okay, said her sister, Solange.
Music lovers NEED this!

Derived From Web

, Nov 8, 2017

I'm not even sure I've started reading it yet, since I just purchased it. Now I can just tell you it's going to be amazing, Tunick said. The stickers are smaller than I expected, so this seems like something I'll need to be very, very specific about. I think the end result will be fantastic, Lord Rayleigh said. This is a MUST OWN for music lovers such as myself. There is a good deal of crossover between the rock and pop groups, too, said music journalist Paul LiCalsi. Whether you have a love for music or not, you are sure to be extremely impressed with this one. It's great to see so many people buying it for themselves or adding it to their holiday gift list.
Great activity, but issues with this series...

Derived From Web

, Oct 12, 2017

Like the first two books, the third book is also a lot of fun and interesting. That said, now that other sticker by number products have come out, this one I had issues with the stickers not being able to be removed and there seems to be more space between the stickers that shows no matter how careful you are. It's great to see such great pictures, but disappointing to see such a small part of the story. Still fun, but would like them to fix these issues before buying any other in series they publish.
I enjoy working with these sticker paintings

Derived From Web

, Oct 10, 2017

I enjoy working with these stickers, Painter Max Kleis said. It's great to be back home, said Blair. Only a few stickers are difficult to remove.
So heckin' fun

Derived From Web

, Sep 7, 2017

I've read all the books, and I still can't get over them.