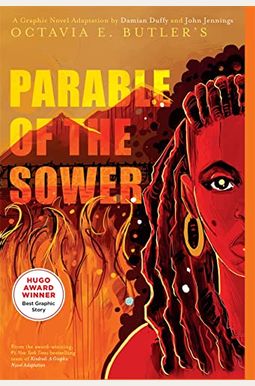 
 
Parable Of The Sower: A Graphic Novel Adaptation
Book Overview
The graphic-novel adaptation of Octavia E. Butler's groundbreaking dystopian novel, Parable of the Sower, the follow-up to Kindred, a #1 New York Times bestseller
In this graphic-novel adaptation of Octavia E. Butler's Parable of the Sower by Damian Duffy and John Jennings, the award-winning team behind Kindred: A Graphic Novel Adaptation, the author portrays a searing vision of America's future. In the year 2024, the country is marred by unattended environmental and economic crises that lead to social chaos. Lauren Olamina, a preacher's daughter living in Los Angeles, is protected from danger by the walls of her gated community. However, in a night of fire and death, what begins as a fight for survival soon leads to something much more: a startling vision of human destiny . . . and the birth of a new faith.
Frequently Asked Questions About Parable Of The Sower: A Graphic Novel Adaptation
Book Reviews
(8)
Did you read Parable Of The Sower: A Graphic Novel Adaptation? Please provide your feedback and rating to help other readers.
Tiny, Tiny Text

Derived From Web

, Dec 25, 2021

I tried to read this graphic novel last night and the text is so small that I can 't even with my reading glasses read. Itsy bitsy font size is. I can not believe that this book has passed through any editing. I have never seen a printed book with such a small type size. I have returned it for a full refund.
Wonderful artwork

Derived From Web

, Jun 3, 2021

I can never speak as a representation of the novel parable of the Sower, despite reading the novel Laetitis. What I can say is that the artwork is breath-taking, illuminating the bleakness of the world in which Lauren lives, while at the same time showing the hope that she still has. While there were places with much more text than action, this was largely necessary to convey all information and allow graphic novels to stay true to the way the novel was written as journal entries. I say that I would have enjoyed this adaptation *more* if I had already read the novel, because I would have a better understanding of Lauren's hyper-empathy and Earthseed. That is said, I don 't think that you first have to read the novel to be able to appreciate the graphic novel adaptation. For me, it satisfied my appetite enough for me to want to read the novel, a desire I did not have before.
A Look at the future

Derived From Web

, Mar 28, 2021

Many of the situations discussed in this book are relevant in the here and now. It talks about water shortages, food shortages and basic animal beings devolving to there human instincts. I also loved her take on religion and how human beings use it to justify their actions when they choose to attack someone that does not believe the way they view the world from their perspective. The violence used reminds me of the mass shootings that we experience today. Except in the book, they used fire as a weapon to kill or kill under the philosophy of stealing and kill.
Highly recommended read!

Derived From Web

, Dec 13, 2020

I have recommended this book to others who are unfamiliar with Butler's work as an introduction means, and they are always glad that they read it. This adaptation and the Kindred adaptation are my top graphic novels to recommend.
Nice Artwork same story

Derived From Web

, Aug 29, 2020

Octavia Butler : I love this book, I was hoping that it would be a little different from the original, it wasn 't. I am still glad that I bought it.
I Loved It almost as much as the Novel

Derived From Web

, Jul 2, 2020

I always wondered if a graphic media company might try to make a tv series from it, but a brave novel is a good middle step. It is a great step in the hands of Damian Duffy and John Jennings. I loved the art, so moving in detail and color that it raised all the emotions of the novel. Obviously this is not as long nor as detailed as the novel, but I checked and it does cover all the major points. At COVID19, this is also a particular gutpunch, so be warned if you are thinking of buying. If you love Butler's work, you will want to read this graphic novel. I am waiting for the next to come out ''.
Great adaptation of the novel

Derived From Web

, Jun 30, 2020

I like how the designer offsets the other verses from the Earthseed text.
Great read!!

Derived From Web

, Feb 24, 2020

Relevant in the Age of Trump and the moral, economic and environmental decay of America. This book is full of love, love this book.