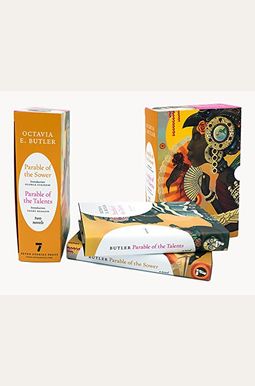  
Parable Of The Sower & Parable Of The Talents Boxed Set
Book Overview
A beautiful boxed set brings together the great sci-fi writer's two award-winning Parable books
The perfect gift for fans of Octavia Butler, this boxed set pairs the bestselling Nebula-prize nominee,
Parable of the Sower
and
Parable of the Talents
, which together tell the near-future odyssey of Lauren Olamina, a hyperempathic young woman who is twice as feeling in a world that has become doubly dehumanized. In
Sower
, the place is California, where small walled communities protect from hordes of desperate scavengers and roaming bands of people addicts. Lauren sets off on foot along the dangerous coastal highways, moving north into the unknown. The book has an introduction by feminist, journalist, activist, and author Gloria Steinem.
Parable of the Talents
celebrates the classic Butlerian themes of alienation and transcendence, violence and spirituality, slavery and freedom, separation and community, to astonishing effect, in the shockingly familiar, broken world of 2032. It is told in the voice of Lauren Olamina's daughter--from whom she has been separated for most of the girl's life--with sections in the form of Lauren's journal. Against a background of a war-torn continent, and with a far-right religious crusader in the office of the U.S. presidency, this is a book about a society whose very fabric has been torn asunder, and where the basic physical and emotional needs of people seem almost impossible to meet.
Talents
is introduced by singer, musician, composer, producer, and curator Toshi Reagon, who created an opera based on the Parable books.
Frequently Asked Questions About Parable Of The Sower & Parable Of The Talents Boxed Set
Book Reviews
(7)
Did you read Parable Of The Sower & Parable Of The Talents Boxed Set? Please provide your feedback and rating to help other readers.
Stunning covers

Derived From Web

, Sep 16, 2021

I loved the covers absolutely! These are two of my favorite stories by Octavia Butler and are now beautiful additions to my books.
Incredible storytelling!

Derived From Web

, May 8, 2021

I have been looking for these books for years and finally found them here. Phenomenal books :
very moving

Derived From Web

, Apr 24, 2021

I read the first book only and am hooked. It is not a fun read and at first I was not sure I could get into it, but it pulled me right in after a while. I think it is very relevant to current times and we should pay attention to its messages.
Beautiful versions of these books

Derived From Web

, Apr 17, 2021

Stunning cover art for a poignant series by Octavia Butler. Toshi Reagan loved the forwards by Gloria Steinem and Toshi Reagan as well.
Prophetic and Provocative Octavia

Derived From Web

, Mar 11, 2021

Octavia Butler was certainly prophetic, provocative and ahead of her time. This two book set, part of her unfinished trilogy, predicts these times and seems to be coming. Too soon, Octavia left us.
Fantastic books, mediocre quality material

Derived From Web

, Aug 10, 2020

The books seem good enough, but the cover and box are really flimsy. The box was already coming apart when I opened the package ; I had to bind it back together. I received this issue mainly for the beautiful artwork, but I am afraid that it won 't hold very well.
Nearly perfect

Derived From Web

, Nov 6, 2019

Binding is tight, the printing is dark and crisp, the colors are accurate and vivid. The art work is beautiful and relevant. The size is comparable to a Library of America book, but with a larger print, so that the edition makes for a very nice reading copy as well. Introductions are well written, if not poetical, but not the purchasing draw here. Of course, Octavia Butlers'writing is amazing and disturbingly prophetic of our times. Highly recommended :