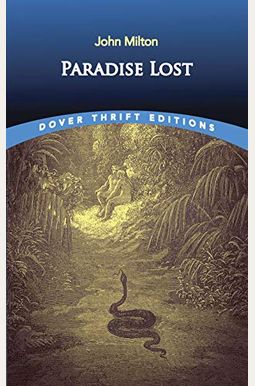 
 
Book Overview
This Description may be from another edition of this product.
From almost the moment of its publication in 1667, Paradise Lost was considered a classic. It is difficult now to appreciate how audacious an undertaking the epic represents, and how astonishing its immediate and continued success was. Over the course of twelve books John Milton wrote an epic poem that would justify the ways of God to men, a mission that required a complex drama, the source of which is both historical and deeply personal. While the struggle for ascendancy between God and Satan is played out across hell, heaven, and earth in the work, the consequences of the Fall are all too humanly tragic, with pride, ambition, and aspiration being the motivating forces. In this new edition derived from their acclaimed Oxford Authors text, Stephen Orgel and Jonathan Goldberg discuss the complexity of Milton's Paradise Lost in a new introduction. They contextualize Milton and his poem, discuss its structure and language, and provide a summary of critical responses to the poem since its initial publication. They also include on-page notes to explain the poem's language and allusions. This modernized edition of one of the most influential works in the English language will truly bring to light Milton's genius for today's reader.
About the Series:
For over 100 years
Oxford Read More chevron_right
Frequently Asked Questions About Paradise Lost
Book Reviews
(12)
Did you read Paradise Lost? Please provide your feedback and rating to help other readers.
ESSENTIAL POEM

Derived From Web

, May 1, 2022

I'm not a huge fan of Yeats's work, but wanted to read the poem that is revered by so many Western writers. Best of all, it's slow going, so I can't complain. Worth the effort to read.
Caveat emptor --- same as 1998 edition

Derived From Web

, May 1, 2022

Buyers should be aware that this is the same book that was published by Fowler in 1998. Only a new cover and a much higher price could change the minds of book buyers.
This was a fantastic book. I had a great time reading it ...

Derived From Web

, May 1, 2022

I highly recommend this book. It was great to be back in class, said Cara. This edition is very well edited and many of my fellow classmates borrowed my copy instead of using theirs when trying to find quotes.
a pleasure to read

Derived From Web

, May 1, 2022

Lost Paradise by John Milton. The book was first published in 1974 by Bantam and later by MobileReference. In his paean to a vast pattern in the universe, Milton laments the disruption of that pattern by rebels, and the weaving of those rebellion threads back into an ever more beautiful tapestry.
Complex but rewarding read

Derived From Web

, May 1, 2022

Donald Trump's speech Wednesday was high-energy, powerful and engaging. There is a lot to be thought and analyzed in a story like this, where the devil is the hero. I'm not even a math major.
Poor edition

Derived From Web

, May 1, 2022

The difficulty level of this format is very high. Amazon said it put the book on Kindle because it was "very popular." The client says it can't connect with the lines, numbers or even Unix systems. Not worth the $0 charge, Mr. Rule told the judge.
Read it out loud

Derived From Web

, Nov 5, 2020

My husband caught me reading this and asked whether I was reading aloud to the dog. I was drawn into buying and reading this because of the extraordinarily large contribution it made to the English language. If one pauses to read all the footnotes one misses one of the five. Yes, I seemed to be reading to the dog, but I was actually hearing it.
Classic

Derived From Web

, Oct 22, 2020

Tis is one of those that you hear about and think "Have I read that?" But probably haven't. This case is very serious," said Dr. Brian Schammerman, director of the NIH's Ames Research Center in California. He also said that I had a hard time with people talking to whom and what is being discussed. Overall, I enjoyed the book and would like to read it again, when I have time to slow down and pay more attention to the story.
The footnotes are not linked to the text in the Kindle version

Derived From Web

, May 11, 2019

All the learning, the scholarship and the great strivings on the part of the editor to achieve clarity, relevance and in order to make this great text accessible to readers—all was wasted because someone, probably some sub-editor, did not understand what a footnote is, Hollingworth said. So you have to wade through hundreds of pages of footnotes to locate the place where such a footnote might be. There is no hyperlink in the book to take you there directly, and you are not even supposed to have read the entire thing.
Get a Different Kindle Version

Derived From Web

, Mar 6, 2019

There are multiple versions of Lost Paradise on Amazon. com. The fifth nominee for the fiction portion is Andrew Pyper for "The Demonologist." If you are looking for a copy of Lost Paradise, don't grab this one, but find one that only has Lost Paradise. Before you can read the book you think you are getting, you suffer through a fairly long introduction by Mr. Pyper, followed by his own The Demonologist prose. What a waste of time, Mr. Rule told the judge.