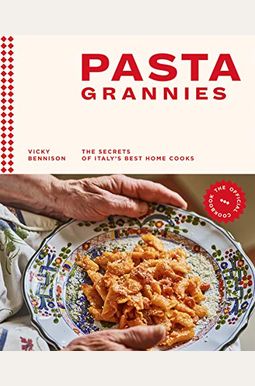 
 
Pasta Grannies: The Official Cookbook: The Secrets Of Italy's Best Home Cooks
Book Overview
WINER OF THE JAMES BEARD AWARD FOR SINGLE SUBJECT
SAVING TRADITIONS AND SHARING SKILS, ONE GRANY AT A TIME When you have good ingredients, you don't have to worry about cooking. They do the work for you. - Lucia, 85 Learn how to make pasta like Italian nonnas do. Inspired by the hugely popular YouTube channel of the same name, Pasta Grannies is a wonderful collection of time-perfected Italian pasta recipes from the people who have spent a lifetime cooking for love, not a living: Italian grandmothers. For a nonna, love is putting food on the table, and pasta is the perfect vehicle to make precious ingredients go further. Featuring easy and accessible recipes from all over Italy, you will be transported into the very heart of the Italian home to learn how to make great-tasting Italian food. From pici - a type of hand-rolled spaghetti that is simple to make - to lumachelle della duchessa - tiny, ridged, cinnamon-scented tubes that take patience and dexterity, every nonna has her own special recipe. Pasta Grannies brings together the huge diversity of these authentic dishes and also celebrates the expertise, life and extraordinary stories of the amazing women behind them.
Frequently bought together
Frequently Asked Questions About Pasta Grannies: The Official Cookbook: The Secrets Of Italy's Best Home Cooks
Books like Pasta Grannies: The Official Cookbook: The Secrets Of Italy's Best Home Cooks
Book Reviews
(16)
Did you read Pasta Grannies: The Official Cookbook: The Secrets Of Italy's Best Home Cooks? Please provide your feedback and rating to help other readers.
Good Christmas Gift for a person who likes to cook

Derived From Web

, Jan 4, 2022

It was a Christmas present for my wife. She looked at the book and thought it was great, and we have had several meals out of the book.
Pasta grannies

Derived From Web

, Nov 17, 2021

I've read the entire book, and I'm in love. I love the stories behind the pasta grannies, it's a look into the past, i love the passion the Italians have for their pasta making and cooking! Wish I could sit next to one and learn how to fold.
Love this book!

Derived From Web

, Jun 18, 2021

It's a book of pasta recipes. The Pasta Granny's bio says she was "born and raised in the hills of West Virigina."
What an interesting cookbook!

Derived From Web

, Dec 19, 2020

It's filled with so many interesting and loved dishes, and I can't wait to try them all again. I can't wait to see how my girls like it.
Best Cookbook

Derived From Web

, Aug 23, 2020

A great book, full of beautiful stories and delicious recipes. Just visit their Facebook page and you won't be able to stop yourself.
Very Disappointed

Derived From Web

, Aug 7, 2020

I really wanted to like this item and was excited to receive it, said Jennette. However when I opened the box that it was shipped in, it appeared to have been simply tossed in with a number of other things that I ordered and was in poor shape. I still was going to keep it, but when I started looking at the recipes I realized that the book had two major faults at least for me. The second problem is that the print size is extremely small. It is a difficult task to read. The instructions are written in large blocks of numbers and are completely on making the directions difficult to follow as you work. It is unfortunate but I am returning these items for these reasons. Even with the help of an expert taster, it was difficult to say whether the recipes were any good because of the way the directions were presented and the tiny print size.
Great Recipes - Poor Photography

Derived From Web

, May 29, 2020

It was almost three years since the book was first published, and the wait is almost over. Excitedly, I opened it, knowing I would read through it tonight. Really poor quality, terrible images, and in many cases blurry. There is simply no excuse for the unfortunate photography portrayed in this superb cookbook. But I believe that photos are essential to creating a compelling tool to make one want to recreate a recipe. The book's photography, by contrast, falls well short of that standard. It's a $21 book. If I had to buy this book as a present, I would not likely buy it as a gift because of the poor photography.
Not worth it stick to your basics

Derived From Web

, Feb 26, 2020

It had a few good recipes, but the book lacked recipes such as simple measurements for pasta they use daily for all foods, such as spaghetti, pizza, penne and other basic cook on a daily basis. There are many stories, some of them told by first-time writers, of their lives not enough basic recipes. Don't recommend reading this book to your friends.
Great quality book

Derived From Web

, Jan 9, 2020

I've read the book, and I love the pictures. The book has more than 140 recipes, and the you tube channel has more details and more recipes. It would be a good present with the tools and equipment to make pasta, Mrs. D'Antonio said. The main disappointment is that the ingredients aren't readily available in my area.
I AM OBSESSED!!!

Derived From Web

, Jan 7, 2020

This book is so great for anyone, especially those with Italian roots, looking to improve their cooking skills. I have always followed the pasta grannies youtube channel and have been cooking for over 20 years. In this book, we cover the history of each type of pasta, provide a recipe, and in depth instructions. It's very pleasing and so fantastic to have all these recipes continue to be passed down from generation to generation, Mr. Cowger said. There are so many different types of pasta to choose from, it's almost impossible to choose just one. There are also great detailed instructions on how to make pasta from scratch, which is a fun challenge. Now I hope that I become more efficient and I am able to learn these recipes and pass them on to my grand children.