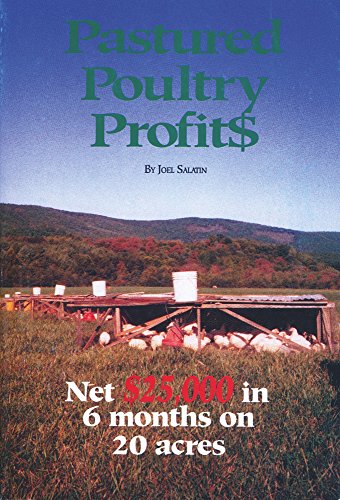 
 
Book Overview
A couple working six months per year for 50 hours per week on 20 acres can net $25,000-$30,000 per year with an investment equivalent to the price of one new medium-sized tractor. Seldom has agriculture held out such a plum. In a day when main-line farm experts predict the continued demise of the family farm, the pastured poultry opportunity shines like a beacon in the night, guiding the way to a brighter future.
Frequently bought together
Frequently Asked Questions About Pastured Poultry Profits
Books like Pastured Poultry Profits
What should you read after Pastured Poultry Profits Book? Here is a list of books to read if you read and loved Pastured Poultry Profits
Book Reviews
(12)
Did you read Pastured Poultry Profits? Please provide your feedback and rating to help other readers.
Before you invest in your hobby farm....read this book

Derived From Web

, May 1, 2022

is also worth noting that many of the book's chapters are similar to the other books, so make sure you're buying it for the right reason. I applied much of the.02 fertilizer model in my straw box garden last season and had great success using less water than the year before, harvesting double. His concepts of sustainable farming combine ancient plant breeding with bio-diversity efforts to build soil. In the West, there is less water, and no shortage of sunshine and heat. He has a great deal of risk management, Bruno said. All you have to do is apply the techniques outlined in his manual.
Great resource if you think you might do Saladin-Method poultry

Derived From Web

, May 1, 2022

Really informative, detailed, and even fun to read. If you know who Salatin is, you probably know what you're buying here. Amazon is going to make me write a bunch more stuff because they won't post brief reviews, Sosa said. I'm quite good at lengthy, but I think it's abominable that I am not allowed to be brief on those few occasions when all I want to write is, Extremely informative, detailed, and even fun to read, Hachette said. Even if you don't know who Salatin is, you probably know what you're buying here.
Well laid out chicken care

Derived From Web

, May 1, 2022

I am very excited to be able to raise chickens this way. Very well written, easy to read, and the directions are clear. So far I think we are doing well with our chicks and by the end of this week we'll be moving them into the chicken tractor, said Dr. Chester Floyd, director of the University of Kentucky's extension office. We did use this book as our bible, moving our chickens three times a day to check weather, nan It has been written over many decades and so plan on taking notes and marking important passages, but I feel it is an important book and it gave my husband and I the necessary information to successfully raise a very healthy flock, she said. Next year, we'll run two tractors and run them twice.
I love what Salatin is doing and if I were 20 ...

Derived From Web

, May 1, 2022

Yes, I love what he's doing and if I were 20 years younger, I'd do it too. The poignancy and realism of Raymond's story teller's voice offers not only the imagination of an old man, but a primer for the youngster just getting his feet under himself. If you are a rising politician, take a look at a fresh perspective that offers hope and balance for the conservative and liberal alike, writes William H. Daschle. Americans learn to balance life's issues with family obligations, Reagan said. He added that balancing the budget is one of the challenges we face. Quattrone, Giovanni, and Roma are among the suspects in the soli de giunio.
Outdated but good

Derived From Web

, May 1, 2022

It's a good book, but a little outdated so don't rely on the information without double checking it. It has some really good information, but is not as useful as I would have liked. I just wish they had an updated and second edition of this.
Great book and Extremely informational

Derived From Web

, May 1, 2022

Joel Salatin's book is a must-have for anyone who wants to learn more about the ancient world. It is a must read if you plan to have chickens.
This book has been around long enough to deserve a ...

Derived From Web

, May 1, 2022

This book has been around long enough to deserve a new edition, he said. My husband could only finish half the work because it gets repetitive. It was one of the first books on poultry farming to espouse the pastured method that Salatin and others have developed over the years, but the typescript pages, repetitive and sometimes off-topic writing, and polemics seem dated and can be a little irritating. As with all of Saul Salatin's books, the reader should approach it expecting to cherry-pick the undeniably valuable information on agricultural practice, while leaving the manure on the ground to decompose.
Great book, good information

Derived From Web

, Mar 12, 2020

I recommend this book to anyone. It tells you how and why. It's so old, I'm sure, everything else is right on. Just keep in mind when they say 25k that was 20 years ago, it's got to be much higher. The book is a great read, Gillian.
A must for the backyard grower to

Derived From Web

, Mar 4, 2020

What a great book, said Frey. Not just for a farmer, but for people growing their own food. I learned a lot more than I expected from the program, like cutting food cost and giving my birds better nutrition, Bruno said. That is, if they can grow without the medicated feed.
A lot of good points

Derived From Web

, Feb 16, 2020

A great book, lots of great points, too. But Williams said he couldn't guarantee safety in the dry Colorado high desert. I have two issues: bears and drought. In "The Age of Innocence," John Heine quotes extensively from the Marquis's book, "No mention of the other." The author is the best of the best in his filed but has much greener pasture then I, Hollingworth said. Great stuff, said Dr. Goin.