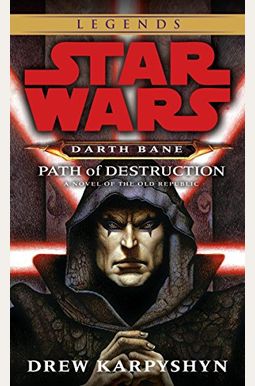  
Path Of Destruction: Star Wars Legends (Darth Bane): A Novel Of The Old Republic
Book Overview
Two there should be; no more, no less.
One to embody the power, the other to crave it.
-Darth Bane, Dark Lord of the Sith
On the run from vengeful Republic forces, Dessel, a cortosis miner, vanishes into the ranks of the Sith army and ships out to join the bloody war against the Republic and its Jedi champions. There, Dessel's brutality, cunning, and exceptional command of the Force swiftly win him renown as a warrior. But in the eyes of his watchful masters, a far greater destiny awaits him.
As an acolyte in the Sith academy, studying the secrets and skills of the dark side, Dessel embraces his new identity: Bane. But the true test is yet to come. In order to gain acceptance into the Brotherhood of Darkness, he must defy the most sacred traditions and reject all he has been taught. It is a trial by fire in which he must surrender fully to the dark side-and forge from the ashes a new era of absolute power. A solid space adventure that] charts the evolution of an antihero almost as chilling as Darth Vader.
-Publishers Weekly
Frequently bought together
Frequently Asked Questions About Path Of Destruction: Star Wars Legends (Darth Bane): A Novel Of The Old Republic

Books like Path Of Destruction: Star Wars Legends (Darth Bane): A Novel Of The Old Republic
Book Reviews
(4)
Did you read Path Of Destruction: Star Wars Legends (Darth Bane): A Novel Of The Old Republic? Please provide your feedback and rating to help other readers.
Origin Tale of the Famed Sith Lord

Derived From Web

, Feb 8, 2022

This is the first part of a 3 part series about the legendary Sith, Dart Bane. This great, action packed, yet somewhat sad tale covers the beginnings and transformation of Bane into a Sith Lord. The Jedi vs Sith battle has terrible consequences. Similar to Revan and Annihilation, Drew Karpyshyn has another great tale. The books have made me love the Old Republic more than the current one. You get to know a lot of interesting characters on the light and dark side. If you dare, you can continue on the path of the Dark Side. A great read is on its way. The production was great, the music and sound effects were great and the narrator did a great job with the characters. Mark Thompson handled the earlier Old Republic books.
It was previously a library book...

Derived From Web

, Jan 12, 2022

The book is in good shape but it was a library book in the past. Had I known that, I would not have bought the book. At this time, it's not a collector item. It's just a book. Absolutely readable. All of the pages are there. I don't know how much I paid for it, but I was surprised that it had a library stamp on it. The stamps are readable, but they aren't everywhere. I'm going to read it when I finish this. My wife just looked it up and it cost me $20, it got to my house quickly. So that's not a good thing. When I buy Darth Bane Rule of Two, I' ll be more careful to make sure it's not a library book. Had I known this was a library book. I would not have paid $20 for it.
Wow! Amazing read.

Derived From Web

, Jan 22, 2020

I listened to the book that my friend recommended to me. The book is very good. Timothy Zahn trilogy was the last one I usually read. I was blown away by the book. A great fast read. I don't agree with where Disney has taken the most recent movie trilogy, but this book has helped me understand a bit more where they were coming from. This book isn't an official canon anymore, but I don't care. The book is very enjoyable. Wouldn't be surprised if Disney took the concepts from this book.
Made to Perfection

Derived From Web

, Dec 27, 2017

This book is the first Star Wars novel I' ve read and I can't say how good it is. I can imagine each part of the novel in great detail because Drew has made this story practically tangible. The action is thrilling and clear, and the twists of the book are intellectually designed. You don't need to have played Knights of the Old Republic to know what is happening in the Old Republic. It is an extremely cool connection you get to make as the reader, knowing of the ancient Sith lords before Revan or the Exile. Disney claims that these books are no longer canon, but they are masterfully made and no matter what they say or do, these books define the true Star Wars universe to me.