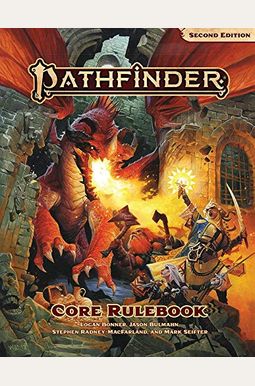 
 
Pathfinder Core Rulebook (P2)
Book Overview
This Description may be from another edition of this product.
This comprehensive 640-page guide to the Pathfinder roleplaying game provides everything you need to set out on a world of limitless fantasy adventure Choose from ancestries like elf, human, and goblin and classes like alchemist, fighter, and sorcerer to create a hero of your own design destined to become a legend Based on more than 20 years of active development and playtest feedback from more than 125,000 gamers, the new Pathfinder rules are easy to learn and exciting to master This indispensable volume contains all rules for players and Game Masters, and is your first step on a heroic new journey
This deluxe special edition is bound in faux leather with metallic deboss cover elements and a bound-in ribbon bookmark. The perfect way to commemorate Pathfinder's new edition (Cover color and design subject to change.) The Pathfinder Core Rulebook includes:
- More than 600 pages of game rules, advice, character options, treasure, and more for players and Game Masters
- Six heroic player character ancestries, including elf, dwarf, gnome, goblin, halfling, and human, with variant heritages for half-elf and half-orc
- More than 30 backgrounds like bartender, soldier, or apprentice to further immerse yourself in your hero's backstory
- Twelve character classes, including
Read More chevron_right
Frequently bought together
Frequently Asked Questions About Pathfinder Core Rulebook (P2)
Books like Pathfinder Core Rulebook (P2)
Book Reviews
(15)
Did you read Pathfinder Core Rulebook (P2)? Please provide your feedback and rating to help other readers.
More than one printing of 2e.

Derived From Web

, Feb 20, 2022

Mind you, my friend got theirs just in and it has been a few weeks since I got mine and it has two different printings. His is newer and has more information than I received.
Shipping damage

Derived From Web

, Dec 21, 2021

It is a bad book, but it came in with a beautiful corner ding, this ding even creased the first 150 pages, I don 't know when it happened, but I can 't afford to return it so...
Pathfinder 2nd Edition: Worms in the Rye

Derived From Web

, Jul 13, 2020

Pros-loving the layout - exploring, encounter, downtime-loving the progression of feats and skills Cons -the infestation of woke themes After taking a break for a few years, our group reformed and decided to check out the highly anticipated Pathfinder 2nd edition. There are a lot of great things to be said about this new edition, but the pervasive awakening corrupts the otherwise stellar content. We probably won 't buy any more new Pathfinder books because of this, but we will probably give another shot to the eventual Pathfinder 3rd Edition, whenever it comes out.
Great game!

Derived From Web

, May 16, 2020

The game is loving. I actually prefer it over DnD 5e. The character creation is excellent, there are lots of choices. Also, combat is much more enjoyable in Pathfinder. Pazio made an excellent system with 2e, making it its own thing rather than a DnD 3e clone.
This is a big book!

Derived From Web

, Feb 29, 2020

Normally a DnD player, but after seeing this luscious tome with thick pictures and charts, I decided to expand my RPG books. I have looked at original Pathfinder books and read them, however, this tome breaks nearly everything that a new player or returning player needs to bring to the table to play and have fun. It also has information for game master traps... TRAPS... TRAPS! In all, for its price, you are getting two-three books in one to give almost everything you need to play. Get Rollin! Now you can roll!
Excellent Edition & Quality, too!

Derived From Web

, Feb 20, 2020

( Thanks '' ) On a side note, ignore the reviews with the bizarre commentary on political correctness. For the price it came with a free PDF dl.
Poor binder construction

Derived From Web

, Sep 21, 2019

The binder was discarded on the 2nd day. The book itself is fine, but the spine and cover are ripped right away close to the spine. The money should have been spent on the special edition. May have been of better quality.
An excellent book

Derived From Web

, Sep 19, 2019

A great start to a very promising new edition of my favorite rpg out there. Big fan of most changes, except for the inclusion of goblins as a core race and the art for hobgoblins changed for the worse. Though it came with a number of pages folded in itself, it was nothing that I could not count against the content of the book.
PC Culture

Derived From Web

, Aug 12, 2019

Orcs rape, pillage and raid. Half-orcs come for a reason. Tribalism exists and the races undermine each other ; there should be a challenge in bringing together groups or overcoming your differences. This insanity can be left at the door and is a waste of word count.
worth getting a physical book

Derived From Web

, Aug 9, 2019

Haven 't made my way through all the Lore sections, but what I have read is pretty cool.