Buy 3 Get 1 Free
Our Best Sale Yet! Add 4 Books Priced Under $5 To Your Cart     Learn more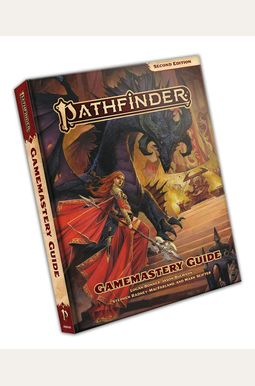 
 
Pathfinder Gamemastery Guide Pocket Edition (P2)
Book Overview
Whether you are a new Game Master or experienced storyteller, you can always find new ways to hone your craft. This 256-page Pathfinder Second Edition rulebook contains a wealth of new information, tools, and rules systems to add to your game. Inside you will find handy advice for building your own adventures, designing towns, and creating vibrant characters alongside rules systems for dramatic chases, thrilling tournaments, and deadly duels. This book also includes more 40 pages of sample nonplayer characters, from the simple town guard to the vile cultist, presented to make your job as GM that much easier
The Pathfinder Gamemastery Guide includes:
- Rules, advice, and guidelines to build adventures, campaigns, and the denizens and treasures that lurk within, from settlements to nations to infinite planes
- Creative variant rules to customize the rules to make the game your own, including variant bonus, feat, and magic item progressions, characters gaining the power of multiple classes at once, and more
- All sorts of new and variant magic items including intelligent items, cursed items, artifacts, quirks you can add to items, and a brand new type of item called a relic that scales with your character
- A catalog of subsystems to handle unique situations, from thrilling chases to researching mysteries to vehicle combat to elaborate duels to sandbox-style hexploration and more Plus, a universal victory point system to help you design your own subsystems
- More than 60 new NPCs to use in your game, designed for maximum usefulness to all Pathfinder campaigns
Frequently Asked Questions About Pathfinder Gamemastery Guide Pocket Edition (P2)
Book Reviews
(6)
Did you read Pathfinder Gamemastery Guide Pocket Edition (P2)? Please provide your feedback and rating to help other readers.
Game master guide

Derived From Web

, May 23, 2021

A great source of information for your Pathfinder - game inspiration. It is laid in a useful way that doesn 't waste your time with information that you don 't need.
Adventure await

Derived From Web

, May 14, 2021

I can 't wait for my friends and I start planning our adventures. I was told that Pathfinder is a little more crunchy in terms of rules compared to DandD, but we're going to give it a shot.
Good book nice read

Derived From Web

, Feb 6, 2021

It is also a good book and a beautiful read.
Poor layout and no tables.

Derived From Web

, Dec 16, 2020

There were high expectations for this book, comparing it with the previous edition. You will find huge blocks of text and almost any tables to help you design or inspire a campaign. In this book you will not find tables for urban exploration, dungeon delving, wilderness creation or anything like that. Instead, everything is presented as text and it is up to you to convert it for your campaign or story. The layout is the same as the core book, a poorly presented chaos of information.
Keep politics an option and not a must.

Derived From Web

, Aug 18, 2020

Without the wakingness, good table top. This is great if you are trying to get away from Wizards of the Sword Coast and their S.J.W. Censorship is a renaissance township.
Get this book

Derived From Web

, Aug 4, 2020

Book is great! The victory point system and all the different subsystems are awesome and add lots of fun to the game.