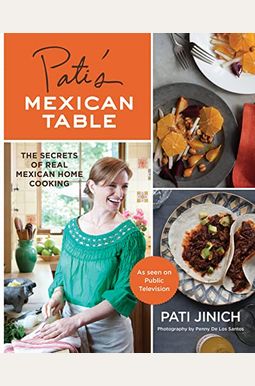 
 
Pati's Mexican Table: The Secrets of Real Mexican Home Cooking
Book Overview
The host of a highly popular PBS series, Pati s Mexican Table, and a self-described overloaded soccer mom with three kids and a powerful blender, Pati Jinich has a mission. She s out to prove that Mexican home cooking is quicker and far easier than most Americans think.
Her dishes are not blanketed with cheese, or heavy and fried, or based on complex sauces. Nor are they necessarily highly spicy. Surprising in their simplicity and freshness, they incorporate produce and grains. Most important, they fit perfectly into an everyday family cooking schedule and use just a handful of ingredients, most of which are already in your pantry. Many are homey specialties that Pati learned from her mother and grandmother, some are creative spins on classics, while others are not well known outside of Mexico.
Dishes like Chicken a la Trash (it s delicious!), a one-pot meal that Pati gleaned from a Mexican restaurant cook; Mexican Meatballs with Mint and Chipotle; Sweet and Salty Salmon; and Mexican-Style Pasta can revitalize your daily repertoire. You ll find plenty of vegetarian fare, from Classic Avocado Soup, to Divorced Eggs (with red and green salsa), to Oaxaca-Style Mushroom and Cheese Quesadillas.
Your friends and family will enjoy Tomato and Mozzarella Salad with Pickled Ancho Chile Vinaigrette; Crab Cakes with Jalapeno Aioli; and Chicken Tinga (you can use rotisserie Read More chevron_right
Frequently bought together
Frequently Asked Questions About Pati's Mexican Table: The Secrets of Real Mexican Home Cooking
Books like Pati's Mexican Table: The Secrets of Real Mexican Home Cooking
Book Reviews
(12)
Did you read Pati's Mexican Table: The Secrets of Real Mexican Home Cooking? Please provide your feedback and rating to help other readers.
Fantastic book

Derived From Web

, Dec 2, 2020

I've got a lot of cookbooks with lots of Mexican recipes, but this book is by far the best. I've included a picture of the Impossible Chocoflan it was my first attempt and it came out delicious.
Best shredded pork I've ever made in my life

Derived From Web

, Jul 20, 2020

My husband and I watch Pati's show religiously, and I'm not certain why it took me so long to get one of her cookbooks. It's a beautiful book, and the writing is spot on. I've read all the books, but this is by far the best. Sirius XM Radio's new deal with Viacom calls for a two-hour delay in the radio station's morning show, "Morning Drive."
Long Prep and Bland Results

Derived From Web

, Apr 2, 2020

I have cooked two of these recipes that require several hours to prepare and the end result was bland tasting food. The book was highly praised by reviewers, but disappointed by the lack of a dedicated chef.
Thanks, Pati

Derived From Web

, Jan 9, 2020

I'm a huge fan of her cooking show. Living in Las Vegas, anything that is truly Mexican food is full of cilantro and I really hate the taste of it. A lot of good food is created by people like Pati. I send a virtual hug to you! she wrote.
Great introduction to authentic Mexican cooking

Derived From Web

, Mar 16, 2019

Great investment. We went through the book and he said that many of the recipes were authentic. My husband is a good cook too, but he never uses recipes and would explain things to me, Mrs. Dhaliwal said. Pati's book is a stunning and witty dissection of the Vatican's murky dealings with the American government. It was almost like a mojito minus the alcohol. I am so excited and looking forward to trying many more recipes that I have bookmarked!
Not as rich as her cooking show

Derived From Web

, Jan 6, 2019

Only a handful of recipes are considered cost-effective.
Can't Wait to Cook Everything

Derived From Web

, Sep 17, 2018

She immediately went looking for a cookbook. A beautiful book with color photos and so many delicious recipes. I'm sure I will be using this book regularly.
Not enough pictures

Derived From Web

, Aug 23, 2018

I've never seen Pati's book but I purchased it based on the high review. I'm always looking to expand and learn new ways to prepare meals. I read and reviewed most of the recipes to see if I would ever make any of these. Some look fairly easy, others are moderate, Melissa said. I'm returning the book because, I just wasn't inspired enough to make any of the recipes. I'm also a learner and feel I need pictures for every recipe. I've been spoiled by other cookbooks, too. It depends on the person who wants to tackle the recipe and the time of day. I enjoyed her short stories, too, Morgenthau said.
Delicious

Derived From Web

, Apr 26, 2018

Pati's recipes are delicious and easy to make. She is very good at suggesting substitutions for ingredients that may not be readily available. It's great to read, too.
I love Pati. In all honesty

Derived From Web

, Nov 27, 2017

I've known Pati for a long time. In all honesty, I purchased this cookbook and put it on my shelf for months before my mom told me about her show! I was obsessed. I've made 26 recipes in the past month alone, all using my crock. Before I started my Winter of Cooking with Pati, I also took Spanish classes. This was a great present for a Christmas present.