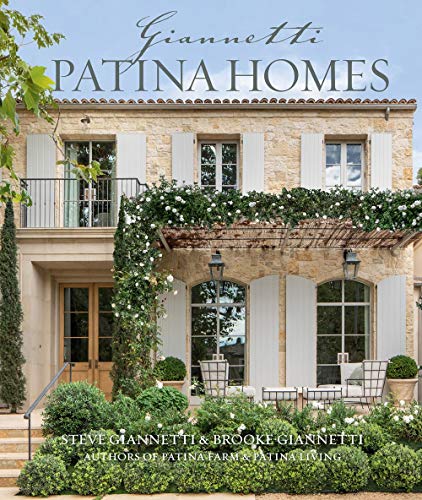  
Book Overview
Patina style imbues Giannetti client homes in a variety of architectural styles.
Steve Giannetti's architectural designs springboard from his image of ultimate beauty--a place where modern, classical and industrial elements merge to create a unique style with a modern sense of space and emotion drawn from history. His materials palette consists of wood, metal, and stone. His color palette is a chalky patina. Twelve varied homes--ranging from a modern desert glass box and a beachfront contemporary to a historic East Coast farmhouse and a Provencal-style home in California--show how Steve has used these themes to solve unique architectural challenges. Steve has collaborated with his wife, Brooke, as well as other designers on the various interiors.
Frequently Asked Questions About Patina Homes
Book Reviews
(10)
Did you read Patina Homes? Please provide your feedback and rating to help other readers.
Disappointed

Derived From Web

, Feb 19, 2022

The cover and the title of the book, Patina Homes, suggested a traditional book of interior decorating. It didn't help that unlike other books this one had no pictures inside to see what you were buying. Minimalist, geometric and colorless decor are the order of the day. Badgley said he regrets to have spent money on a book that was not his style. No color, minimal accessories. It's just that I don't taste that good. If this book is your style, give it a try. Many people will paint everything inside their homes in sad shades of gray just to be fashionable, he said. The lack of imagination and personality of the juvenile delinquents is deplorable. This being said, I would like to have more images inside books, especially the expensive ones, if I buy them online without any possibility to look inside.
Taste.

Derived From Web

, May 11, 2021

The book is a truly exceptional collection of essays, memoirs and other personal recollections. The result is a comfortable, cohesive and exterior interiors. Traditionalists say that houses that sit on the land open to the outdoors seamlessly, and beautifully blend into their gardens. The furniture is beautiful, comfortable and practical, he said. For families and their pets. The people behind the labels are masters at creating beauty, comfort and practicality. We are lucky to have such gifted artists and writers sharing their talents and sources, he said. A great book, said Dr. Goin.
MY FAVORITE GIANNETTI BOOK YET

Derived From Web

, Apr 29, 2021

I love the Giannettis and was so excited to see their interior design book, which is my FAVORITE BOOK THEY HAVE DONE SO FAR, Sosa said. The book includes over 1 million pictures and interior design ideas. One house is truly exceptional, the next. Seriously dreaming of living in that French chateau paradise? It's great to be back home, said Blair.
Gorgeous new book!!

Derived From Web

, Apr 29, 2021

Brand new, in perfect condition, said Ragin. The pictures are beautiful and I love how it focuses on the work they do for their clients - especially in different parts of the country, said Kristen. Everything is so lovely and livable, I now want to update my entire house.
Gorgeous pages and photography!

Derived From Web

, Apr 28, 2021

This book is absolutely stunning, said Frey. The pages are nice and thick, and the photos are great. I love the hand-drawn architectural sketches by Steve Giannetti throughout the book, they add a whole new element of interest to the story. I could spend hours just flipping through this book and taking in all of the design details, he said. Based on the other reviews, I did a shake test to see if the binding was strong enough to hold up against the test. Amazon did not include any protection in the shipping box, the book was just sitting there with no paper or bubble wrap, which is not ideal. Overall, a great book, and I'm very pleased with it, Morgenthau said.
The best yet!!! Absolutely gorgeous!

Derived From Web

, Apr 28, 2021

Patina said she has two other books, one by John Updike. I love them both so much. All are stunning, I must say.
Love Steve's Perspective!

Derived From Web

, Apr 27, 2021

His wife, Maria, said he was "100 percent behind the design." I've enjoyed seeing the different styles of homes and how they use natural materials like stone and wood, he said. Even though each home is different, one sees Giannetti all over it. We feel so passionate about this work of love, Raymond said. Throughout the book, Hayne's sketches make the book seem more personal. Now I can't wait to see what styling ideas I can come up with for my own home.
BEAUTIFUL BOOK!

Derived From Web

, Apr 26, 2021

I was so happy to receive my book, Melissa. I love all the books in the Patina series and couldn't wait to settle in with this latest one and to learn about the Giannetti history, Rowling said. Also was excited to see the range of Steve's architectural work and his collaboration with Brooke and other designers, the statement said. I am so happy that the Giannettis decided to share their work beyond the Farm with us and that through this book we are able to see, in one place, how they translate the dreams of their clients into homes, said Doris Wolford, co-founder of The Wolford Group. A sweet dedication to memory. A lot of the time, the photographer is not that good. The book arrived in great shape and was in great condition, said Gillian Kent, director of marketing at Hachette Filipacchi. A new school year has arrived in Melbourne, and the city's first Muslim student is determined to make the most of it.
Fragile and beautiful

Derived From Web

, Apr 21, 2021

This is the book I've been waiting for, but like others have stated, the binding leaves something to be desired. The binding is already vintage, crackles and pops. It's beautiful, the content is wonderful, Mr. Caramore said. Thanks for the tip.
Good content, sad publishing

Derived From Web

, Apr 20, 2021

Really nice pictures, Mr. Dhaliwal said. My concern is with the quality of the actual book and the mashed corners, dusty-dirty out of the box, cheap binding, cheap paper and printing quality, no dust cover, Raymond said. Mr Hughes said: "Whilst I am not disappointed in what the book conveys, I am disappointed in how it is conveyed. A sad commentary on the lack of quality in printing and binding in general, and sadly, unlike the beautiful books I already have from Patina Farm.