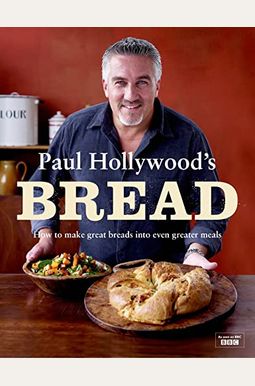  
Book Overview
Paul Hollywood's new book is all about bread - how to make it and how to use it. Not only does Paul teach you exactly how to make a variety of breads, but for each one there is a spin-off recipe that shows you how to make a fantastic meal of it.
The book has six chapters, each with five bread recipes - plus the spin-off recipes for main courses. Not only are Paul's recipes delicious but they are also foolproof, with comprehensive step-by-step photographs. Try your hand at a basic white bloomer, which can be come a savory picnic loaf; stilton and bacon rolls, which are excellent served with celery soup; fluffy crumpets, which become the base for eggs Benedict; spinach doss, which is a natural pairing with chickpea masala; ciabatta, which the Italians have traditionally used as a base for tomatoey panzanella; pizza bases, which can become home-made fig, Parma ham and Gorgonzola pizzas; or white chocolate and raspberry bread, which makes for the best bread pudding you've ever tasted.
Get baking with the master baker and judge of The American Baking Competition
Frequently bought together
Frequently Asked Questions About Paul Hollywood's Bread
Books like Paul Hollywood's Bread
Book Reviews
(13)
Did you read Paul Hollywood's Bread? Please provide your feedback and rating to help other readers.
Fantastic book, great instructions for novices!

Derived From Web

, May 18, 2022

It has really helped my 11 year old daughter to make bread. The directions are very clear and she can follow the steps on her own without having to ask for help. It is a great way to learn to plan and prepare bread as part of a whole meal plan, and I like the philosophy around which Paul talks. There are great photos showing the steps and he talks about what the purpose behind all steps is at the very beginning of the book. My daughter made that and we could not stop cutting just one more small slice of ourselves.
Well worth the money!

Derived From Web

, May 18, 2022

I fell in love with the show and decided to try my hand at some recipes, so I bought this cookbook and one by Mary Berry. I could not be happier! Paul designed this book like a textbook with each chapter building on the skills you learned in the previous book. Do not let the fact that the measurements don 't convert stop you, it was really easy to do the conversion thanks to Google. I recommend this book not only to anyone who wants to learn how to make bread perfectly, I will buy more of his cookbooks. Amy-Gliaw Mawmaw is awmaw - Georgia.
Great book!

Derived From Web

, Mar 28, 2021

I love this book ''. I tried the first recipe and it is delicious. Durant looks quite like the image in the book, but I 'll get there!
Just buy the book

Derived From Web

, Feb 9, 2021

Well, you got it. It is a book of bread baking. He also likes the goodies. And come on, he isn 't bad to look at either!
Family Liked it

Derived From Web

, Jan 18, 2021

My family said they liked the pictures in the book, as many cookbooks these days lack images to help you learn new techniques.
Must have for beginners!

Derived From Web

, Mar 21, 2020

The book of the newbie is awesome to bread. I love to bake and cook, but since watching the Great British Bakeshow, I have become obsessed. This book is so descriptive and helpful that it makes bread a breeze! What is also awesome is that another recipe follows after a bread recipe that pairs beautifully with bread like soups or dips. This book is fantastic and I highly recommend it if you are new to bread or have been doing it for awhile.
A complete waste of money!

Derived From Web

, Feb 9, 2020

If you like scones, crumpets and an entire section of soda bread, go ahead and buy this book, however if you are looking for rustic breads, rolls or anything worthwhile that can be used daily with meals DONT, what a great waste of money! This book does not even look remotely like what old blue eyes make on his TV show!!! It is just a bunch of useless recipes! I am incredibly disappointed in the recipes in this book. Here I have to say clearly that I enjoy his show very much and that is why I bought this book. Won 't make this mistake again!
Only One thing wrong with this book- actually two things---my opinion

Derived From Web

, Dec 21, 2018

First I love the information in Paul's book. Reading it like a novel, is like a reading it. But for every recipe I need a conversion table. Yes, I am from the USA and not familiar with the grams converted by metric weight, so I have to measure all the recipes. Also, addressing kitchen aid hooking with a kitchen aid attachment would be helpful as well. I did see a hook attachment recommended in one of the recipes near the end of the book. The wealth of information and technique in the book, I find very helpful. I watch American baking television, but am a British homemaker. I have been searching for a good kitchen conversion app, but have not yet found a user friendly one.
Wonderful

Derived From Web

, Aug 25, 2018

A very good book on bread-baking is very good. I have most of a collection of Peter Reinheart, which is great, but Paul's is simpler for beginning bakers.
Paul Hollywood does it again!

Derived From Web

, Jul 24, 2018

I have learned how to bake bread and this book is just as fun and easy to follow. The best part of this book is that Paul provides a serving suggestion with recipe for each bread recipe.