Buy 3 Get 1 Free
Our Best Sale Yet! Add 4 Books Priced Under $5 To Your Cart     Learn more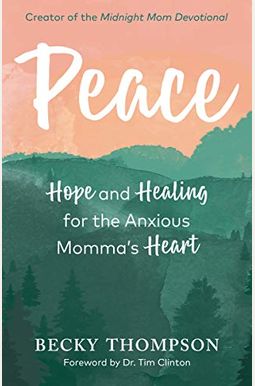  
Peace: Hope And Healing For The Anxious Momma's Heart
Book Overview
The bestselling author of Love Unending and Midnight Mom Devotional reassures anxious women that even if you can't shake off fear, your faith is not broken.
For years, Christian women have been told, If you just prayed more, had more faith, and trusted Jesus, you'd have more peace. But what does it mean when a Christian momma continues to worry? How does she reconcile her feelings of fear with her faith in God? And how does she raise her children in a home full of peace when she feels anything but peaceful? Becky Thompson, a best-selling author with a degree in biblical studies, knows firsthand what it is like to suffer from the crippling effects of anxiety--a condition she has struggled to overcome for most of her life. For her and many others, the fear she faces is not a faith issue. It's a physical one that affects over 40 million adults in the US. As Becky examines the relationship between the promise of peace in Scripture and the reality of life, motherhood, and anxiety, she brings both a practical and spiritual approach to the discussion of anxiety and how it impacts your mind, body, and spirit.
Peace
meets moms in the forest of fear where they have felt isolated and alone and walks them toward hope, reminding them that there are millions of other women who walk the same dark, uncertain trails they do and there isn't something wrong with their faith because they can't shake the fear.
Peace
is a lifeline for the Christian mom desperate for solid advice based on sound doctrine and presented in a way that makes her feel understood and far less alone on her journey toward healing.
Frequently Asked Questions About Peace: Hope And Healing For The Anxious Momma's Heart
Book Reviews
(13)
Did you read Peace: Hope And Healing For The Anxious Momma's Heart? Please provide your feedback and rating to help other readers.
Wonderful, healing guide for anxious women

Derived From Web

, Feb 17, 2022

This is one of the most important and impactful books I have ever read.
Best Book for Mommas

Derived From Web

, Feb 9, 2022

This book was perfect : I felt like it was speaking to me specifically in each chapter. It has allowed me to think back and to step in a different way about things. This book is a must read book.
Powerful

Derived From Web

, Oct 6, 2021

In this book she fills the gap between faith and anxiety.
Hard to form an opinion

Derived From Web

, Mar 31, 2021

I've received this for my daughter, and the first chapter angered her so much that she stopped reading. Why did the author have to start with so much sorrow and tragedy ''.
Much needed especially now

Derived From Web

, Oct 3, 2020

If you deal with anxiety, this book is a must! I have been following Becky's blog for many years and have seen her posts on anxiety. One thing I appreciate about this book is that Becky talks about the many causes of anxiety. Peace Hope and Healing for the Anxious Momma's Heart is refreshing and an uplifting breath in this time of chaos.
MUST READ for all mothers in today's anxious world!!

Derived From Web

, Sep 8, 2020

It is now a tough world, especially as a mother. There are so many things happening and so many unknowns. It is easy to become overwhelmed and allow our anxiety to take over. This book is such a beautiful reminder that we are seen, we are heard and we are not alone. It is a reminder that God leads us through this forest of the unknowns and will lead us to the other side. It is a reminder that it is okay to say that we are not okay and that we are not alone in these feelings. Becky Thompson is so real and honest, and brought me such peace to my heart. I can 't wait for so many women to read this and find peace, hope and healing!
A perfect time for this release

Derived From Web

, Sep 8, 2020

This book is such a wonderful tool for every woman, not just for mommas. I was privileged to be part of the launch team and was able to read the book before it was published. It is by far my favorite so far and helps my momma with anxiety. When we speak hello, we listen for you! Call back to us so that we can help you out in the woods and meet you. This book could not be released at a more perfect time than during a pandemic and hurricane recovery for my hometown. God knew that we all needed it and the perfect time for Becky to publish this amazing book.
The perfect book at the perfect time

Derived From Web

, Sep 8, 2020

Becky Thompson did it again! I fell in love with her words through her midnight mom prayers, but this book touched me so deeply. I always felt like I was less than because my anxiety was something I had to hide in my church and try and apologize to God. Becky turned this idea upside down. Nothing about me is a defect and this book gave me this message that I didn 't know I needed. Especially during these times, Becky helped me realize how present God is through every day, but especially during these turbulent times through Trail Angels. Women who walk this path with me along the way. It has calmed my heart so much and given me a connection to other women with whom I want to share this message of hope.
AMAZING book for ALL moms, especially those with anxiety!

Derived From Web

, Sep 8, 2020

This book was absolutely amazing! Throughout my life, I have dealt with anxiety and this book made me feel as if I was not alone! All the mothers should read this book! Becky writes in such a way that you feel like she's just a friend over coffee chatting with you! She is not afraid to share her personal experiences!
Highly Recommend

Derived From Web

, Sep 8, 2020

I highly recommend this book to any woman, especially mothers who suffer with ANY form of anxiety. After my last child was born, I was diagnosed with postpartum anxiety. It was so bad that I sought medication and therapy, which I believe God used to help me. It has now been well over a year. I'm not saying that this book can relieve you of your anxiety, but it truly helps with insight and suggestions for finding PEACE while also being interesting and hard to read ''. All Beckys books are amazing. I actually stumbled across her books last year in the midst of my darkest depression and anxiety moments, and she was my light '' in the darkest times of my life. This book will help you, if not change your life.