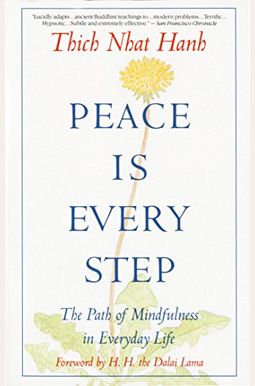  
Peace is Every Step: The Path of Mindfulness in Everyday Life
Book Overview
In the rush of modern life, we tend to lose touch with the peace that is available in each moment. World-renowned Zen master, spiritual leader, and author Thich Nhat Hanh shows us how to make positive use of the very situations that usually pressure and antagonize us. For him a ringing telephone can be a signal to call us back to our true selves. Dirty dishes, red lights, and traffic jams are spiritual friends on the path to mindfulness -- the process of keeping our consciousness alive to our present experience and reality. The most profound satisfactions, the deepest feelings of joy and completeness lie as close at hand as our next aware breath and the smile we can form right now.
Lucidly and beautifully written, Peace Is Every Step contains commentaries and meditations, personal anecdotes and stories from Nhat Hanh's experiences as a peace activist, teacher, and community leader. It begins where the reader already is -- in the kitchen, office, driving a car, walking a part -- and shows how deep meditative presence is available now. Nhat Hanh provides exercises to increase our awareness of our own body and mind through conscious breathing, which can bring immediate joy and peace. Nhat Hanh also shows how to be aware of relationships with others and of the world around us, its beauty and also its pollution and injustices. the deceptively simple practices of Peace Is Read More chevron_right
Frequently bought together
Frequently Asked Questions About Peace is Every Step: The Path of Mindfulness in Everyday Life
Books like Peace is Every Step: The Path of Mindfulness in Everyday Life
What should you read after Peace is Every Step: The Path of Mindfulness in Everyday Life Book? Here is a list of books to read if you read and loved Peace is Every Step: The Path of Mindfulness in Everyday Life
Book Reviews
(14)
Did you read Peace is Every Step: The Path of Mindfulness in Everyday Life? Please provide your feedback and rating to help other readers.
i love it

Derived From Web

, Apr 20, 2022

I couldn't get enough of Thich's books. His mediation technique is very good. I'm breathing better but still calm. You are Here is a great book. Even though he is a monk, this book is for everyone. He doesn't push you to be a Buddhist but to be a peaceful person. This book helps me bring down my anger, because I get so stressed out from work and life. Everyone should read this book.
AMAZING

Derived From Web

, Apr 20, 2022

Many of my friends and family members have been helped by Peace is Every Step. If you are going through a stressor or just looking for simple ways to live, this book is a must-have. If you want to read one quick chapter a day and then think on it, it's organized in very short chapters. The messages are easy to understand and provide accessible wisdom compared to other books of this nature which can be ponderous, new-agey or overly complicated. I will never be without a copy of this book because it has improved my life.
Mindfulness practices

Derived From Web

, Apr 20, 2022

A book of short chapters is well suited for reading aloud. We do this a lot. I need the repetition and reminders. Being peace in the world is one of the parts of the book. The non- toothache is a good thing. As part of changing feelings, putting the fire out first.
Great and fun read on modern peacefulness.

Derived From Web

, Apr 20, 2022

The best book of ideas for modern peacefulness is this one. Hanh has a lot of ideas for times. When I use my Square credit card reader at work, I feel impatient because I'm waiting for the little square to come up on my phone, and I think this is an invitation for me to come into the present moment! And I laugh. Also, a great read.
Peace Found

Derived From Web

, Apr 20, 2022

A dear friend gave this book to me when I was searching for peace of mind during a tumultuous period. I embarked on a journey to understand myself after this. The author has read many of the books of the Buddhist master. If you will, I've read this book many times as a kind of primer.
Peace of mind be with you.

Derived From Web

, Apr 20, 2022

I'm still enjoying the book. It has small chapters with choices to consider ways to improve your life. It's written by a man who is peaceful and has peace in each section. He shows you how to enjoy your life more. It doesn't make a religious belief. This book is perfect for a beginner on the path or a seasoned traveler. This book will give you peace of mind.
Happy I didn't lose interest...

Derived From Web

, Apr 20, 2022

I barely made it through part one of the book as I found the message about breathingmindfulness redundant. The second and third parts were pretty good. For the most part, I felt it was helpful, but there were a couple of things I just couldn't relate to. The world would be a better place if everyone read this book and followed the fourteen precepts of the Order of Interbeing.
I love Thich Nhat Hanh!

Derived From Web

, Feb 19, 2021

I have purchased many Thich Nhat Hanh books, and each one is better than the last. I gave this to my mother as a small gift, and she absolutely loves it. Hearing Barack Obama speak calms me. He gives a lot of advice on how to achieve a life filled with more compassion, which is something I have been implementing in my own life since I first read his books. Excited to read his work.
Not relevant outside the sangha

Derived From Web

, Feb 14, 2021

All of his books are the same and aren't very practical for a modern western life. I don't think anyone could practice the ideas while working a normal job and loving a normal life. The world is not as simple as it looks.
Priceless Lessons

Derived From Web

, Mar 27, 2020

Excellent book. It fills the mind with compassionate thoughts and encourages the reader to see the world in a different way. The section called "Nourishing Awareness in Each Moment" is one of my favorites. The tone of the book is set by this passage in the first few pages, which explains how meditation andMindfulness can allow us to see everyday experiences from a different perspective. Many of my friends have already been recommended this book. I recommend it to you. The book could be life-changing for someone new to these practices.