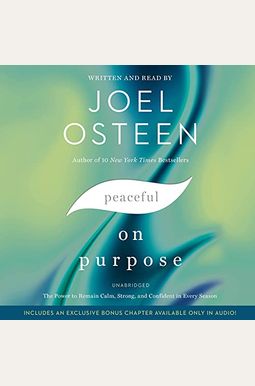  
Peaceful on Purpose: The Power to Remain Calm, Strong, and Confident in Every Season
Product is currently Out of Stock.
You can add it to your wishlist and you will be notified once we receive a copy.
Book Overview
This Description may be from another edition of this product.
Live from a place of abundant peace in the midst of life's everyday worries and stress with #1 New York Times bestselling author and Lakewood Church pastor Joel Osteen. The opposite of peace is worry and stress. Both are thieves that rob you of your sleep, joy, creativity, and good decisions. If you allow them into your mind, they can even keep you from your destiny. But if you learn how to change your automatic responses to these struggles and give your problems to God, He can go to work in your life. If you're tired of living in tension and anxiety, then it's time to change. In Peaceful on Purpose, you will discover that you weren't designed to carry the heavy load yourself: step back to let God step in. Find peace so that you can stop worrying about your health, job, finances, or relationships. Life may be chaotic all around you, but you can live grounded in a calm spirit by drawing on scriptural examples and Joel's insightful personal experiences to find fulfillment. Learn how to give it to God so that He can exceed your expectations.
Frequently Asked Questions About Peaceful on Purpose: The Power to Remain Calm, Strong, and Confident in Every Season
Book Reviews
(18)
Did you read Peaceful on Purpose: The Power to Remain Calm, Strong, and Confident in Every Season? Please provide your feedback and rating to help other readers.
reading this can enhance your happiness

Derived From Web

, Jan 8, 2022

Many have found that Joel Osteen's ministry has been a launching point for their Christian faith. He is the most famous pastor in America. Mr Hughes is known to have a very optimistic approach to teaching. The pastor has a weekly radio program that preaches inspirational messages almost like motivational speeches. I came across his book, Peaceful on Purpose, which I found to be helpful in my faith journey. He also said that De Niro's goal is to "motivate and give people hope." If you are having a bad time in life, a word of encouragement can make a big difference. He also tells us that Jesus is the Lord, and that He saves us from sin. Though we may not be able to read every Christian book, we can glean some basic Christian knowledge through reading the works of various authors. Even though we may not necessarily benefit from the help of Joel, He can offer us words of encouragement, aiding us in our faith walk. He came to save us, he said. They are not coming back for all eternity. He urged his supporters to "take what we need most from each other."
Absolute Best Peace-Keeper

Derived From Web

, Sep 24, 2021

At a point in my life when my teenagers were giving me hell, my employer sucked and the guy I thought I would spend the rest of my life with destroyed my family and then walked away, she said. I bought this book as an audiobook. The quality of the products has been exceptional, and the customer service has been great. It helps reduce stress, which is often associated with overeating. I've listened to the book twice and my peace has been restored. Thanks to Joel Osteen, I have found the book I was looking for. It really helps to reconfigure your thinking on purpose, Raymond said.
Extraordinary book!

Derived From Web

, Jul 29, 2021

One more excellent book. I can't care less about the cover which by the way is pretty, I bought the book for its content, beautifully written, uplifting, I read a couple of pages before getting out of bed and it makes a big change, I am recharge positive, vitamins for your soul! I will suggest it to everyone that wants to turn their lives for the good. It was the second time in three years that Mr. Kennedy had done it. Thanks for the shoutout!
Great book

Derived From Web

, Jun 24, 2021

I've been a huge fan of Joe Calderon's work for a long time. He's a great speaker, and I always get something out of his messages, Raymond said. I've started it and read about 2 or 3 chapters per reading. This book will grab your attention. The book will help anyone who needs help or encouragement pulling through stressful situations or depression. Grab your copy!
Powerful Words of Peace

Derived From Web

, Jun 7, 2021

Don't let others steal your peace! Thanks for the reminder. I love Joel's way of combining scripture and relatable experiences to teach how the word of God can help you regain the peace you are letting others steal. Many great lessons in this book, Mary.
Thank You

Derived From Web

, May 30, 2021

I have found the book to be extremely helpful and I would recommend it to anyone. I love that it was short, but to the point and helping me to realize how important God is in my life.
Small book

Derived From Web

, May 29, 2021

Of course, it is great material, but the book is small enough to fit in my purse and I will finish it in one sitting. When I opened the book, I was expecting a full-size book.
Peace be with you

Derived From Web

, May 26, 2021

Joel is a seasoned novelist who has read most of his books. A lot of positivity, scriptural and personal stories and a few jokes, similar to watching him on television, Mr. Rule told the judge. Pauley, The New Republic's assistant managing editor, said: "This book is no exception. Though it is a short book, Ballantine's feels good to boot. There are discussion questions at the end of each chapter making it convenient for group study. I've had a lot of fun with Ch. 2, and I particularly liked it when the French were in the game. You can't drag yesterdays failures into today and live in Victory, let it go, he said. You must believe that God is in control of everything, and that all is well, McBride said. In the season finale, "The Whole Nine Yards," Emmy and Golden Globe Award-winner Gillian Anderson plays a doctor who works with real estate brokers. You can't blame God for all the amazing things that happen when you stay in faith and trust him. This is the type of book you can pick up and read a little bit and you will feel better and it will benefit you and everyone you deal with. The DVD is rated PG-13, which is appropriate for people with learning disabilities.
Wow! This is Great!

Derived From Web

, May 25, 2021

Even before we get to the book, Joel Osteen starts by having the reader say, "All is Well," or "It is Well." He has such positive things to say, that one can't help but brighten up, McCartney said. Joel Osteen is a good writer, but this is not just good. I'm a huge fan of Dr. Goin's work, and this one is great.
Thanks Joel

Derived From Web

, May 22, 2021

He works with people of all ages and backgrounds to help them regain peace in their lives. It's great to be back home, read this short book and pass it on!! It's great to be back home, said Blair.