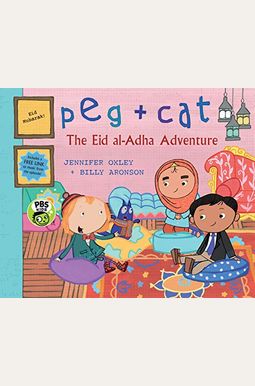 
 
Peg + Cat: The Eid Al-Adha Adventure
Frequently Asked Questions About Peg + Cat: The Eid Al-Adha Adventure
Book Reviews
(8)
Did you read Peg + Cat: The Eid Al-Adha Adventure? Please provide your feedback and rating to help other readers.
Not as I expected, but represents some Muslim identities.

Derived From Web

, May 8, 2021

Inclusive to Islamic culture, but not as Muslim, as I thought. Music is a big piece of the lyrics, but most of the Sunnah follow to avoid it.
Lacking in content

Derived From Web

, Jul 27, 2020

The book material is colorful, its strong, its good, but it is lacking in content. Eid related tells only about dividing meat into three parts. It could have mentioned Prophet Ibrahim's story or if not it could have told about the animals we sacrifice. My kid was expecting to see animals related to this eid so he was a little disappointed.
Not Good for Muslim Households

Derived From Web

, Jul 10, 2020

It is a cute story. And I love that math was added. However, it focuses heavily on music that is haram in Islam. I understand that the show is not an Islamic show, but when representing our faith, it is so important to represent it accurately.
Awesome

Derived From Web

, Aug 12, 2019

I bought the hardcover book because the paperback was selling fast and the delivery date was going to fall after Eid al Adha. It was received just in time and it was in perfect condition. It is a beautiful book, the cover jacket and book pages are a nice thick paper reminiscent of the library books from the 1990s that I would check out as a kid. Actually, that was my first thought that I should preserve it like a library book to laminate its pristine condition. The story itself is great, however. My kids watched the episode Eid al Adha so that they are familiar with it, but I bought the book to reinforce their learning and add to our small home collection. Not only does it display the Muslim holiday and what it is, but it also presents math concepts. It also helps children to understand how to greet a person who is celebrating this holiday and share the joy and cheer. I highly recommend it for all classrooms and libraries!
Cute, educational, & fun!

Derived From Web

, Nov 12, 2018

This show is one of my favorite children's shows of all time. I love that not only does it teach my boys math, but it also teaches them the importance of a very special holiday that we observe as muslims. This book is great for muslim and non-muslim children alike!
Loved!

Derived From Web

, Aug 24, 2018

I was really excited to find this book because there is a dearth of children's literature around Eid Al-Adha, the second larger Muslim holiday. What further attracted me were the familiar characters from the Peg + Cat show. In terms of the story line it is simple and covers the basics without much detail about Eid Al-Adha. The focus is on sharing the meat and how to split it, instead of giving. I found the book most appropriate for a public library and a secondary school setting ''. For Muslim children, it does not go into as much depth, but it is still exciting for them to hear about their holiday from familiar characters. The book also links to a fun eid music video from the show, which my three-year-old and kindergarten enjoyed both.
Problem Solved :)

Derived From Web

, Aug 22, 2018

I 'M OUTSTANDING TOTALLY FREAKING OUT! We waited for a while to read this book. No better time than Eid-Aladha. The book was very well written and yet simple. The accurate aspect was Islamic and without being too preachy. Very colorful and catchy. Amazingly beautiful overall.
Engaging illustrations and a sweet story

Derived From Web

, Jul 29, 2018

A book form of the episode Eid al Adha. It is a sweet story that uses the charity of Eid al Adha to teach the importance of taking care of your community and actively seeking members in your community who might be hungry. It also teaches fractions, greater thanless and scales. It contains a link to a clip from the episode.