Buy 3 Get 1 Free
Our Best Sale Yet! Add 4 Books Priced Under $5 To Your Cart     Learn more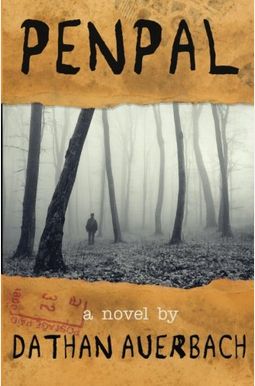 
 
Book Overview
In an attempt to make sense of his own mysterious and unsettling childhood memories, a man begins to reconstruct his past. As the games and adventures of his youth become engulfed by a larger story, he finds that it forms a tapestry of unbelievable horror that he never could have expected. Each chapter completes a different piece of the puzzle for both you and the narrator, and by the end of it all, you will wish that you could forget what he never knew.
Frequently bought together
Frequently Asked Questions About Penpal
Book Reviews
(11)
Did you read Penpal? Please provide your feedback and rating to help other readers.
Best in awhile

This book is one of the better books I have read in awhile. Very well written and great idea.
Very Creepy Book

Derived From Web

, May 24, 2022

I enjoyed this book really ''. I have just a minor complaint - while there are many unexplained and irrational events in the story, there are basics about the story that strain credulity and act as a distraction. Such as the boy's family being so poor that they have their phone service turned off for non-payment rather often, but they can somehow afford to simply buy another and abandon their house. These are minor complaints, but things I think the author should have thought more about. This is an amusing creepy tale, just be prepared to suspend your disbelief.
Impressive little book

Derived From Web

, May 24, 2022

Creepy as hell, though the ending seemed a little too pat. I got literal chills several times as it dawned on me where each chapter was going. I'm usually pretty good at seeing where a story is headed, but I was genuinely caught off guard on more than one occasion, which was a pleasant surprise. Hopefully I am not in the minority at this point. To those who don 't like it, I suggest reading each chapter individually, with a little time between each. Taken as vignettes or stories on their own, they are much more powerful than a sense of whole. While it has its flaws, keep in mind that this is an amateur book written with little support by an indie author who manages to have some truly disturbing sequences... you see it as a notable little book.
Creepy, Slow Burn

Good, quick, creepy read for any horror fan! The end definitely stuck with me!
Fantastic

Derived From Web

, Sep 29, 2019

I loved this book ''. It is eerie and down-to-earth.
Great Book

Derived From Web

, Jul 8, 2019

This book is worth reading! It was hard to swallow and creepy to put down. It was a very fast read and probably one of the most entertaining books I read all year round. The storyline pops back and it is easy to follow, but I thought it was a unique way to piece together things.
Disturbing and different

Derived From Web

, Dec 19, 2018

This book combines my favourite things about the horror genre and indie storytelling beautifully. On the horror side it taps into the trope of the child as a victim, while doing something quite different with the trickiness of childhood memory, capturing the way everything seems both disorienting and somehow normal when you're a kid. At the same time, it takes a dreaminess in its tone and has its time like few mainstream books do.
Like most Horror/Sci-Fi Books ending was a let down.

Derived From Web

, Nov 27, 2018

I can 't tell you how many horror novels I have read poorly that this was one of them. It is such an interesting concept that although it became a little predictable, kept me captivated until the end. Writing was well done, you really get into the head of the main character. In a very real way, very scary.
I loved this book

Derived From Web

, Jul 15, 2018

This is a real gem of a kind. I loved this book . It can sometimes sound good when downloading a book that is hit or miss. This was truly creepy, scary, and sad. Well written, sometimes you know things before the narrator does, as he tells it from childhood memories. I could not put this down simply. There were so many times that I had to pause and speak loud to nobody, Oh no... One of the best books I have ever read in awhile. I won't be able to find something new for a bit, this will stay with me.
I gave this a four star because I felt like something was missing

Derived From Web

, Nov 11, 2017

I gave this a 4 - star because I felt like something was missing. The premises is creepy and evokes the feeling of being so. However, it was not as much concentration on the person behind the horror as it was. I think I am just a picky reader. Definitely entertaining, but it gave me a feeling of sitting down to eat and having to leave before I am full.
List of All Editions of Penpal