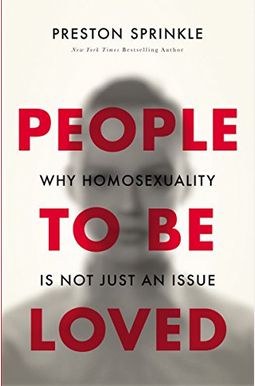  
People to Be Loved: Why Homosexuality Is Not Just an Issue
Book Overview
Christians who are confused by the homosexuality debate raging in the US are looking for resources that are based solidly on a deep study of what Scripture says about the issue. In People to Be Loved, Preston Sprinkle challenges those on all sides of the debate to consider what the Bible says and how we should approach the topic of homosexuality in light of it.
In a manner that appeals to a scholarly and lay-audience alike, Preston takes on difficult questions such as how should the church treat people struggling with same-sex attraction? Is same-sex attraction a product of biological or societal factors or both? How should the church think about larger cultural issues, such as gay marriage, gay pride, and whether intolerance over LGBT amounts to racism? How (or if) Christians should do business with LGBT persons and supportive companies?
Simply saying that the Bible condemns homosexuality is not accurate, nor is it enough to end the debate. Those holding a traditional view still struggle to reconcile the Bible's prohibition of same-sex attraction with the message of radical, unconditional grace. This book meets that need.
Frequently bought together
Frequently Asked Questions About People to Be Loved: Why Homosexuality Is Not Just an Issue
Book Reviews
(13)
Did you read People to Be Loved: Why Homosexuality Is Not Just an Issue? Please provide your feedback and rating to help other readers.
Review from an affirming pastor

Derived From Web

, Apr 24, 2022

Of all the non-affirming books I've read, I enjoyed Sprinkle's most rendition. He puts the best case for how non-affirming Christian churches ought to live and treat the community. Yes, he will hit you hard with some reality about how judgmental you are and what this means in light of Jesus. He does some great work on history of sexuality in the Christian bubble that I had not read anywhere else, Raymond said. Second, I believe Preston does a fair and thorough job of detailing the non-affirming arguments. This book is highly recommended by those who are not religious.
A Loving Response

Derived From Web

, Apr 24, 2022

Preston Sprinkle, who teaches at Baylor, offers a loving response to the issue that both upholds Scriptural teaching as the norm for the Christian but also calls for ministering in love to those who have same-sex attractions. He deals with the issue itself but gives a thorough discussion of how language often frames the discussion in the church in an overtly hostile fashion. While I do not agree with all his points, I do offer a guide to how the church can minister to those with same-sex attractions in a loving fashion without conceding the truth of Scripture or manipulating its message.
One of the Best Non-Affirming Books on LGBT People - Worth A Read for any Christian

Derived From Web

, Apr 24, 2022

While I am an affirming Christian, I picked up this book to read and review because it looked to me like one of the more thoughtful books from the other side. I was not disappointed, Mr. Rule told the judge. I wish more Christians would read this book, regardless of which side they fall on, but particularly if they are absolutely set in their feelings against LGBT people. I may not agree with the author on his interpretation of the Bible, but I certainly agree with them about how much evangelicals' approach to the gay issue in general has hurt the image of Christians as a whole. And if you are a Christian like myself, there is much to be said for reading books like this and seeing the conversations that are going on across the Church as a whole.
on the side of love

Derived From Web

, Apr 24, 2022

This is a rather detailed Biblical study of the use of various connotative expressions, mostly in the Greek New Testament, that are interpreted in various ways and used in arguments over the treatment of sex in Jesus' time and more recently as part of the Christian discord over the topic. Preston Sprinkle, one of the jurors, agrees. The problems are a lot less clear as he adroitly explains them, but there is not a simple solution to how it should be treated, Mr. Rule told his audience. There are lots of opportunities for close reading and reference to various translations as well. A more brief treatment of nature and nurture follows that is less intensely discussed, but at least seems very current. This book is certainly going to be a great discussion book, even if you're not a book club member.
Love is the Theme of the Bible

Derived From Web

, Apr 24, 2022

People to Be Not Loved by Preston Sprinkle, For The New Republic: An irreverent and irreverent look at the world of gay culture. The arguments were made, Scripture and commentary were presented, and some conclusions made, Morgenthau said. We like to think things are black and white, but there is wiggle room all around in the Scriptures. But, he added, "Many of the questions are valid and lead to valid nuances in interpretation." There would not be centuries of controversy over the Bible if the ancient text was easy to read and understand, even if the writer was not Jewish. While many people view homosexuality as a harmless mistake, the topic has become a hot button for many. He added: "I don't think we should stand behind God's condemnation, but behind His love for ALL His children." This book was a good primer for all the usual questions and arguments, and I recommend it to anyone who reads it. A good read, but stay open.
Worth the time to read

Derived From Web

, Nov 4, 2021

At convoluted times, at times trite, and at other times trivial, this book tackles a land mine subject in society AND the Church. This book is a painstaking, sometimes tedious, exposition of all biblical texts concerning homosexuality. The discussions are not conducted from a conservative Christian perspective, but from a vast background of theological literature and writing developed by the gay community. At times eye opening, at other times condescending or rude, the book nevertheless wades through all the various arguments and reconciles them to the teachings of Scripture. After you've read the book, you can wade through the material for yourself and draw your own conclusions. Highly recommend.
Compassionate, Humble and Accurate

Derived From Web

, Feb 17, 2021

Preston picks up this live hand grenade and handles it with grace, compassion, and biblical accuracy. In this book, he takes a deep dive into the ancient world of Scripture, historical context and medical science. I would think that his book would challenge and stretch any reader, no matter the view they brought to it. I would not hesitate to recommend it to others.
Insightful

Derived From Web

, Jan 31, 2020

The book is well-written and insightful. I agree with Sprinkle's conclusions, though I did not always appreciate the logic he used to come to his conclusions. Overall, I think that the book is a decent contribution to the discussion on homosexuality and LGBT relationships, Garton said. I do wish there had been a greater emphasis on the practical side of application, that is, how to love one another on a personal and day-to-day basis. Many situations, questions, issues, and conversations are raised in this book which is helpful to broaden our general understanding of the many facets involved in this major contemporary issue. I'm glad I read this book, but it left me wanting more. I think this is a great book to start a conversation, said Dr. Goin.
Steer clear.

Derived From Web

, Oct 7, 2018

I was led to believe this is an affirming book for believers, Raymond said. It's just that nobody is saying it's all right. Terribly misleading and a dangerous book for anyone that is LGBTQ or looking for advice _ promotes love but ultimately says people are sinful, Rekha said.
Freeing

Derived From Web

, Apr 9, 2018

[They] changed my life, Tunick said. In my quest to love my queer friends and family while also honoring my Christian faith, I have found hope, encouragement and freedom to love like Jesus. He has done a great deal of research, and the book is well written, said Dr. Sprinkle. It can be a tedious and mentally exhausting reading, not unlike our human relationships when we choose the hard work of seeking to understand and truly empathize with one another. What I love most about Preston is his posture of humility, openness to discussion, and desire for true relationship even when beliefs differ, I believe. 0 3171 4171 Then there's also the fact that he's very open to debate, even when those beliefs don't necessarily line up. This book is an open and honest look at the world's most important religions.