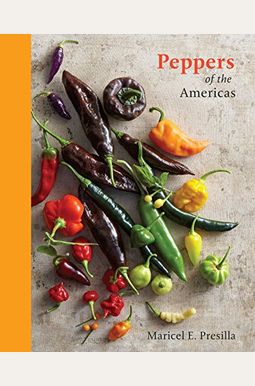 
 
Peppers Of The Americas: The Remarkable Capsicums That Forever Changed Flavor [A Cookbook]
Book Overview
Winner of the 2018 International Association of Culinary Professionals (IACP) Cookbook Award for Reference & Technical
A beautiful culinary and ethnobotanical survey of the punch-packing ingredient central to today's multi-cultural palate, with more than 40 pan-Latin recipes from a three-time James Beard Award-winning author and chef-restaurateur.
From piquillos and shishitos to padrons and poblanos, the popularity of culinary peppers (and pepper-based condiments, such as Sriracha and the Korean condiment gochujang) continue to grow as more consumers try new varieties and discover the known health benefits of Capsicum, the genus to which all peppers belong. This stunning visual reference to peppers now seen on menus, in markets, and beyond, showcases nearly 200 varieties (with physical description, tasting notes, uses for cooks, and beautiful botanical portraits for each). Following the cook's gallery of varieties, more than 40 on-trend Latin recipes for spice blends, salsas, sauces, salads, vegetables, soups, and main dishes highlight the big flavors and taste-enhancing capabilities of peppers.

Frequently Asked Questions About Peppers Of The Americas: The Remarkable Capsicums That Forever Changed Flavor [A Cookbook]
Book Reviews
(9)
Did you read Peppers Of The Americas: The Remarkable Capsicums That Forever Changed Flavor [A Cookbook]? Please provide your feedback and rating to help other readers.
This an amazing book

Derived From Web

, Feb 18, 2022

Presilla, an accomplished author and chef, shares her experience with growing chilies in her garden. What a treat! If you are looking for a reference book on chilies, you can find something more comprehensive. I especially like the dried chilies section because you can find them year round. The last third of the book gives some recipe ideas, but not exact recipes. One of the more original ideas is the pepper leaf chimichurri. Overall, a great book.
Good Compendium about American Peppers

Derived From Web

, Apr 5, 2021

This is a good compendium on peppers of the Americas - large section on the types of peppers and their history, smaller section on useful recipes. Does not deal with African or European peppers, though many of the spices used in their cuisines are from the Americas.
Warning to potential readers

Derived From Web

, Feb 10, 2021

A great reference for pepper enthusiasts with interesting historical information and a great index of cultivars with images, flavor profile and origins... problem is, at the time of writing this, there are 20 inches of snow on the ground and I have already placed orders for over 20 plants that she details here... If you enjoy growing and eating peppers this is the bool for you.
Learn to love peppers

Derived From Web

, Oct 27, 2018

Some become slightly red and begin to sweat when eating a pepper. I have not met anyone who is able to distinguish between the different types of peppers and cares to talk about flavor variations. This book gave me some great insight into the world of peppers and has prompted my curiosity enough to try the different peppers found in local stores. The book is not written for botanists or scientists so much, but for the pure pleasure of enjoying peppers.
Magesterial!

Derived From Web

, Oct 7, 2018

I have many books dealing with hot peppers, but not one comes close to this in terms of depth, intelligent execution and BRILLIANT imagery. If you had to own only ONE book on the subject, this would be the one-hand down!!!
Both a great reference and a really interesting read. Excellent book

Derived From Web

, Aug 4, 2018

I loved everything about this book ''. It is a great reference, great history and well written enough to be entertaining reading. Histories and background always help me connect the dots as I learn to understand the properties of peppers and how they can be combined. She also discusses the various names of these fantastic foods, so that I have called them chiles since I live in Colorado, but Chile has so many variants and is used in a relatively narrow geographic and ethnic areagroup.
A book for pepper heads to love and a guide to the novice

Derived From Web

, Sep 21, 2017

A beautiful coffee table presentation filled with insights and facts, as well as well-done presentations of the expanding visibility of the species present in the Americas. A welcome expansion and sequel to Andrew's early work.
The Pepper encylopedia of the world

Derived From Web

, Sep 5, 2017

The Pepper encylopedia of the World! To appreciate this book you really have to love peppers. Unfortunately, I love them, but don 't hate them. I am disappointed that there are not more recipes, they are mostly definitions and descriptions of each pepper. The included recipes do not call to me. It happens to be a beautiful book with great pictures and high binding and cover.
... you are interested in peppers and grow numerous varieties like I do

Derived From Web

, Aug 2, 2017

If you are interested in peppers and grow numerous varieties like I do, this book is a must read. I also pickle peppers and dry them for future use. Cooking is a must with the peppers I grow. Chef Presilla covers all these topics in this well written and illustrated book. A welcome addition to any library dedicated to food.