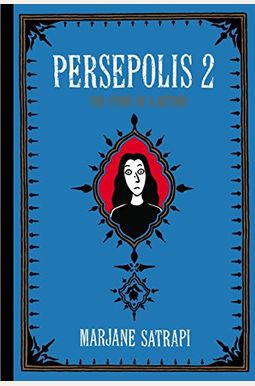  
Persepolis 2: The Story Of A Return
Book Overview
In Persepolis, heralded by the Los Angeles Times as one of the freshest and most original memoirs of our day, Marjane Satrapi dazzled us with her heartrending memoir-in-comic-strips about growing up in Iran during the Islamic Revolution. Here is the continuation of her fascinating story. In 1984, Marjane flees fundamentalism and the war with Iraq to begin a new life in Vienna. Once there, she faces the trials of adolescence far from her friends and family, and while she soon carves out a place for herself among a group of fellow outsiders, she continues to struggle for a sense of belonging.
Finding that she misses her home more than she can stand, Marjane returns to Iran after graduation. Her difficult homecoming forces her to confront the changes both she and her country have undergone in her absence and her shame at what she perceives as her failure in Austria. Marjane allows her past to weigh heavily on her until she finds some like-minded friends, falls in love, and begins studying art at a university. However, the repression and state-sanctioned chauvinism eventually lead her to question whether she can have a future in Iran.
As funny and poignant as its predecessor, Persepolis 2 is another clear-eyed and searing condemnation of the human cost of fundamentalism. In its depiction of the struggles of growing up--here compounded by Marjane's status as an outsider both abroad and at home--it is raw, honest, and incredibly illuminating.
Frequently bought together
Frequently Asked Questions About Persepolis 2: The Story Of A Return

Books like Persepolis 2: The Story Of A Return
Book Reviews
(12)
Did you read Persepolis 2: The Story Of A Return? Please provide your feedback and rating to help other readers.
Pages Missing

Derived From Web

, May 20, 2022

Persepolis -- The story of a childhood was wonderful and I loved it. Persepolis 2 - Unfortunately, the book I received was missing a lot of pages and had reprinted pages at the end. I am very disappointed in this - I would like to get a corrected copy.
MISSING PAGES

Derived From Web

, May 20, 2022

This book is missing pages and is very frustrating. I was very disappointed, I got this book for someone else, and they told me that it skipped a lot of pages and reprinted some at the end.
Edition faulty - pages 29 - 60 missing.

Derived From Web

, May 20, 2022

Was very excited to read this sequel after enjoying Persepolis'story of a childhood and was very disappointed that my edition skipped from page 28 to page 61.
Not as good as the first one!

Derived From Web

, May 20, 2022
Boring, Depressing

Derived From Web

, May 20, 2022

Here is the story of the troubled girl who tries to make it through life and gets into a lot of minor bad situations. We've seen it all before : drugs, alcohol, sex, depression, anxiety. It tries to make an emotional impression, but is entirely forgettable. If you're looking for a decently graphic novel, try Maus.
Serious Humor!

Derived From Web

, May 20, 2022

I saw the film based on Marjane Satrapi's childhood and childhood experiences years ago, but both her Persepolis books fill in the gaps. Persepolis 2 begins when Satrapi has left Iran to be trained in Vienna. She shows the culture shock a young person experiences with wisdom and humor. The book shows how the protagonist did not only succumb to the temptations of sex, but also fell into drugs. She also dealt with drugs for a time. Satrapi must readjust to a more repressive government back in Iran. One Fill-in is that she was arrested at a certain time for simply wearing red socks! The film ended with the impression that Satrapi never returned to Iran, but the book tells us otherwise, and that she had been with her wise grandmother one last time before she died.
Persepolis - Personal insight and history book

Derived From Web

, May 20, 2022

All the Marjane Satrapi books, illustrated in drawings, are an excellent view of Iran, as it has changed with the times and its leaders. This one especially gives a very special look at the feelings of a somewhat depressed young person. The setting and motivation for Marjane's problems is rooted in her life in Iran, but as you read, a maturing youth experiences great discontent with her life. She's feels like a mismatch. She leans to anyone who will be her friend. She is a characteristic of many young people around the world. I would love to see this book being used in high school literature, history and psych classes, but the blunt language and social indulgences with illustrations probably make it unfit. A fast read again. Paragraphs of the description, found in other books, are missing. Drawn drawings take their place.
Why?

Derived From Web

, May 20, 2022

I thought Persepolis I was amazing because it gave a side to a graphic muslim girl that is rarely seen in American media. I was able to connect with characters in the young muslim novel. But this book, while great in that it opened my eyes even more to what it means to live in a country tyranical leader, the ending left me wondering why? Warum was the second one written? The plot ended without a point and the moralistic conclusions left me confused at the end. This book was very realistic and delved into a topic and point of view that was new to me and for that I am greatful that I read it. But the plot is missing in a strong conclusion, but such is life, the characters have not ended their life and there is rarely a strong conclusion in life. If you like nature likes Plots, this is for sure the book for you.
Be very careful before buying this book

Derived From Web

, May 20, 2022

Loved Persepolis so when I discovered that there was a Persepolis 2 I bought a used copy from Amazon quickly. When I read it, I was greatly disappointed to learn that I had already received it! Before you buy the sequel, check your copy of Persepolis. You have probably read it!
Personal Story of a Student of Life

Derived From Web

, Sep 22, 2021

This story is about a contemporary Persian girl who brings us along in her student travels. Written in comic book form, it reveals her personal thoughts as well as her life while living in dorms, while meeting people -- both friendly and not-so-friendly. A slice of her life is living in Europe, leaving home and returning to a loving family after her quest. It is easy to read. Hard to lay down. RATING P-G :