Buy 3 Get 1 Free
Our Best Sale Yet! Add 4 Books Priced Under $5 To Your Cart Learn more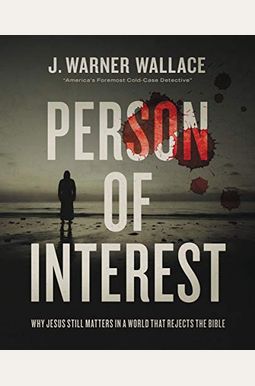  
Person Of Interest: Why Jesus Still Matters In A World That Rejects The Bible
Frequently Asked Questions About Person Of Interest: Why Jesus Still Matters In A World That Rejects The Bible
Book Reviews
(11)
Did you read Person Of Interest: Why Jesus Still Matters In A World That Rejects The Bible? Please provide your feedback and rating to help other readers.
Rigorous & Accessible

Derived From Web

, Jan 23, 2022

I love J. Warner Wallace's kind demeanor as he discusses difficult topics in a straightforward yet gracious manner. He combines the accessible approach of a scholarresearcher, the thoroughness of a detective and the robust posture of a pastorshepherd. I look forward to using this study with small groups in our church beginning this semester. The video series and the downloadable graphics are very well-done. I recommend this book, study guide, and video series to anyone looking to grow in their faith and their ability to discuss difficult topics with people who are skeptical about the Bible or following Jesus.
Awesome approach, universal in scope.

Derived From Web

, Jan 21, 2022

This approach to the unique influence of Jesus of Nazareth is completely amazing. Practically universal in its scope, the cumulative confluence of each layer of evidence from every branch of knowledge that humankind has developed is skillfully layered to reveal that only one person sits squarely at the apex of all history, the much debated, complex and affecting God-man Jesus Christ. Thank you so much for your labor of love in clearly revealing this person of interest and so plainly demonstrating just why Jesus still matters in a world that rejects the Bible.
Careful, Insightful, and Convincing

Derived From Web

, Jan 16, 2022

While Jim Wallace makes much of his unique take on examining Christian evidence, he is also a careful and thoughtful exegete, theologian and scholar. This book is generous, thorough and very much appreciated and the resources provided by Mr. Wallace to those interested in pursuing the material are incredible and very well done. We will probably offer this book, the video lessons and ancillary materials as a standing small group for years to come. We will pursue the de-churched, unconvinced, and spiritually aloof and Mr. Wallace's book will be a tremendous asset in doing so.
Well reasoned and quantitative

Derived From Web

, Dec 1, 2021

Well researched, well presented and articulately reasoned. I read a number of apologetics and Christian books, but this information blew my mind still. God has received a PLAN! Loved it and recommended it to friends and family. Still hoping that my atheistic family members will read it at least.
Excellent presentation for the existence of Jesus without the Bible

Derived From Web

, Oct 23, 2021

I was fascinated and kept reading, as the author continued to demonstrate the influence of Jesus in so many ways since his life on the Earth. He shows how so many aspects of living that we take for granted as history were actually influenced by a Jesus of Nazareth. In the flesh, God is.
Wow. What an eye opener!

Derived From Web

, Oct 10, 2021

If you enjoy facts, evidence, logic and reason, this book is for you! I'm trying to find my way back to God, as this world has gone to utter crap. This is one of those books that will help those like myself, who need to challenge facts not feelings to help change one's opinions about Jesus.
The History of Education, Science, and Art from a Unique Perspective

Derived From Web

, Oct 10, 2021

Original approach to examining the history of education, science and art. Wallace has done his research beyond any historical or scientific text I have ever read before he didn 't even publish the full end notes in the book because it was over 250 pages long, so that it is found online. Added to that the mysterysuspense of a true cold case, missing body homicide and you have an enjoyable and enlightening book that impressed me. I plan to use this as a Christmas gift for many on my list.
A great new perspective on Jesus historicity

Derived From Web

, Oct 6, 2021

One of the most common objections I hear when sharing the gospel is : Don 't quote the Bible ; I don 't believe it or any form thereof. Most non-believers say that there is no proof of Jesus outside of the Bible. This book is a valuable tool to show how Jesus matters without ever opening a Bible. If you struggle with this form of objection, I can not recommend this book enough to help eliviate these concerns. Once again, thank you Jim for delivering a thorough investigation into a very interesting topic.
Remarkable Work

Derived From Web

, Oct 6, 2021

I have been following J. Warner Wallace for years now and am so excited to have this book in my hands. His work speaks for himself and knowledge in these pages will speak for themselves as well. This book is for you if you want the facts and only the facts. Enjoy!
This is a must have book for everyone who wants to study Jesus

Derived From Web

, Oct 5, 2021

This book is looking at Jesus as a historical figure. It comes from the author, who was a born atheist and studied the Bible and the life of Jesus as a skeptic. This book is his work on the subject. He is questioning everything and then researches the subject and provides the proofs and references so that you can also check everything and save time, but also encourages everyone to do his own investigation. If you like evidence, if you are the kind of person who thinks I will believe it if I can see it with my own eyes, then this is something you will enjoy 100%. Logical explanations, proofs, references is what you will get.